Average cost $75 - $100 : 13 Restaurants Found
Narrow Results: By Popularity | By Name | By Location | By Cuisine
1 2
Address: 8970 University Center Lane, La Jolla, CA 92122 (
Map
)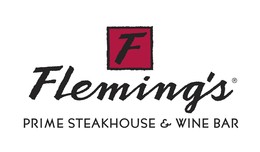 Fleming's Prime Steakhouse & Wine Bar La Jolla is a continuing gala of extraordinary food and wine. Patrons can pamper their appetites with the highest quality aged prime beef and discern new flavors with its award-winning wine list, comprised of 100 wines by the glass and a first-rate Reserve List. Famous for its, warm alluring atmosphere and the highest consideration to detail, Fleming's Prime Steakhouse & Wine Bar La Jolla features a luxurious dining area constructed around an exhibition kitchen and extensive bar. Adjoining the central dining area are private dining rooms that can comfortably accommodate small or large parties. Fleming's Prime Steakhouse & Wine Bar La Jolla's dynamic environment, exceptional service, and devotion to distinction turn an evening out into unforgettable memories.
Address: 880 Harbor Island Drive, San Diego, CA 92101 (
Map
)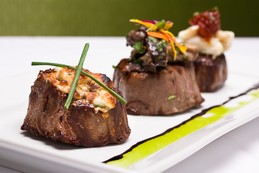 Located on the edge of Harbor Island, just out of earshot of the airport, Island Prime's stilt-supported structure extends out over the bay, giving diners the sense that they are floating along on a dinner cruise. Chef Deborah Scott's retro, yet sophisticated menu features metro steaks, seafood, and other diversely decadent dishes that will make your jaw drop. Between the nostalgic cuisine and the breath-taking view, Island Prime will keep you coming back for more.
Address: 4340 La Jolla Village Drive, San Diego, CA 92122 (
Map
)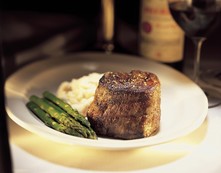 Donovan's Steak and Chop house offers a refined setting filled with upscale class and elegance. The menu showcases a variety of cuts of succulent USDA Prime steak, while offering a variety of other options from Australian rack of lamb to North Atlantic Salmon. Appetizers and salads tantalize the palate before the main course, while potatoes and vegetables—always complimentary—accompany each entrée. An award-winning wine list offers an astounding selection of both well-known and boutique wines across an equally varied price range, and gracious service, complimentary valet parking, and VIP treatment are the icing on the cake.
Address: 2550 5th Avenue, San Diego, CA 92103 (
Map
)
Impeccable service, excellent cuisine, and an extensive wine list are to be expected at any Bertrand Hug establishment, and Bertrand at Mr. A's lives up to the highest of expectations. Perched atop a skyscraper on the brink of downtown, the restaurant offers one of the most outstanding dining experiences in San Diego. Modern American cuisine elegantly complements the cosmopolitan backdrop, with a menu that offers awe-inspiring "glimpses" of both land and sea. The seasonal menu incorporates the utmost quality meats, fish, and accompaniments, resulting in a fresh and tantalizing selection of dishes. The main dining room offers a premier dining experience, while a more casual, although no less sumptuous, selection of dishes is available in the patio and bar.
Address: 658 5th Avenue, San Diego, CA 92101 (
Map
)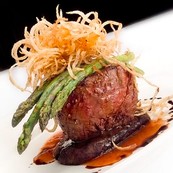 From the traditional Italian oregano to soy sauce and tropical mango, Greystone the Steakhouse on 5th Avenue in downtown San Diego displays a variety of flavors which will please the simple diner as well as the food connoisseur. Great steaks, exotic game, hearty fish and home-made pasta are prepared fresh and skillfully. They even have an award winning wine list awaiting you at this fine restaurant. Come for the food and stay for the warm family style of service in an atmosphere that retains the charm of the old theatre in which the restaurant was built.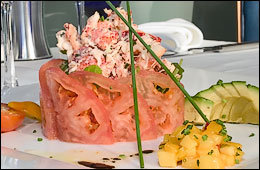 In the mood for a night of great food, conversation, drinks, and relaxation amidst the hustle and bustle of Downtown San Diego? Come enjoy an evening at Osetra at the corner of 5th Avenue and E Street. Their menu portrays some of the finest culinary creativity of today's restaurant scene. Osetra hosts a happy hour six days a week, has an extensive award-winning wine list, and offers banquet facilities to help plan any special event you have in mind. Cocktails are savvy, hip, sophisticated, and hand crafted. The restaurant's ambiance is romantic and cozy, yet maintains a trendy city hotspot feel. Take your taste buds on a culinary adventure of masterpieces at San Diego's Osetra.
Address: 7441 Olivetas Avenue, San Diego, CA 92037 (
Map
)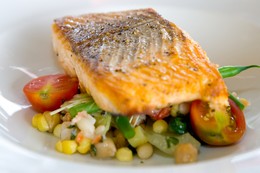 Searching for an event venue that will transport you to a European Villa? Check out Darlington House tucked away in the heart of La Jolla. This combination French, Spanish, and Italian style villa hosts special events such as weddings, receptions, parties, and other private events. This beautiful venue provides catering and event planning services that will create a package directly tailored to your wants and needs. Darlington House possesses a certain old world elegance, grace, and romance that enhance any event occurring in the space.
Address: 162 S. Rancho Santa Fe Rd Suite C-10, Encinitas, CA 92024
Address: 2000 Spindrift Drive, La Jolla, CA 92037
Address: 505 Laurel Street, San Diego, CA 92101
Narrow Results: By Popularity | By Name | By Location | By Cuisine
1 2