Chef's Table: 10 Restaurants Found
Address: 2051 Shelter Island Drive, San Diego, CA 92106 (
Map
)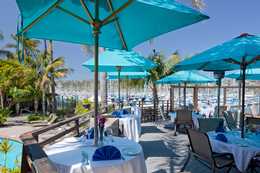 Blue Wave Bar and Grill, tucked inside the Best Western Island Palms Hotel, boasts of all the delights coastal San Diego has to offer. Providing waterfront dining on picturesque Shelter Island, it serves as a tropically inspired destination with all the fitting accommodations. While selecting from any of the restaurant's stunning breakfast, lunch, and dinner menus, or visiting for its popular happy hour, diners can take in the pleasures of the restaurant's lovely outdoor patio and views of the hotel's private marina. Executive Chef Marc Brislin crafts a menu ranging from macadamia-crusted halibut to oven roasted Filet Mignon with shitake mushroom demi-glace and everything in between. Whether it be a sampling of one of the many appetizing small plates, an elongated happy hour in the lounge, or a sumptuous evening meal, Blue Wave Bar and Grill invites you to come and stay awhile.
Address: 11480 North Torrey Pines Road, San Diego, CA 92037 (
Map
)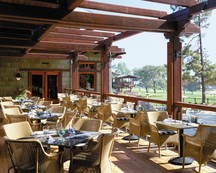 Nestled just above the scenic ocean bluffs of La Jolla, A.R. Valentien inside The Lodge at Torrey Pines features innovative California cuisine in a truly spectacular setting. Executive Chef Jeff Jackson conveys his market driven approach with seasonal ingredients from organic farms, orchards, and local fisherman. Wine lovers will rejoice in the extensive wine list boasting a vast collection of regional varietals from a string of California wineries. Just beyond the entrance, with its charming overhanging foliage, the interior of the restaurant showcases American Craftsman design with features like beautiful exposed beams and stained-glass lanterns, as well as selected artwork from famed Botanical Artist, Albert R.Valentien. The Lodge at Torrey Pines has held the esteemed AAA Five Diamond award for 10 consecutive years, and this highly acclaimed restaurant follows suit with timeless elegance and impeccable service. With picturesque views of the lush golf course, towering forest trees, and the stunning Pacific horizon, A.R. Valentien is the perfect backdrop for your next special occasion.
Address: 425 Island Avenue, San Diego, CA 92101 (
Map
)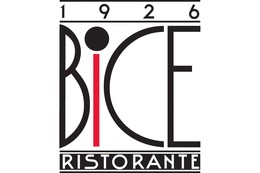 BiCE Ristorante skillfully fuses the elegance and trend-setting gusto of modern Europe in the historic San Diego Gaslamp Quarter, while introducing patrons to contemporary Italian cuisine melded with California ingredients. Executive Chef Mario Cassineri has created a menu that entices palates with amazing flavor combinations as his attention to detail and presentation mesmerize guests. Start off the night with the Prosciutto con Burrata, 24-month aged prosciutto paired with creamy burrata cheese that will surely tantalize taste buds with its perfected meat-and-cheese combination. Indulge in the Orzotto all'Aragosta e Burratina: "risotto style" barley with Maine Lobster, fresh tomato and burrata cheese, which cleverly mixes sustainable ingredients with Italian fare. Not only does BiCE have a fully equipped bar that serves specialty cocktails and a list of impressive wines, they also offer a Cheese Bar staffed with a knowledgeable Cheese Sommelier that will open up the taste buds of even the most discerning fromage connoisseur. BiCE Ristorante in the Gaslamp Quarter insures guests will experience an unparalleled union of traditional and modern Italian technique set in a chic and classy environment.
Address: 1646 India Street, San Diego, CA 92101 (
Map
)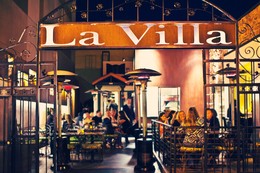 From the rustic stone exterior to the expansive and colorful interior, Little Italy's hidden treasure, La Villa Restaurant & Bar, blends urban and rural life together seamlessly. Seated at wooden tables, reminiscent of the farmers' tables in years past, diners enjoy fresh, sustainable Italian delights. La Villa's seasonal menu emphasizes the "farm to table" concept by incorporating neighborhood farmers' products and locally caught seafood in every dish. From the handmade mozzarella found on the Naples inspired pizzas, to the oysters, so fresh that the remnant flavors of the ocean are still present, La Villa pleases the palate time after time. Pasta lovers fawn over specialties like the Smoked Ricotta Pumpkin Ravioli, served with Toasted Oats, Parsnip Puree, Pomegranate, and Beech Mushrooms, and on warm San Diego days, guests can relax under the sun, surrounded by a brightly colored mural on the outside patio and bar. For a festive and sophisticated night out, stray from the ordinary, and step into La Villa Restaurant & Bar.
Address: 1 Market Place, San Diego, CA 92101 (
Map
)
For years, diners have been heading to Seaport Village for a day of fresh air, shopping, and amazing dining. Many have already discovered the delectable cuisine at Sally's Seafood on the Water, while others haven't yet experienced the unique cuisine of Chef Sarah Linkenheil. While Sally's is renowned for its seafood, shellfish, and sushi, it also serves excellent soups, salads, and meat dishes that have mouths watering as soon as the menu is opened. Weekly specials and happy hours make the restaurant an ideal location for a quick bite after work, and there is a large selection at the bar to help us all unwind after a long day. Whether it's for a special occasion, family outing, or a night out with friends, Sally's atmosphere, cuisine, and service make it one of the most popular dining destinations near the Manchester Grand Hyatt.
Address: 705 6th Avenue, San Diego, CA 92101
Address: 416 3rd Avenue, San Diego, CA 92101
Address: 966 Felspar Street, San Diego, CA 92109
Address: 2820 Roosevelt Road, San Diego, CA 92106