Child Friendly: 142 Restaurants Found
Address: 675 L Street, San Diego, CA 92101 (
Map
)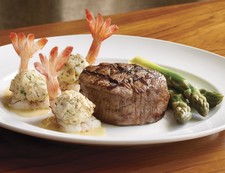 Each one of McCormick & Schmick's restaurants throughout the United States is designed to create an environment that is unique and welcoming; the one in Downtown San Diego is no different. Located in the Omni Hotel on the corner of L and 7th Street the restaurant is connected via skybridge to Petco Park. The ever-changing menu features the highest quality of steak, like the tender aged Filet Mignon as well as seafood choices from the Pacific Rim, Atlantic Ocean and Gulf of Mexico. Also, the award winning bar food is just as satisfying as the main entrees. Indulge in classic favorites like the McCormick & Schmick's Cheeseburger or the Black Mussels with roasted tomatoes and basil. Visit during Happy Hour to enjoy the bar's specialty cocktails and food options for a great price.
Address: 1536 India Street, San Diego, CA 92101 (
Map
)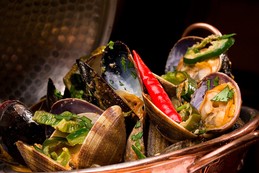 Rather than imparting a sense of place, as many restaurants aim to do, the Indigo Grill takes diners on a journey. Starting in Alaska and ending in Oaxaca, Mexico, Indigo Grill follows the West coast of North America. The route is interpreted through Chef Deborah Scott's fittingly adventurous menu, which intertwines Mexican and Native American flavors, matches Northern comfort food with Southern heat, and presents ingredients from both land and sea. Daring combinations of indigenous ingredients, culinary techniques, and traditions result in a truly special, somewhat mythical culinary experience that delights the senses and satisfies the adventurous spirit.
Address: 2051 Shelter Island Drive, San Diego, CA 92106 (
Map
)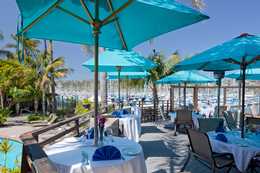 Blue Wave Bar and Grill, tucked inside the Best Western Island Palms Hotel, boasts of all the delights coastal San Diego has to offer. Providing waterfront dining on picturesque Shelter Island, it serves as a tropically inspired destination with all the fitting accommodations. While selecting from any of the restaurant's stunning breakfast, lunch, and dinner menus, or visiting for its popular happy hour, diners can take in the pleasures of the restaurant's lovely outdoor patio and views of the hotel's private marina. Executive Chef Marc Brislin crafts a menu ranging from macadamia-crusted halibut to oven roasted Filet Mignon with shitake mushroom demi-glace and everything in between. Whether it be a sampling of one of the many appetizing small plates, an elongated happy hour in the lounge, or a sumptuous evening meal, Blue Wave Bar and Grill invites you to come and stay awhile.
Address: 927 J Street, San Diego, CA 92101 (
Map
)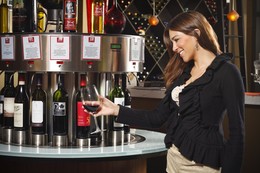 In need of a relaxing moment and a glass of wine or want to sample varietals in a chic, intimate, and sophisticated environment? Come relax and unwind at Toast Enoteca & Cucina in San Diego's East Village. This combination restaurant and wine bar features around 400 different bottles of wine to sample and purchase. By the glass sales are available as well. Toast offers an extensive and authentic Italian menu complete with antipasti, insalante, primi, pizze, secondi, and Panini courses. This downtown landmark is yet another culinary creation by Martin Gonzalez, the owner and executive chef of Acqua Al 2, a Gaslamp district restaurant known for its hearty, rustic, and authentic Italian cuisine. Come in, raise your glasses, and say cheers to Toast Enoteca & Cucina as they take the concept of a wine bar to new heights.
Address: 333 North Pacific Street, Oceanside, CA 92054 (
Map
)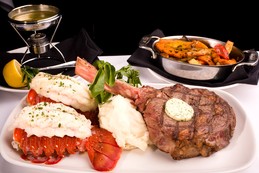 Cohn Restaurant fans take note: the San Diego restaurateur powerhouse has brought their fine dining expertise to Oceanside with their restaurant, 333 Pacific. It is an ode to Southern California, with breath-taking views of its seaside setting, innovative California cuisine, and a faultlessly stylish design aesthetic. Located on the first floor of the Wyndham Oceanfront Pier Resort, diners can feast on clever creations like Bleu Cheese Crusted Kobe Beef Meatloaf and Maine Diver Scallops seared in apple cider, while enjoying a stunning, panoramic view of the Oceanside Pier and beach. 333 Pacific promises a welcome invigoration of the North County dining scene.
Address: 2588 South Coast Highway 101, Cardiff, CA 92007 (
Map
)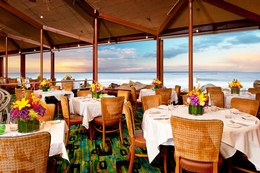 It's not hard to find eateries boasting "ocean views" in San Diego, but it is rare to find a noteworthy restaurant that happens to claim such prime oceanfront real-estate as Chart House. Picturesquely positioned along the South Coast Highway 101 (with the San Elijo Lagoon to the east), Chart House's expansive dining room faces the Pacific Ocean and plates up some of the finest sunsets around. As the waves lap upon the rocky shore before you, settle in and savor Chart House's array of hot and cold appetizers, signature seafood entrees, prime steaks, and luscious desserts. Pair the evening with any of their happy hour libations or fine wine and whiskey offerings for a well-rounded and stimulating experience.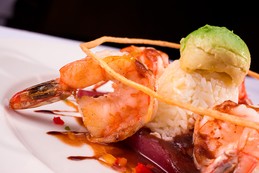 La Fiesta is a Mexican restaurant located in the heart of the Gaslamp. Just a few blocks away from the MTS trolley station it is an easy commute, and well worth the trip. Patrons can find themselves in a relaxed setting that is acceptable for all ages. The decoration involves both an elegant dining setting and a more casual area that includes a full bar. The margaritas are big hits so it is a great place to come for a drink after work with. All the food is served fresh and original as Chef Raul Degadillo puts a San Diego spin on traditional dishes. Enter hungry and leave full. They even have DJs spinning a mix of Salsa, Reggaeton, and Top 40 from Thursday to Saturday.