Jeff Jackson
Executive Chef
---
---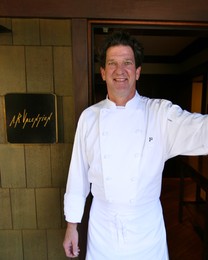 Jeff Jackson is the highly acclaimed Executive Chef of The Lodge at Torrey Pines, conducting the culinary concepts and menu development for the property in its entirety. A.R. Valentien, the award-winning jewel of The Lodge, fuses Jackson's years of cooking expertise and dedication for local ingredients into a menu bursting with freshness and flavor. The menu is constantly evolving to reflect produce available at the peak of its season from local farms, orchards, and fisherman here in Southern California. Currently, menu items include Butternut Squash Soup with lobster and blood orange reduction, Oak Fire Roasted Niman Ranch Pork Loin with house made sauerkraut, double smoked bacon, roasted carrots, and apples, and Baquetta Grouper with spaghetti squash, ginger, snap peas, preserved orange, pearl onions and brown butter – quite the medley of tastes and texture.
Jackson has worked with a sequence of esteemed chefs and establishments throughout his 30 years of experience in the culinary world. Raised in Oklahoma City, Jackson's passion for cooking was already awakened by the age of 13 while he worked as a bus boy. He continued working in the restaurant industry up through high school, when he ascended to a position as a server. He then chased his dreams of becoming a master chef even further into college, graduating from the Culinary Institute of America, Hyde Park, New York. His resume is impressive: he was classically French-trained under master chef Jean LaFont. He worked with Jean Banchet for two and a half years at his renowned Le Francais. He spent more than five years at Chicago's Park Hyatt Hotel, first as Executive Sous Chef at the award-winning La Tour Restaurant, then as Executive Chef of the entire hotel. Under Jackson's guidance, La Tour earned the Ivy Award from Restaurants & Institutions Magazine. In addition to these successes, Jackson won the well-respected USA Bocuse d'or Culinary Gold Cup competition and represented the United States in the world competition in Lyon held in 1989. Previously, Jackson was the Executive Chef at Shutters on the Beach in Santa Monica, California, where he molded his straightforward approach to American and California cuisine during his 10 year stay. He also played a large role in the opening of Casa Del Mar, Shutter's sister property.
Chef Jackson continuously illustrates his deep influence of market-fresh ingredients at his current home at The Lodge. Here, he founded the nationally-recognized annual Celebrate the Craft festival held during every autumn season. This event brings together local chefs, farmers, artisan food producers, and California wineries to create special meals that incorporate quality, local ingredients. With Jackson at its helm, A.R. Valentien has been named one of the top ten farm-to-table restaurants in the nation. Simply prepared and stylishly presented, guests can rest assured that Jeff Jackson is serving up something extraordinary at A.R. Valentien.
---