Crepes & Corks

Make a Reservation
Hunting for a "little piece of Europe by the sea", then look no further than Del Mar's cozy restaurant wine bar, Crepes & Corks. Located along Camino Del Mar, this bistro stays open from early morning to night. The ambiance is that of romance and simplicity and be detected throughout their food and customer service. Crepes & Corks offers an extensive list of delightfully full bodied, smooth, and buttery wines. They also have dessert wines and beers and offer wine tastings! Crepes & Corks provides patrons with a little taste of Europe in the heart of this coastal town and serves some of the most delectable breakfast, lunch, and dinner items to genuinely leave your taste buds and your wallet happy. The restaurant also doubles as a wine bar/shop meaning you can purchase a bottle of your favorite wine and take it home!
---
Buy restaurant gift certificates online and save 20%
The perfect gift for any occasion. It's Quick & Easy!
---
---
Photos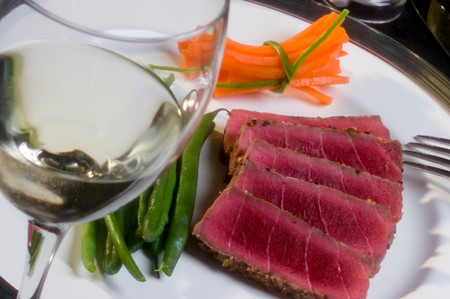 ---
Restaurant Info
Address:

1328 Camino del Mar,

Del Mar

CA

92014

Cross Street: 14th Street
Category: Wine Bar/Shop
Reservations: Unknown
Parking: Street |
Payment Options:
Corkage Fee: N/A
Website: http://www.crepesandcorks.com/
Phone: (858) 847-3382
Business Hours
Monday

Tuesday

| All Day 8 a.m. - 9 p.m.

Wednesday

| All Day 8 a.m. - 9 p.m.

Thursday

| All Day 8 a.m. - 9 p.m.

Friday

| All Day 8 a.m. - 11 p.m.

Saturday

| All Day 8 a.m. - 11 p.m.

Sunday

| All Day 8 a.m. - 4 p.m.
Features
Sunday Brunch
Late Dining
Live Entertainment
Outdoor Seating
Smoking Area
Takeout Available
Wheelchair Access
Happy Hours
Lounge / Bar
Occasion
Romantic Dining
Dining Alone
Meet for a Drink
People Watching
Quiet Conversation
Special Occasion
Quick Bite
---
F.A.Q. - Frequently Asked Questions
---
Map
Restaurant Address:
1328 Camino del Mar,
Del Mar
CA
92014
---
User Reviews