Sal Reynoso
Executive Chef
---
---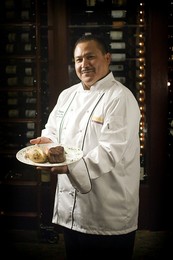 Executive Chef Sal Reynoso is an avid learner. He is constantly pushing himself to learn new techniques and culinary styles: "I never stop learning. I keep creating, keep learning. There is always more room to grow." He brings this eye for the new to Donovan's of La Jolla, infusing the traditional steakhouse menu with "little twists" characteristic of his diverse culinary background and passion for innovation.
Chef Reynoso's culinary curiosity began early on, inherited from his familial matriarchs. Flouting the gender conventions of his Latin upbringing, Chef Reynoso spent much of his free time in the kitchen with his mother and grandmother. They were at first perplexed by his passion for cooking, asking him "What are you doing? You're a man!" However, working doggedly side-by-side with his mother, he gradually won her over with his dedication to and aptitude for the culinary arts. While still in high school, his mother began enrolling him in cooking classes, thereby both encouraging him in his pursuits and validating his career choice in the eyes of the family. With time and perseverance, Chef Reynoso proved his passion and skill to his family and in doing so, helped expand their notions of male identity in both the professional and domestic realms.
Chef Reynoso pursued his culinary training with a voracious appetite for learning. He immersed himself in his education, taking every class imaginable so that he might better "understand the range of cultures, ethics, ingredients, and styles of cooking." He immediately fell in love with the distinctly French styles of baking, pastry-making, and sauce-making, passions that continue to influence his craft as Donovan's of La Jolla's executive chef. The promise of Chef Reynoso's plans for creating a "perfect chocolate cake" for a future Donovan's menu is reason enough to keep a watchful eye on the restaurant, especially since the chef lists chocolate as one of his favorite ingredients to "play around with" in his free time. He is even contemplating a savory chocolate sauce for the menu, a deliciously innovative prospect.
While Chef Reynoso's culinary education was diverse and varied, each class he took instilled in him a common philosophy: a fervent emphasis on maintaining a sense of balance and harmony within each dish. Each creation must have both taste and "eye appeal, [a feast] for the eyes and the palate." He imposes strict standards on himself, learned from his exacting culinary mentors who achieved a balance between "letting [him] explore," and being "straight forward and honest, letting [him] know what was right and what was wrong." The influence of his instructors shaped his own perfectionist streak: "I am my own worst critic. If I don't see that it's right, I won't put it out." His attention to detail is reflected in his reasons for favoring herbs and spices in his cooking: Chef Reynoso likes to "mix and match" them, discovering exactly "what works well with each protein." While his cuisine is infused with a playful enthusiasm and experimentation, it is executed with the level of precision and exactitude comparable to a science experiment. His exploratory zeal is by no means sloppy or haphazard.
Chef Reynoso's emphasis on learning now extends beyond his own education. The student has become the teacher in the Donovan's of La Jolla kitchen, with Chef Reynoso educating his staff according to the teachings of his own mentors. "I love to teach," he says, describing how much he enjoys instructing his staff in the "whys, and why-nots, the proper way" to prepare certain dishes. And like a good teacher, he takes pride in his students: "I give most of the credit to my team; you are only as good as your team." Chef Reynoso attributes Donovan's inviting atmosphere to his team, who help make him "happy to be here, at this home away from home." This homey ambiance makes its way into the menu, where staples like "macaroni and cheese" impart a comforting warmth while still conveying the expert skill of the Donovan's kitchen. In combining the familiarity of a home-cooked meal with the mastery of haute cuisine, Chef Reynoso "educates" his customers in culinary nuance, seeking to deliver an experience that is both familiar and, ideally, "one of the greatest meals of all time." It is a lofty and eminently enjoyable goal.
---