Italo Peveri
Executive Chef
---
---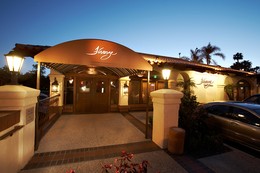 Italo Peveri seems a man content with his accomplishments. Sitting in a warm dining room surrounded by regular guests, he doesn't need to wonder whether his work is appreciated. Firenze Trattoria, the restaurant he helped open 13 years ago and that he has been running the kitchen of ever since, is, as one regular put it, "probably the best restaurant in the area." It's no wonder. Peveri, who was raised in Milan, has been cooking tantalizing versions of his country's specialties ever since he came to the United States in 1969.
Peveri came to San Diego when he was 28, to join his older brother, Giulio. Giulio had come to San Diego a decade earlier, and had been operating an upscale Italian restaurant in Pacific Beach, which he aptly named Giulio's. The restaurant featured classic Italian cuisine and old world service, including a tuxedo-clad wait staff who would sing opera songs for customers.
Although Peveri's only previous restaurant experience was working as a bartender—he had been working in a bar in Milan called Molto before leaving for the United States—he quickly took to the restaurant business. Peveri became a partner in his brother's restaurant in 1971, and continued to work in the kitchen until the early 1990's, when the restaurant relocated. "There were too many Italian restaurants in Pacific Beach," Peveri explains of the decision to move.
Giulio, who by this time had a son named Jack, decided to move the restaurant to Old Town, renaming it Jack and Giulio's. The Old Town location is still run by the father-son team today. Meanwhile, while his brother moved to Old Town, Peveri moved up to North County, taking a position at Tuscany Ristorante near La Costa resort in Carlsbad. He had been there for about a year and a half, when he met Barry Podwell, a friend of the manager who was planning to open his own place. When he heard about the project, Peveri jumped on board, and has been serving as Executive Chef at Firenze Trattoria ever since.
The restaurant quickly proved a success. Peveri finds himself "very busy" in a small kitchen, preparing an array of Northern Italian dishes. His favorites are the veal dishes on the menu, and of course, pasta. "We do a lot of pasta," he explains, "It's very Italian." As for his love of the dish, he says, "my mother used to make a lot of pasta." He credits his mother for his culinary knowledge, explaining that "in Italy, all the women are good cooks."
Nearly any pasta dish on the menu will win you over, but Peveri is particularly known for his lasagna, which features béchamel sauce, fresh marinara, and a blend of ground beef, veal, and chicken. One bite of the rich, satisfying dish is all it takes to understand why this Milanese chef has garnered such a loyal following in the nearly forty years he has dedicated to serving classic Italian cuisine to San Diego.
---