Jason Maitland
Chef
---
---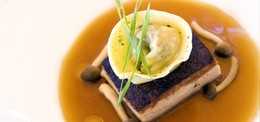 Executive Chef Jason Maitland has accomplished a lot for a young chef, but his laid back and friendly demeanor betrays his expertise. When questioned about why he decided to become a chef, Maitland simply says that he has only worked in the food industry and never wants to work elsewhere. He is succinct and clear when describing his cuisine-- it is that kind of vision and clarity that can be seen in his cooking.
Maitland's lifelong love affair with cooking began by watching his dad, a doctor who loved to cook in his free time. Having spent his entire professional career in the restaurant industry, it is no surprise that Chef Maitland's first job was at a Butcher Shop in his hometown of Boston, Massachusetts. After attending New England Culinary School, Maitland headed for the West Coast, making a name for himself in San Diego fine dining by acting as Executive Chef for Arterra Restaurant. During his time at Arterra Restaurant, Maitland's creative freedom was curbed by his dual role as an Executive Chef for the Marriot Hotel in San Diego, as well as executive chef for Arterra Restaurant. As Executive Chef for the Marriot Hotel, he was responsible for hotel banquet menus, private events, and in-room dining, leaving him with little time to perfect his signature concoctions at Arterra.
Now using his creative culinary mind as Executive Chef for Flavor Del Mar, Maitland has the freedom to serve food that he enjoys—creating dishes that expand people's palates without intimidating those with less-adventurous tastes. Maitland's menu flips coastal cuisine on its head by offering an eclectic mix of ingredients that are a breath of fresh air in coastal dining. Although seafood is a major part of the menu, the Chef has added a variety of unique ingredients that are sure to please any foodie looking to try something unusual.
When asked the type of food he loves, Maitland praises Old World food: "I am passionate about Old World Foods that are usually found in big cities." He also appreciates using the whole animal when cooking meat—including unused parts that most people would throw away. Bringing Old World cuisine to San Diego might seem to pose a bit of a challenge for the usually safe palates of San Diego Diners, but the Chef infuses a few Old World goodies in his menu including dishes like the Roasted Suckling Pig and Housemade Sausage with smoked apple-potato puree, braised red cabbage, and ale mustard for those that are in the mood to try something a little different.
Using the freshest ingredients he can find, Chef Maitland is committed to using seasonal, local, and sustainable ingredients from local farms like Chino Farms. On his day off, he shops at Farmer's Markets but on days that he is in the kitchen a buyer is sent to the market. No matter who is scouring the local markets, the fare from Maitland's kitchen will undoubtedly be of the utmost freshness.
As an emblem of his inspired cuisine, Chef Maitland was named one of San Diego's "Innovators Under 30" by 944 Magazine. The future is surely bright for the talented young chef who is at the helm of a very successful career.
---