Trey Foshee
Executive Chef
---
---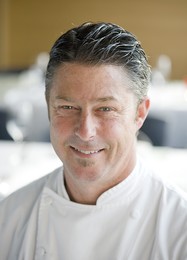 Executive Chef Trey Foshee, born in Hawaii and raised in Ojai, began working in restaurants because it was 'practical' and he was good at it. Serendipitously, he fell in with the right people: great chefs at good restaurants that inspired him to find his way down his own path that would eventually land him as Executive Chef and partner at George's at the Cove.
Trey Graduated from the Culinary Institute of America in New York at nineteen and made stops at both L'Orangerie in Los Angeles and La Folie in San Francisco before he became the Chef de Cuisine of the Bay Terrace at the Five Diamond Mauna Lani Bay Hotel and Bungalows in Hawaii and Executive Chef of The Tree Room at Robert Redford's Sundance Resort.
It was while he was at the Sundance Resort that Trey was named one of ' America 's Ten Best New Chefs' by Food and Wine Magazine. After receiving this accolade, the offers began flooding in. He originally declined the offer from George's at the Cove until he learned they were looking not only for an Executive Chef, but a partner. Chef Foshee came to George's in the spring of 1999.
He states that he has the space to be creative because the restaurant is run so well, crediting founder George Hauer for this. According to Foshee, Hauer is not only a great restraunteur, but a great businessman. Chef Foshee is also blessed with the opportunity to do both casual and formal creations thanks to the tiered structure at George's at the Cove, which offers casual dining on the Ocean Terrace and formal dining in the main dining room.
Aside from the honor from Food and Wine, Trey Foshee has received GQ's Golden Dish Award and has appeared in Bon Appetit, Travel and Leisure, Ski, and Gourmet. He was a Guest Chef at the prestigious James Beard House in New York and the Host Chef for Hawaii 's international Cuisines of the Sun. Trey Foshee also received the 2004 'Salute to California Chefs' award by the California Travel Industry Association.
Trey's philosophy is to coax the flavor from fresh, local ingredients - specifically those from Chino Farms in Rancho Santa Fe - rather than overpowering ingredients to impose a specific style or flavor. He states, "what we do is based on what's available to us. What protein goes best with those vegetables? And what preparation goes best with that vegetable? Sometimes it'll be an Asian preparation, sometimes Italian, or French."
---