Choon Lee
Owner
---
---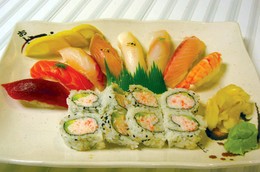 Although Haru Japanese Restaurant has only been since March 2008, owner Choon Lee is no newcomer to the restaurant business. In her native Korea, Lee owned and managed a number of different restaurants featuring Japanese, Chinese, and Korean-style self grill barbeques, which were all quite successful. Seeking a change of scenery, Lee moved to San Diego two years ago, and, with the help of her brother, whose 14 years of experience as a sushi chef proved to be a limitless resource, she embarked on her first American business venture: Haru. Lee's entrepreneurial experience shines through at Haru, where her meticulous attention to detail is evident in the restaurant's charming décor and elegant culinary presentations.
Although Haru occupies the location of a previous sushi restaurant, Takeya, Lee has certainly made it her own. The space radiates warmth and positively shines with the sunny cheerfulness of spring, the season from which Haru gets its name. Lee has taken her time transforming the restaurant in her vision, carefully selecting decorative accents to facilitate her concept. This thoughtful selection shows: every element in this minimalist space suggests elegance and style, and radiates with the rejuvenating power of spring. By creating a restaurant that captures the essence of this season, Lee hopes she can bring a dose of sunshine to the lives of her customers, an experience she hopes they will return again and again for.
Lee seeks not only to bring the crisp spirit of spring to Haru's décor, but strives to infuse the menu with this concept. She stresses the importance of fresh ingredients in the making of her food. A staggering collection of high quality sake is also available, which Lee brought back with her from Asia and regularly imports. Additionally, she brings her artistic sensibilities to plate presentation, arranging sashimi, sushi, and entrees into masterful compositions that reflect the chic environment in which they are served. Apparently, her attention to detail, her sense of style, and her commitment to excellent quality are paying off: she can boast a steady and regular clientele that flocks to Haru, particularly during the weekday lunch hour, to catch a breath of fresh spring air in between the bustling activity of work life. She admits the first few months have been tough, but she is proud of her achievement and is seeing her hard work pay off.
Choon Lee has faced many challenges starting her first American business, many of which stem from the cultural disparities between her place of origin and her adopted home in the United States. However, overall, Lee enjoys the change. American customers, she claims, are much more patient and gentler than those she had grown accustomed to serving in Korea. Whenever she gets frazzled during a busy lunch hour, she is soothed by the polite, good-natured customers she encounters. She seeks to return the favor, by devoting herself to catering to her customers' needs and ensuring that their experience is a pleasant one.
Lee is a driven businesswoman, with countless long-term plans and goals for Haru. Eventually, she would like to feature sake tastings in the evening to showcase her unique and extensive collection. Catering is another avenue she hopes to pursue in the future, which would expand on the success of her work-week lunch traffic and offer novel food options for corporate meetings in the area. She is constantly learning about her field, reading a variety of entrepreneurial texts and taking copious notes on American business practice and restaurateurship. Her thoughtfulness, dedication, and creativity are all in full display at Haru. She has polished her diamond in the rough, and now it shines brightly amidst the strip mall banality that surrounds it. Like the season it is named for, Haru continues to grow and evolve under the careful nurturing of its owner, Choon Lee who, like a hard-working gardener, can finally sit back and enjoy the fruits of her labor.
---