Heaven Sent Desserts

Make a Reservation
Heaven Sent Desserts in San Diego's North Park district is legitimately a slice of heaven right here in California. It's fresh in house made desserts are imaginative and absolutely delicious. Whether you're looking for a romantic evening for two, a group celebration, or just feel like curling up on one of their plush couches with a book, a slice of chocolate decadence or a fruity tart and some coffee, you are in store for a fabulous time. The staff is friendly and welcoming, as is the ambiance. Heaven Sent also caters and loves enhancing any celebration you may be having by creating a cake or dessert especially for you. Come sit on cloud 9 and enjoy your time at Heaven Sent. They even have desserts happy hour every day!
---
Buy restaurant gift certificates online and save 20%
The perfect gift for any occasion. It's Quick & Easy!
---
---
Photos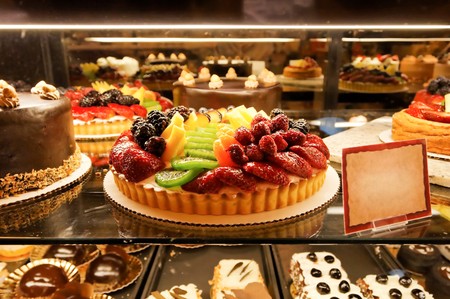 ---
Restaurant Info
Address:

3001 University Avenue,

San Diego

CA

92104

Cross Street: 30th Street
Category: Bakery/Deli
Reservations: Unknown
Parking:
Payment Options:
Corkage Fee: N/A
Website: http://www.heavensentdesserts.com
Phone: (619) 793-4758
Business Hours
Monday

| All Day 11 a.m. - 10 p.m.

Tuesday

| All Day 11 a.m. - 11 p.m.

Wednesday

| All Day 11 a.m. - 11 p.m.

Thursday

| All Day 11 a.m. - 11 p.m.

Friday

| All Day 11 a.m. - 11:45 p.m.

Saturday

| All Day 11 a.m. - 11:45 p.m.

Sunday

| All Day 11 a.m. - 10 p.m.
Features
Late Dining
Catering Services
Takeout Available
Tasting Menu
Wheelchair Access
Happy Hours
Occasion
Romantic Dining
People Watching
Quiet Conversation
Special Occasion
Quick Bite
Trendy / Hip
---
F.A.Q. - Frequently Asked Questions
---
Map
Restaurant Address:
3001 University Avenue,
San Diego
CA
92104
---
User Reviews