Paul Murphy
Executive Chef
---
---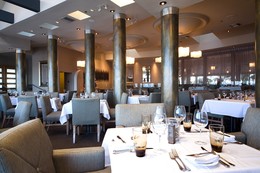 Executive Chef Paul Murphy loves a challenge. Whether working overseas in foreign kitchens, or preparing 1100 meals for concert guests at his current position at Humphrey's Restaurant, Chef Murphy thrives in the "heat of the battle." This spirit of adventure and off-the-cuff improvisation is in full display in his globally-inspired menu at Humphrey's, which features unique flavor pairings like squid and chorizo and halibut with cashews and mirin-ginger sauce. With his inspired, yet completely accessible menu, Chef Murphy has successfully accomplished what is perhaps the greatest feat in professional cooking: achieving a balance between pleasing the customer and retaining a distinctive culinary personality.
Like many chefs, Executive Chef Paul Murphy's love of food began at an early age. On grocery shopping forays or while dining out, his mother taught the young chef how to choose ingredients and to identify excellent flavor pairings. Under his mother's tutelage, he refined his palate and learned to appreciate quality, which he carried into his later professional culinary pursuits. Although his technique has become more sophisticated, and his palate more experimental, the culinary lessons he learned early in his upbringing continue to exert an influence, particularly in his love of fresh ingredients and flavors.
While his early epicurean foundation may be similar to other chefs, Chef Murphy's professional experience is as distinctive as his global culinary creations. He began his career locally at El Bizcocho Restaurant at the Rancho Bernardo Inn, a highly regarded fine dining establishment at a time when San Diego was just developing a culture of gastronomy. After five years of mentoring under the Chef Tom Dowling, Chef Murphy took the position of sous-chef at Delicias in Rancho Santa Fe. It was while working at Delicias that he was given the opportunity to apprentice abroad, and, never one to turn down a culinary challenge, Chef Murphy left his home country in pursuit of European training. He describes his apprenticeship in Belgium under Chef Paul Luc Meesan as a "humbling experience...all they'd let me do was peel potatoes. Although not the glamorous culinary education he imagined when first boarding his international flight, Chef Murphy cites this experience as crucial to the development of his own culinary philosophy and personality: unlike the infamous "hothead chefs" of the 1980s and 1990s, Chef Murphy is much more personable, more concerned with the quality of his product and the satisfaction of his customers than his own ego. His career has since had some glamorous perks: while working in France at a French-American bistro, he had the benefit of enjoying the owner's chateau in the Pyrenees while his current position at Humphrey's has him preparing meals for star musicians. Despite the prestigious turns his career has taken, Chef Murphy still retains the humility of his early training, recognizing that his skill speaks volumes on its own.
While he dismisses "hothead chefs," his choices for culinary icons are telling, and suggest a more balanced culinary philosophy. He identifies his greatest culinary influences as "being Marco Pierre White," the legendary chef and "hothead" and Chef Jean-Pierre Dubray, the executive chef at Terrace Restaurant in the Ritz-Carlton in San Francisco where Chef Murphy worked as sous-chef. It was under Chef Dubray that Chef Murphy learned "how to treat people and how to make great food," while he esteems Chef White for his culinary experimentation "grabbing ingredients from everywhere." It is this delicate interplay between the dual, and potentially conflicting identities of the chef that shape Chef Murphy's culinary persona, embodying both the artistry of Marco Pierre White and the customer service of his mentor, Chef Dubray. Like his culinary style, sampling from different cultural cuisines, Chef Murphy seamlessly blends the best of both icons, stripping the ego from the artist, while simultaneously infusing the complacency of good customer service with the precision and creativity associated with true culinary innovation. In combining these two potentially disparate culinary viewpoints, Chef Murphy melds his goals for the Humphrey's dining experience: by both "doing it right the first time," Marco Pierre White-style and focusing on Chef Dubray's philosophy of "pleasing the customer," he successfully achieves his lofty yet simple goal of ensuring that every diner "leaves happy and full." At Humphrey's, under the skillful attentiveness of Chef Murphy, these two utterly straightforward, and almost commonplace feelings are elevated to new heights, becoming anything but common.
---