Deborah Scott
Executive Chef
---
---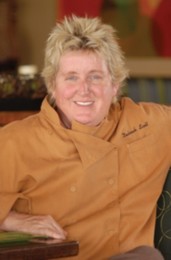 Chef Deborah Scott's culinary career may have begun at Baltimore International Culinary College, but her wide breadth of success is steadfastly anchored in San Diego's own dining scene. Her influence on this city took root in 1992, when she opened Mediterraneo in Alpine. Soon after, the smash hit of Indigo Grill, in Little Italy, had Chef Scott to thank – the restaurant's logo, intriguing décor, and menu were all personally developed by her. Chef Scott later paired up with the Cohn Restaurant Group to create Island Prime & C Level, giving Coronado a slice of culinary heaven. And then in October of 1995, Chef Scott introduced a truly innovative concept to David and Lesley Cohn: a restaurant that highlighted the best of Pacific Rim cuisine through the melding of Asian and Southwest flavors. Kemo Sabe found a perfect home in the charismatic neighborhood of Hillcrest, and has since become the local cornerstone of fine fusion cuisine.
On the night of our visit to Kemo Sabe, Executive Chef Scott was not only kind enough to leave her post in the kitchen to act as our gracious host for the evening, but she also took the time to sit down for an interview at the height of the restaurant's rush hour:
What is the vision of Kemo Sabe?
"The most important thing is diversity: making sure the food isn't something you can easily duplicate at home, because otherwise you might as well stay home and make it yourself. I like it to be unique, diverse. I like a lot of presentation: color, textures…"
Where do you draw your inspirations from?
"I kind of come up with my own ideas; I don't follow a lot of other chefs, or anything. I like putting together things that I like, and hopefully other people like them too."
With a dish like the Whole Tilapia, how do you go from the initial idea to the finished product?
"[I] first think of the products [I] want to use, then what combinations of products would work well together. And then [I] build it around that, and make sure each plate has some crunchy, salty, sweet – kind of like writing a composition – [I] want everything to mesh, work together, and make sense."
What have you noticed, or would like to change about the food scene in San Diego?
"…Ifyou look at Little Italy and the association that handles the area, it's very well kept… and then you look at [this area], Hillcrest and it's very run-down looking. I wish all these communities in San Diego paid the same attention to keeping their areas as revitalized as Little Italy does so that businesses thrive and grow."
Is there one particular ingredient you're fond of at the moment?
"The biggest thing I love are chilies. I love tascabel chilies, pasillas… I love combining them with different foods. As far as a new ingredient, when I was in Oaxaca last, I started using huitlacoche. It's a corn fungus used similar to truffles."
When patrons leave Kemo Sabe, what feeling would you like them to take away?
"I would like them to say they had a unique experience: that the flavors were powerful and that nothing was dull or boring – a truly unique experience."
---