James Stephenson
Executive Chef
---
---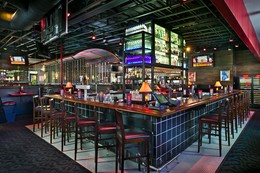 Sitting down and talking with James Stephenson is like sitting down with a really good buddy that'll make you a delicious meal. Unlike most of my buddies, Stephenson has a lot on his plate as Executive Chef, General Manager, and Co-Owner of both the Gaslamp and La Jolla Strip Club locations. Even with his busy schedule Chef Stephenson took the time to not only present me with a delicious meal, but also talk with me a little about his culinary background, the Cohn Restaurant Group, and how to grill a delicious steak.
Born in Philadelphia and influenced by the area's cuisine, Chef Stephenson worked odd jobs in various kitchens until moving to Miami at the age of 18. There he began receiving formal training as a Chef de Cuisine in the kitchen of celebrity Chef Marc Miletello. After refining his culinary skills in Miami, Stephenson headed to a similar climate: The sunny shores of San Diego. He was immediately hired as a chef at the former Cohn Restaurant Tupelo.
After the closing of Tupelo, Stephenson collaborated on a restaurant concept with restaurateur David Cohn. Stephenson wanted to do something fun that hadn't been done in the area, hence the satirical, tongue-in-cheek name of the Gaslamp Strip Club. He also wanted to create an upscale restaurant that lacked the typical stuffiness and upscale prices. Stephenson said that Mr. Cohn, as the owner of a primarily family-friendly restaurant group and a respected member of the San Diego community, was at first a little hesitant towards the idea of a strip club themed restaurant. However, with his trust placed firmly in Stephenson, Mr. Cohn allowed him to create a fun restaurant for adults consistent with the Cohn Group's standard of excellence and family dining.
I talked with Chef Stephenson about what it's like to work for the Cohn Group, the largest group of restaurants in San Diego. After working for and with Mr. Cohn for ten years, Stephenson has nothing but praise for David Cohn and his wife, Lesley, speaking of them as adopted parents. Stephenson even recanted the first occasion his parents met the Cohns. "Mrs. Cohn told my mom, 'You know that if anything ever happened to James, we'd have you on the first flight out here." Stephenson said that Mr. Cohn has allowed him to develop his skills as not only a chef, but as a manager and restaurateur. The respect that Chef Stephenson has for the Cohns is so great that he expressed interest in some day running the Group for Mr. Cohn after he retires, which he notes won't be for quite a while, considering Mr. Cohn's work ethic.
I also asked Chef Stephenson what it is like to work in the restaurant industry during this time of economic decline. He responded that it is tough for restaurants all over, but that it makes him work harder to provide food and atmosphere that keep people coming back again and again. He mentioned that promotions are a big part of that; especially offering deals that not only save people money, but that offer guests something they can't get anywhere else. I got to see two of these promotions firsthand on my visit: The first was the lobster street tacos that Chef Stephenson offered that night. While they aren't on the regular menu, they were whipped up using ingredients found in other main dishes on the menu and presented as a special that changes from week to week. The second was an upcoming promotion that Chef Stephenson told me about: The following weekend he was hiring professional masseuses to come in and give massages to those customers who purchased a signature cocktail during happy hour.
I asked if perhaps he isn't feeling the burden of the country's economy because of the Cohn Group; considering that while many independent restaurants have had to close over the past year, the Cohn Group has done well enough to open another restaurant. He admitted that since the Cohn Group is an establishment in San Diego, they haven't felt the hit as hard, but also that the popularity of the restaurants has allowed them to pass on the savings to customers by offering the same superior food quality and lower prices. This is a fact that's evident upon the first glance of the Strip Club's menu, as well as the crowd swarming the bar at happy hour.
I talked to Chef Stephenson about his cooking philosophy at the Strip Club. While he doesn't cook much of the food at the restaurant, he believes in cooking clean and letting the natural, quality ingredients speak for themselves. The prestige of the Cohn Group allows him access to the finest ingredients and he uses that to his advantage. When it comes to steaks, Chef Stephenson doesn't believe in steak sauce, but does believe in the right combination of seasoning and herbs to bring out the natural flavor of the meat. This is clearly evident in the amount and type of seasonings present on the sides of all the grills at the Strip Clubs, those of which I did not use sparingly on my visit.
The last question I had for Chef Stephenson was one that had weighed heavily on my mind ever since I had heard of the "grill your own meat" concept. With a full bar boasting 100 brands of vodka and 16 different drafts, and people grilling their own food, has he ever had any fires or accidents? Chef Stephenson smiled and responded that, in the entire history of both the Gaslamp and La Jolla Strip Clubs, there has never been a fire-related incident. He did remark, however, that it doesn't hurt to have quality insurance.
---