Chris O'Donnell
Executive Chef
---
---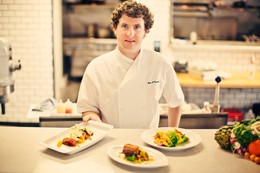 Executive Chef Chris O'Donnell is a stimulating asset to the San Diego food scene with his California-inspired Italian cuisine. O'Donnell is wholly devoted to integrating fresh, local ingredients at the peak of their season into the menu at his new home in the La Villa Restaurant & Bar of Little Italy. This farm-to-table concept ensures that local farmers and fisherman have a direct relationship with the restaurant for the highest quality products available. At this rustic yet elegantly modern dining destination, the farm-to-fork movement inspires each of O'Donnell's delectable dishes.
The ever-changing menu is solid; it encompasses a total of approximately forty appetizers, salads, pastas, pizzas, meat, poultry, and seafood concepts, not including the enticing dessert menu. Some recent examples include Marinated Olives, Mussels & Clams al Forno, Crispy Soft Shell Crab, Cavatelli Pomodoro (pasta with garlic, crushed tomato, parsley, and parmesan), and Crispy Skin Duck Breast. O'Donnell and his team constantly prepare a different Soup of the Day and Fish of the Day to shake things up and play with new ingredients. Have a seat inside the kitchen at the chef's table for an up-close exhibition of O'Donnell's culinary flair. He will be happy to whip up a delicious customized meal just for you. Whether guests are in the mood for something traditional (Margheritta pizza with homemade mozzarella cheese) or something a little more contemporary (Roasted Pumpkin Fettuccini or Octopus Salad), O'Donnell always has something special up his sleeve.
He is originally from Orange County, just north of San Diego, where he spent years polishing his skills under a lineup of several highly esteemed chefs. Previously, O'Donnell worked at Savory Deli & Market in University Heights and Dolce Pane e Vino in Rancho Santa Fe. He also crafted contemporary California cuisine during his three-year stay at Arterra at the Marriott in Del Mar, and under the direction of the highly regarded Chef Carl Schroeder at Market in Del Mar. He even had the unique opportunity to work as a personal chef, when he cultivated his own unique style. The culmination of these distinct experiences has produced a well-rounded, original culinary connoisseur.
In terms of his cooking philosophy, O'Donnell hasn't lost sight of what's important. His desire is to create innovative recipes which "let the ingredients speak for themselves." He is extremely meticulous and detail-oriented, attending to every component of the dish before it leaves the kitchen. With all of the dazzling and spontaneous seasonal ingredients on his menu, there is always something for everyone to enjoy. His favorite dish on the current menu is the Suzie's Farms Radish & Avocado Salad made with citrus, goat cheese, and pistachio. Every inch of this organic dish is bursting with flavor and freshness, but he cannot guarantee it will be here for long. O'Donnell is constantly fiddling with ingredients and altering the menu to satisfy his passion for innovation. If he could, Chris says he would change the menu at least once every single day. Instead, he settles for alterations every few days to reflect what's available from local sources and what is currently speaking to him. "I have to tone it down a little bit," he says with a smile.
The Little Italy district in Downtown San Diego is one the premier places to discover the true essence of Italy from thousands of miles away. La Villa Restaurant & Bar provides this luxury with O'Donnell's modern take on old world Italian cuisine, in a setting that is truly one of a kind. O'Donnell says that what he values most about working at La Villa is the constant encouragement from management to let his creative culinary passions run wild. His minimalist, straightforward attitude shows through in dishes that are crafted with a genuine focus on taste and presentation. This pure principle is more than enough to leave guests craving more. From traditional Nepalese style wood fire pizza, to poultry, pasta, seafood, and everything in between, Chris O'Donnell is serving up delicious Italian creations fresh off the farm or boat.
---