Martin Woesle
Chef de Cuisine
---
---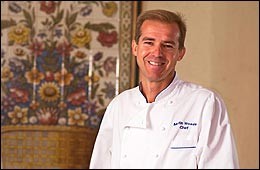 Born in Southern Germany, Chef Martin Woesle began cooking at the age of 16. Underage for culinary school, his talent persuaded administrators to admit him anyway, a move for which they were soon rewarded: Woesle graduated first in his class.
Woesle went on to train under Eckart Witzigmann at Munich's three-star Aubergine, and later worked at renowned Ma Maison in North Hollywood. He has been the Chef de Cuisine of Mille Fleurs since 1985.
Chef Woesle's many awards include the prestigious James Beard Foundation's Great Regional Chef in America. He was subsequently invited to the James Beard House in New York to prepare a Foundation dinner.
Here Chef Woesle talks about his influences and maintaining his passion for cooking after so many productive and award-filled years in the business.
What attracted you to Mille Fleurs?
It has always been a well-known restaurant. I knew that it would be an opportunity to do whatever I wanted with great ingredients.
What is it like to work with Chino's Farm?
I've gone to Chino's every day for 18 years. My philosophy has always been to use the best and freshest ingredients. They have the best and are nearby.
You were named one of the Great Regional Chefs in America by the James Beard Foundation. Who were your influences in this country?
I really admire Alice Waters. And I also like Wolfgang Puck, both as a businessman and as a chef.
What was it like to cook at the James Beard House?
A lot of work! It's a small kitchen and I could only be in there three hours before I served dinner because they had a lunch function. So we had to prepare everything in a nearby hotel and then shuttle it to the House in ninety-five-degree weather. But everything turned out great.
How do you maintain your passion for cooking after all these years?
I try to make things exciting and different every day by changing the menu every day. I love to be around fresh produce, fish, and meat. I've just always had a love for cooking.
So what has kept you here, at Mille Fleurs, for 20 years?
[Smiles] I like what I do here. I'm in a great area, there's a farm right down the road…

What do you find the most rewarding part of working at Mille Fleurs?
Seeing happy customers, and seeing customers who return. Some have become friends [over the years]. On any given night, I probably know about 15% of our guests.

Are there any surprises any more?
Every day is a surprise. Things go more smoothly now, I've had three guys in the kitchen who have been working since I arrived, but there are still surprises.

What changes have you seen over your 20 years at Mille Fleurs?
Well, the customers have changed. Some are more demanding, or more in a hurry, and also they want more choices. So we adapt. We've just expanded our menu to offer 10 entrees a night instead of 7. And we always try to have a variety on the menu, always three fish, and a variety of meat and fowl.

What about culinary trends? I'm sure you have seen many over your 20 years-what do you think about them?
Trends, they come and go. I use more of a classical approach. But trends, sometimes chefs try to mix too many things together on one plate, or do too much. I just use what is available—fish, produce, sauces, the best I can get and use classic techniques to prepare them.

Do you have any particular ingredients you like to work with or dishes you like to prepare?
Everyone always asks me what my favorite dish is, but I don't prefer any dishes over others.

Do you prefer a certain season over others?
Summertime. I like when the tomatoes are ripe, the peppers, eggplant and zucchini are at the farm.

---
---