Felix Frias
Executive Chef
---
---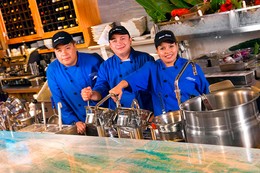 Anyone who watches Chef Felix Frias in the Ocean Room's open kitchen can see that he enjoys his work. Vivacious and personable, Chef Felix takes pleasure in personally delivering his artistic creations tableside. However, this Vera Cruz, Baja California born Chef admits that his childhood was not filled with a love of cooking, but more with the normal play that growing boys enjoy. It was not until Felix's teenage years that he discovered his true calling in life was to be a chef. Now cooking is – as he will tell you, with great enthusiasm – his all-consuming passion.
Chef Felix has worked his way from where he started, studying under many well-known San Diego chefs and honing his skills in the real-time, ever-changing environment that only a kitchen can provide. He worked as Executive Chef of what is now Chianti for 5 years, helping that restaurant win many awards and distinguish itself within the growing Gaslamp District. Chef Felix's talents were recognized and rewarded when he was offered the chance to help open the Ocean Room, a challenge he has jumped into.
And a challenge it has been. As the only kettle steamer kitchen in San Diego and one of only a few on the West Coast, there was no easily accessible model for Chef Felix to use in creating his menu. He modestly stresses that the Ocean Room's cuisine is a team effort – he works in conjunction with Executive Chef Raul Delgadillo from the Ocean Room's sister restaurant, La Fiesta, to brainstorm solutions to preparation challenges. Like, how do you best prepare the freshest seasonal fish when your kitchen has no grill?
The end result is beautiful presentations of ingeniously prepared seafood dishes, which are evolving under Chef Felix's capable hands. While his favorite dish is the signature Steamer, he is constantly searching out new flavors and educating himself on what is seasonal to bring the finest seafood choices to his guests. His goal is to create a menu that will delight any seafood lover, and he has succeeded completely. Yet with all this seriousness over every detail, from preparation to arrangement, is Chef Felix having fun? A wholehearted yes!
---
---