Vincenzo Lo Verso
Executive Chef
---
---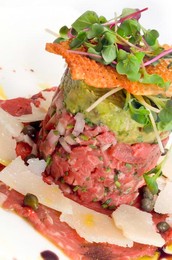 Vincenzo Lo Verso, the executive chef and owner of Greystone, spends his time managing menus, recipes, and ingredients for three large restaurants and a pizza parlor; yet he still finds the time to cook for his wife and two children at home. He is a busy person whose attention is split in many directions, but before I feel guilty for taking his time, his frank smile gives me the courage to ask the questions I've prepared.
Vincenzo Lo Verso, born one of 14 children, started his culinary life in Bagheria, Sicily, where he learned his first skills and where his love for food preparation had its beginnings. Throughout the years, this love of food and a knack for business have made him one of the most successful restaurant owners in San Diego.
Seniore Lo Verso has made it a point to manage his businesses family-style; and that is how he treats his staff, according to 8-year Banquet Facility Manager Veronica Goodwin. The chef's eyes light up when he talks about food: "All my life I've loved to cook, I started very young;" He's always experimenting with new ingredients from around the world and often includes them in his menus where you can find Asian dressings made with soy sauce or wasave, and tropical fruits like mango.
Chef Lo Verso sets himself apart from the crowd by offering fine cuts of elk, buffalo, and Kobe beef. He draws inspiration for the preparation of these fine tender loins and chops from such gastronomic luminaries as Charlie Trotters, the chef of the famed Chicago restaurant that bears his name. He also insists on purchasing his own fish and seafood from a local fish market that has earned his trust over the years for the quality of their products. He's a well rounded chef who draws from his international cuisine skills to prepare sauces such as French reductions. Made out of a variety of wines from around the world, he further flavors these sauces with aromatic fruits or vegetables that have been personally selected by him from one of his favorite local organic farms in Escondido. He also buys organic arugula, peppers, tomatoes, and spring mix from a farm in Bonzai valley.
Chef Lo Verso's favorite dish, not surprisingly, is pasta in any shape or form. "I'm very creative with pasta," he told me. I'm also not surprised when he tells me that his favorite ingredient is oregano. He loves it so much that he has christened his latest venture, a Pizza place in Hillcrest, Pizzeria Oregano.
Having the talent to please people's palates makes chef Lo Verso feel blessed. "I love the restaurant environment, I love to make people happy," he says with conviction. He knows he succeeds at this because of satisfied customer's feedback. These are immediate and abundant, and the compliments come in the form of repeat customers from as far as Boston and New York, from letters of appreciation, and of course, client referrals. And this, I'm sure, makes him even happier.
---