Fabio Speziali
Executive Chef
---
---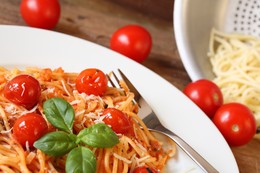 Since moving to San Diego from Italy 10 years ago, Fabio Speziali has contributed greatly to the local dining scene. Speziali is the proud owner and executive chef of three area restaurants: Pomodoro Ristorante, Osteria Romantica, and Lighthouse Bar and Grill. With so much on his proverbial plate, one might expect Chef Fabio to be hurried or anxious. However, one quickly learns upon meeting him that the Chef is a natural host and craftsman who makes everyone feel welcome with his quality fare and gracious way.
You could say that Chef Fabio was infused with a passion for the culinary arts from a young age. When asked where his interest in cooking first developed, he explains,"Mostly it came naturally, just from years of being in and around the kitchen." Though, Speziali's drive to succeed soon led him to turn his interest into something greater—something he could share with the masses. "I am inspired by both a passion for food and for people. It seemed only natural to put them together." Indeed, a visit to any of his restaurants is an inviting experience. Guests are acquainted with gourmet cuisine that boasts quality and flavor over pretense or show.
Whether it's your first time or 50th to sample any of Chef Fabio's ingredient-driven fare, you will feel as though your dining on prized family recipes… And as unique at it is to be so at home in restaurants, Fabio's simple answer to his popularity is "People seem to like what we do," He smiles, "So we keep opening restaurants.
---