Sammy's Woodfired Pizza & Grill - La Jolla
Sammy's Woodfired Pizza & Grill - La Jolla

Come check out Sammy's Woodfired Pizza & Grill's original location right by the Pacific Ocean in downtown La Jolla and see where it all began! Since 1989, Sammy's has offered only the best, having perfected the art of woodfiring their artisan pizzas. Since then, the restaurant's popularity with the La Jolla locals has led to the opening of seventeen other restaurants. Delight your taste buds with the Organic Arugula & Pear Pizza, LaDou's Barbecue Chicken Pizza, or the thin-crust Brie & Truffle Oil pizza. Enjoy the cozy fire pit on their outdoor patio during Happy Hour from 3:00 p.m. until 7:00p.m. when the selection of fine craft beers and wines by the glass are discounted along with plenty of tapas. If you aren't a pizza lover, Sammy's offer a wide variety of other dishes, such as Oak Roasted Salmon Filet, Organic Spinach & Flaked White Tuna Salad, and Mini Kobe Beef Hamburgers. The chefs are also able to accommodate special diets, offering a variety of gluten-free and vegan dishes. Come in on Mondays for a complimentary Messy Sundae with a thirty dollar purchase, or swing by on Wine Wednesdays for half off a bottle of wine with any purchase over ten dollars. Don't feel like going out? Sammy's Woodfired Pizza & Grill now offers catering and delivery services so you can enjoy your favorites in the comfort of your own home or party. Go Sammy's and you'll never go back!
---
Buy restaurant gift certificates online and save 20%
The perfect gift for any occasion. It's Quick & Easy!
---
---
Photos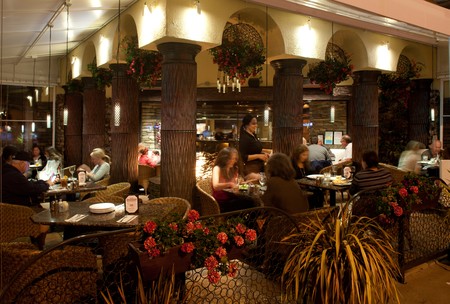 ---
Restaurant Info
Address:

702 Pearl Street,

La Jolla

CA

92037

Cross Street: Draper Avenue
Category: Casual Dining
Reservations: Not Available
Parking: Street |
Payment Options: VISA | Amex | MasterCard | Discover |
Corkage Fee: 10.00 | Per 750ml bottle.
Staff:
Website: http://www.sammyspizza.com/location/la-jolla/
Phone: (858) 456-5222
Business Hours
Monday

| All Day 11:30 a.m. - 9 p.m.

Tuesday

| All Day 11:30 a.m. - 9 p.m.

Wednesday

| All Day 11:30 a.m. - 9 p.m.

Thursday

| All Day 11:30 a.m. - 9 p.m.

Friday

| All Day 11:30 a.m. - 10 p.m.

Saturday

| All Day 11:30 a.m. - 10 p.m.

Sunday

| All Day 11:30 a.m. - 9:30 p.m.
Features
Catering Services
Takeout Available
Wheelchair Access
Happy Hours
Personal Wines Allowed
Lounge / Bar
Healthy Options
Occasion
Child Friendly
Dining Alone
Business Dining
Meet for a Drink
People Watching
Special Occasion
Quick Bite
---
F.A.Q. - Frequently Asked Questions
---
Map
Restaurant Address:
702 Pearl Street,
La Jolla
CA
92037
---
User Reviews
Sammy's Woodfired Pizza & Grill - La Jolla