Sammy's Woodfired Pizza & Grill - La Mesa

Make a Reservation
Looking for the perfect restaurant for a casual night out? Sammy's Woodfired Pizza & Grill in La Mesa is the place to be, offering a comfortable dining experience and quality cuisine that everyone can delight in. This family-friendly restaurant is located a block away from Grossmont Center's shops and movie theater, so feel free to unwind after a day of shopping, enjoy a relaxing dinner and a movie with someone special, or bring the family by for a wholesome get together. Peruse the selections of wine and craft beers and order half-priced tapas during Happy Hour, every day from 3:00 p.m. until 7:00 p.m. with options that are sure to please your taste buds such as Japanese Chicken Meatballs, Oak Roasted Salmon, or one of the many finely crafted woodfired pizzas. Choose from a variety of gourmet toppings, such as goat cheese, prosciutto, or garlic chicken. The restaurant can accommodate a variety of dietary restrictions, including vegan and gluten-free, as well as low fat and whole wheat, and for those who don't wish to leave the comfort of home, enjoy the delicious tastes of Sammy's with online catering and delivery services. Conveniently located within walking distance of the Grossmont Center trolley stop, Sammy's Woodfired Pizza & Grill is easily accessible from almost anywhere in San Diego, so be sure to pencil in a visit at the top of your to-do list.
---
Buy restaurant gift certificates online and save 20%
The perfect gift for any occasion. It's Quick & Easy!
---
---
Photos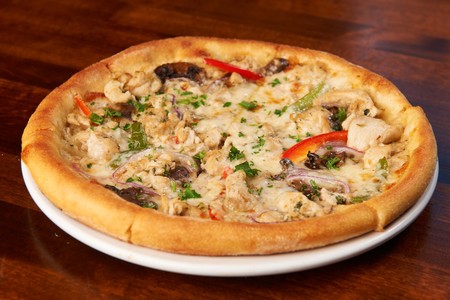 ---