Sammy's Woodfired Pizza & Grill - Point Loma

Make a Reservation
Immerse yourself in the beautiful historic architecture of Point Loma and savor the fresh tastes of Sammy's Woodfired Pizza & Grill inside Liberty Station. From hand-crafted pizza to farm fresh salads and extraordinary tapas selections, Sammy's has everything you need to experience a satisfying meal in a comfortable, casual environment suitable for occasions of all kinds. Many come just for Happy Hour, when all tapas are half price between 3:00 p.m. and 6:00 p.m. every day. Others bring the family and order from tantalizing pizza choices like the Margherita with tomatoes, garlic and fresh basil, Prosciutto with artichoke, scallion, garlic and smoked provolone, and the ever popular Organic Arugula & Pear with prosciutto, gorgonzola and organic arugula salad tossed in balsamic basil dressing. Mingle on the outdoor patio and sip on a glass of wine when the weather allows, or just stop by to indulge in a delectable dessert like the Messy Sundae with vanilla ice cream, chocolate and caramel sauce, walnuts, and whipped cream, alongside an order of Warm Crispy Mini Donuts served with raspberry and chocolate sauce. In addition to the many California-inspired pizzas and main courses, Sammy's also serves several innovative pasta creations like Chicken Tequila Fettucine featuring spinach fettucine, bell peppers, red onion, and jalapeno in a smooth tequila-lime cream sauce, as well as Brown Rice Penne or Pappardelle Bolognese with beef-tomato sauce and shaved romano cheese. To top off the brilliant menu, Sammy's Woodfired Pizza & Grill always maintains the highest of service standards, providing one of the most enjoyable casual dining experiences in Point Loma. So come on down to Liberty Station and dive into some great food at Sammy's.
---
Buy restaurant gift certificates online and save 20%
The perfect gift for any occasion. It's Quick & Easy!
---
---
Photos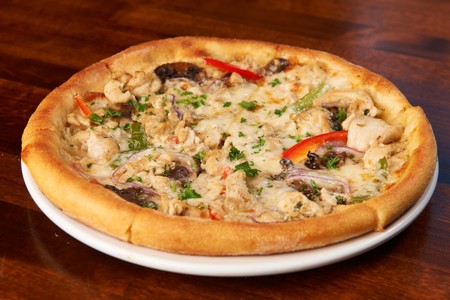 ---