The Cuvée Club at Covo

Make a Reservation
Supper Club Nostalgia in The Modern Era The Cuvée Club at Covo is a revival of the supper club, a classic concept for a dining establishment dating back to the 1930s, where patrons could retire for an evening of mixed drinks and upscale dining and entertainment. We pride ourselves in continuing this nostalgic tradition by keeping all the meaningful elements that make a supper club while adding a touch of Southern California culture.
---
Buy restaurant gift certificates online and save 20%
The perfect gift for any occasion. It's Quick & Easy!
---
---
Photos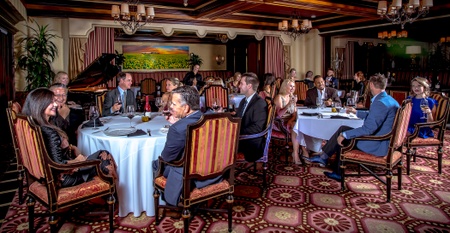 ---
Business Hours
Monday

Covo La Jolla | Closed

Tuesday

Covo Café & Wine Bar | Lunch 11 a.m. - 3 p.m.

Wednesday

Covo Café & Wine Bar | Lunch 11 a.m. - 3 p.m.

Thursday

Covo Café & Wine Bar | Happy Hours 11 a.m. - 9 p.m.

Friday

Dining Room | Dinner 5 p.m. - 10 p.m.
Covo Café & Wine Bar | Happy Hours 11 a.m. - 9 p.m.
The Cuvée Lounge | Dinner 6 p.m. - 10:30 p.m.

Saturday

Dining Room | Dinner 5 p.m. - 10 p.m.
The Cuvée Lounge | Dinner 6 p.m. - 10:30 p.m.
Covo Café & Wine Bar | Happy Hours 11 a.m. - 9 p.m.

Sunday

Covo La Jolla | Closed
Features
Full Bar
Late Dining
Catering Services
Live Entertainment
Organic Ingredients
Outdoor Seating
Private Room
Prix Fixe Menu
Winning Wine List
Happy Hours
Personal Wines Allowed
Lounge / Bar
Healthy Options
Chef's Table
Free Wi-Fi
Farm-to-table
Occasion
Romantic Dining
Business Dining
Meet for a Drink
Quiet Conversation
Special Occasion
Quick Bite
Date Night
---
F.A.Q. - Frequently Asked Questions
---
Map
Restaurant Address:
1205 Prospect St Suite D,
La Jolla
CA
92037
---
User Reviews