WildWood Crossing

We came together in the 1980s, working at some of the best restaurants in San Diego North County. We forged our family in those legendary dining icons, then went on to careers in creative arts and services. Friends to this day, we came back together in business to form Terramar Restaurant Group and to create WildWood Crossing. The owners, managers, and chefs are members of an extended family who love to make people feel welcome and provide creative hospitality. We feed you right! We created a venue that has entertainment that rivals that in San Diego. A place that you KNOW will have great music, fantastic food, and drink for happy hour, and dinner that you can go to for date night. WildWood Crossing is that place. WildWood is a place for locals to meet, eat, drink, and bask in the natural beauty that Vista affords its citizens. This is your new living room, right on the park.
---
Buy restaurant gift certificates online and save 20%
The perfect gift for any occasion. It's Quick & Easy!
---
---
Photos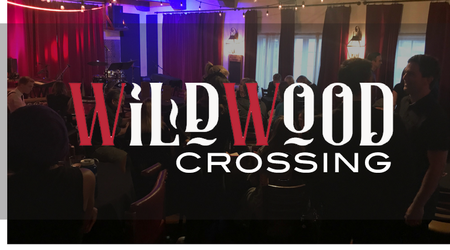 ---
Restaurant Info
Address:

116 Civic Center Dr,

Vista

CA

92084

Cross Street: Vista Way
Category: Casual Dining
Reservations: Recommended
Parking: Street | Public Lot | Private Lot |
Payment Options: VISA | Amex | MasterCard | Discover | Cash |
Corkage Fee: 10.00 |
Staff: Prentiss Hyatt | F&B Manager
Nicole Jones | Host
David Mears | Marketing Director

Website: https://wildwoodcrossing.net/
Phone: (760) 758-1513
Business Hours
Monday

Main Dining | Closed

Tuesday

Main Dining | All Day 11 a.m. - 9 p.m.

Wednesday

Main Dining | All Day 11 a.m. - 9 p.m.

Thursday

Main Dining | All Day 11 a.m. - 9 p.m.

Friday

Main Dining | All Day 11 a.m. - 10 p.m.

Saturday

Main Dining | All Day 11 a.m. - 10 p.m.

Sunday

Main Dining | All Day 10 a.m. - 9 p.m.
Features
Full Bar
Sunday Brunch
Catering Services
Live Entertainment
Outdoor Seating
Takeout Available
Working Fireplace
Happy Hours
Free Wi-Fi
Occasion
Child Friendly
Romantic Dining
Dining Alone
Business Dining
Meet for a Drink
Special Occasion
Vegetarian
Quick Bite
Trendy / Hip
Date Night
---
F.A.Q. - Frequently Asked Questions
---
Map
Restaurant Address:
116 Civic Center Dr,
Vista
CA
92084
---
User Reviews