North County Inland: 13 Restaurants Found
Sort Results: By Popularity | By Name | By Price | By Star Rating
1 2
Address: 6009 Paseo Delicias, Rancho Santa Fe, CA 92091 (
Map
)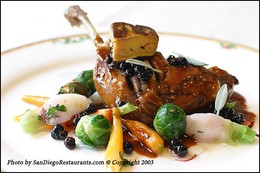 Picture a romantic retreat in the French countryside where days conclude with glowing fireplaces and elegant meals, and you will have the essence of Mille Fleurs. The restaurant, which is located on a small estate off a windy road in Rancho Santa Fe, offers a warm and charming atmosphere that plays host to stunning haute cuisine. Chef Martin Wosele's menu, which changes daily, delicately melds European culinary traditions with local California ingredients. The result is sensational and exquisite fine dining which, as evidenced by numerous awards and national recognition, makes Mille Fleurs one of the most significant dining establishments in San Diego.
Address: 1205 Auto Park Way, San Diego, CA 92029 (
Map
)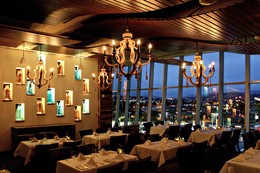 Settled on the penthouse level of the luxurious shopping district, The Centre at Lexus Escondido, is Cohn Restaurant Group's newest venture, Vintana Wine + Dine. The restaurant showcases a modern rendition of California cuisine melded with a breathtaking panoramic view of local mountains and the city of Escondido in a semi-casual setting. Executive Chef Deborah Scott has conceived a sensational menu that offers a wide variety of notable dishes that guests can relish. Overwhelm your senses with Vintana's fresh sustainable seafood options including Clear Spring Rainbow Trout and Mano De Leon Sea Scallops. Or satisfy your palate with one of the Signature Steaks like a 14 oz. Natural Eye of Ribeye or a 16 oz. Bone in Certified Angus New York Strip, prepared one of three ways: charbroiled, seared, or blackened. With 20,000 square feet of space, Vintana can seat an astounding 280 diners, and with 2,500 square feet of outside space, guests can enjoy Vintana's galas or rent it out for a night for a private event. Vintana's establishment also offers a Vodka Lounge where guests can indulge on rare vodka spirits from the vast mountainous regions of Sweden to local domains of California. Visit Vintana Wine + Dine within Escondido region for a true experience of Southern California cuisine.
Address: 16085 San Dieguito Road, Rancho Santa Fe, CA 92067 (
Map
)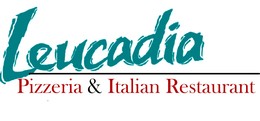 With three convenient North County locations, Leucadia Pizzeria and Italian Restaurant has earned the reputation for being the place to visit for fresh and flavorful cuisine. This Leucadia Pizzeria has been open for over 25 years and is quietly nestled in the heart of Rancho Santa Fe, happily catering to a loyal local clientele with a menu packed full of family-friendly dishes and casual dining options. Chef A.J. Mortazavi ensures that guests enjoy a consistently satisfying experience, where an impressive selection of pizzas attracts many, and the Build Your Own Pizza combinations are vast and creative. More traditional Italian entrees like Chicken Parmesan and Red Clam Linguine turn any night into an evening of fine dining. And to top it all off, Pastry Chef Nikki Schaeffer seduces the sweet tooth with decadent dessert offerings.
Address: 12457 Rancho Bernardo Road, San Diego, CA 92128 (
Map
)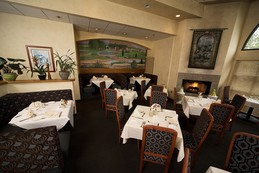 Unassuming elegance is paired with striking attention to detail at Bernard'O Restaurant, in Rancho Bernardo. The main dining room provides a cosmopolitan space lit with the glow of an Italian-tile fireplace. The patio that affords views of glistening stars most nights also has a fireplace to keep diners comfortable. The menu is a toast to fine French fare, and Chef Vincent Viale plates dishes that are both complex in flavor and refreshingly direct in vision. The Californian Bouillabaisse is an ode to the ocean with seabass, scallops, shrimp, mussels, clams, and potatoes, in a Rouille lobster sauce. Stop by for lunch Tuesday through Friday or enjoy an elegant night out for dinner Monday through Saturday. Bernard'O Restaurant is sure to leave you satisfied.
Address: 12642 Poway Road, San Diego, CA 92064 (
Map
)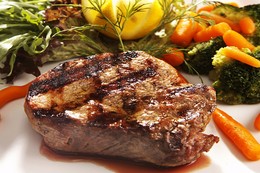 Luc's Bistro offers guests an authentic taste of down-home Southern cuisine. Try dishes like Crispy Crab Cakes with Avocado Cilantro, which take Southern flare and meld it with a California twist. Ongoing specials pop up daily to switch the mood for returning visitors while allowing newcomers to sample unique creations from Luc's talented chefs. Cozy and casual, the "bistro-esque" dining room invites guests to dine with friends, family, or their significant other. Who says that a bistro has to serve only French cuisine? Luc's Bistro shows patrons that a restaurant can create its own flare by taking different styles and consummating a brand new approach on food.
Address: 9550 Waples Street, Suite 115, San Diego, CA 92121 (
Map
)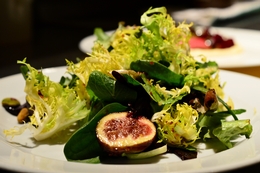 The WineSellar & Brasserie offers a unique experience in French cuisine and premium international wine. Whether searching for a new place to find a fantastic power lunch, stopping by during Happy Hour, or enjoying a special evening over an impeccable dinner, a meal at The Brasserie is a memory in the making. The WineSellar, a fun play on words, offers a vast selection of wines from around the world, and because of the connection between the wine shop and the restaurant, everyone can enjoy reasonable retail pricing and minimal corkage fees for all bottles. And, with classic starters like Tartare of Salmon, home-made French Onion Soup, or the Grilled Leg of Lamb Salad, as well as innovative main courses such as Carmelized Jumbo Scallops, Confit of Duck Leg, and Grilled Pork Tenderloin, WineSellar & Brasserie is a true food-and-wine-lover's paradise.
Address: 8111 Mira Mesa Blvd., San Diego, CA 92126 (
Map
)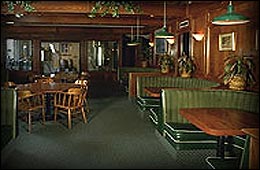 Opened in 1989, Callahan's Pub and Brewery is a neighborhood Irish pub, brewery, and restaurant with a twist. Callahan's brews their specialty beers in small batches, rendering a fresh, home-made taste. They offer over 25 beers and ciders on tap, including their hand-crafted microbrews—and have a full bar if you're looking for something a little more strong. For something to munch on, Callahan's has a tempting menu full of traditional Irish and American dishes with three areas for lunch and late night dining, including bar area, dining room, and patio. They even serve Sunday brunch! In addition to dining and drinking, you can find plenty of fun at Callahan's.
Address: 10785 Scripps Poway Parkway, San Diego, CA 92131 (
Map
)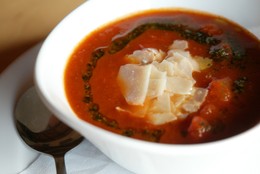 Situated just north of Lake Miramar on the corner of Scripps Poway Parkway and Spring Canyon Road, Sammy's Woodfired Pizza & Grill provides a laid back environment with attentive service and a menu full of delicious, fresh creations. Start off with some signature Tapas out on the covered patio, which are all half price during the daily Happy Hours. They're the perfect size for sharing around the table, and you're sure to find new flavors to savor with options like the vegetarian approved Parmesan Crusted Artichokes, Crispy Tofu, and Wok'd Sesame Shishito Peppers, as well as Japanese Style Chicken Meatballs, Mini Duck Tacos, Pork Dumplings and Chicken Lettuce Cups to satisfy anyone in need of some lean protein. While the Tapas are always fun and tasty, Sammy's also offers hot soups like the Lobster Bisque or Fresh Tomato Basil, in addition to a delightful selection of ten different salads. Standouts such as the Red Quinoa and Spicy Thai Grilled Chicken offer crisp bold flavors, and after you how to start your meal, the unique combinations of ingredients found atop the many varieties of woodfired pizza will blow you away. Favorites like LaDou's Barbecue Chicken with smoked gouda, the Prosciutto with smoked provolone, and the Five Cheese with gouda, raclette, romano, mozzarella, and gorgonzola are bound to have you coming back for. With service available all day, every day, it's easy to find time to enjoy the food at Sammy's in Scripps Ranch, even if you'd like it delivered to your home or catered for your next party. So what are you waiting for?
Address: 121 South Las Posas Road, San Diego, CA 92078 (
Map
)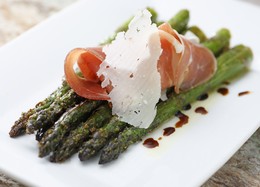 Address: 12511 Poway Rd, San Diego, CA 92064
Narrow Results: By Popularity | By Name | By Price | By Star Rating
1 2