South Bay: 4 Restaurants Found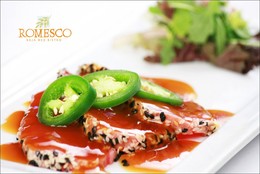 Whether you want a wide assortment of small plates to share, farm-fresh salads, exotic entrées or unique pasta dishes, Romesco's Bistro in Bonita has it covered, with a Baja-Mediterranean blanket that leaves you with a familiar, foodie feeling. Chef Javier Plasencias rolls out hot and cold tapas from octopus to Jamon Serrano (dry-cured Spanish Ham). He creates distinct dishes such as Beef Cheek Tacos and Crab Mac and Cheese, along with an assortment of fondues to extinguish any craving one might have. Plasencias' Mediterranean techniques and recipes mix superbly with local Mexican flavors to complement the warm ambiance of this casual fine-dining establishment. The large L-shaped dining room gives food seekers an easy opportunity to walk in and sit down quickly for a meal or converge at the bar for happy hour. Romesco's takes the best of the South Bay and gives diners another desirable destination in the San Diego food scene.
Address: 866 Eastlake Parkway, Suite 210, Chula Vista, CA 91914 (
Map
)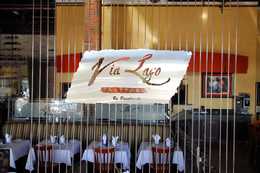 While far from the urban bustle of downtown San Diego, Via Lago exudes cosmopolitan charm. Located at the Village Walk at Eastlake, the restaurant is well worth the short drive from central San Diego, thanks to a modern, elegant atmosphere, spot-on professional service, and a menu of Sicilian favorites that will redefine your notion of Italian cuisine. Overseen by Joe Busalacchi, the kitchen turns out dish after mouthwatering dish using fresh ingredients and inventive combinations, such as Ramigna Alla Contadina, pasta with artichokes, chicken, zucchini, eggplant, tomato, garlic, basil, and ricotta salata, or Pasta Palermitana, rigatoni with spicy Italian sausage, capers, garlic, olives, and hot red peppers in a tangy marinara sauce.
Address: 373 Third Avenue, Chula Vista, CA, San Diego, CA 91910
Address: 556 Broadway, Chula Vista, CA 91910