Pacific/Mission Beach: 16 Restaurants Found
Sort Results: By Popularity | By Name | By Price | By Star Rating
1 2
Address: 1710 W. Mission Bay Drive, San Diego, CA 92109 (
Map
)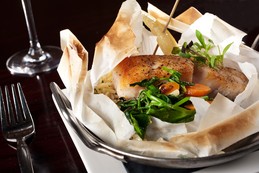 If you're in the Mission Bay area, be sure you visit The Firefly Restaurant and Bar located inside The Dana Hotel. Facing the bay, Firefly has fantastic views, creating a dining experience that will impact your senses in a major way. As one of San Diego's premier dining spots, Firefly offers a contemporary atmosphere imbued with the kind of ambiance that is just right for a romantic dinner for two. If you're looking for a quick meal, the happy hour menu offers great specials. Chef Eric Manuel is a native to San Diego, and his dishes are created with fresh, seasonal ingredients and prepared with great attention to detail, making the end result a meal to truly relish in.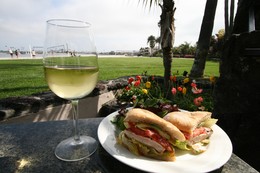 With tropical décor and stunning views of Mission Bay, The Atoll at the Catamaran Resort Hotel is a vacation for the senses. This esteemed restaurant is open for breakfast, lunch, dinner and Sunday brunch with California coastal cuisine from renowned Executive Chef Steven Riemer. Entrees feature an array of vegetarian entrees, poultry, steaks, and chops, like the Herb Crusted Baja Halibut, Roast Duck Breast, Filet Mignon with Red Wine and Gorgonzola Butter, and much more. Take a seat on the enchanting outdoor patio with uninterrupted views of the passing boats. For prime cuisine with first-rate service in the Mission Bay area, journey towards the beautiful Koi pond and colorful parrots at the entrance of The Atoll.
Address: 960 Turquoise Street, San Diego, CA 92109 (
Map
)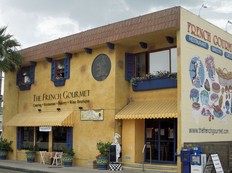 Known and loved by many as a charming restaurant and bakery, The French Gourmet also boasts impressive credentials as a full-service catering business. This San Diego favorite has been conjuring up decadent and flavorful delicacies from scratch in its kitchen, and then serving them to loyal patrons inside and out of the dining room since 1979. Breakfast, lunch, and dinner become casual yet decadent holidays at The French Gourmet, where fresh pastries, classic hors d'oeuvres, and house-made specialties mingle with award-winning wines. Set in an intimate space bathed in natural light during the day and a romantic glow in the evening, guests feel quite at home indulging on rustic French staples and truly innovative treats. It seems only natural then that The French Gourmet would be chosen so often to cater memorable events and unique moments.
Address: 1269 Garnet Avenue, San Diego, CA 92109 (
Map
)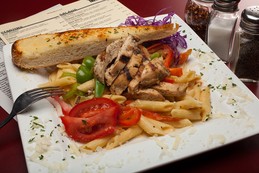 SD Tap Room sits on Garnet Avenue amongst an array of restaurants, bars and shops in the heart of Pacific Beach. SD Tap Room is well known for its wide selection of beers from local breweries including Stone, Lost Abbey, Green Flash and Karl Strauss. Offering the perfect solution to cleanse the palate between beers, munch on Beer Soakers-- fresh pizza dough topped with parmesan, oregano, fresh mozzarella and garlic served with marinara or ranch. With so much beer to choose from, any beer enthusiast will be content to sample Tap Room's satisfying brews.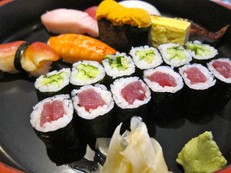 Sushi Ota, located on the outskirts of Pacific Beach on Mission Bay Drive and Bunker Hill Street, has been serving handcrafted sushi and seafood preparations for years. As word spread about the freshness of their fish and the quality of the food, Sushi Ota became one of the best places to satisfy a seafood craving. This neighborhood Japanese restaurant is open for both lunch and dinner, offering a great selection of sushi and seafood for both meals. Ordering a Sushi Combo gives guests a good sampling of the fresh fish expertly prepared by the sushi chefs. For patrons craving cooked fish, hot dishes like the Seafood Dynamite or the Miso Sea Bass are just as tasty as the sushi. Take a seat at the sushi bar to watch the chefs at work, or enjoy dinner in the comfortable dining room. Sushi Ota is the ideal place to sample some of San Diego's finest seafood.
Address: 1851 Garnet Avenue, San Diego, CA 92109 (
Map
)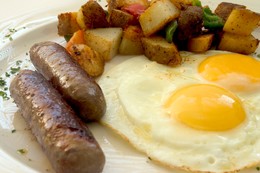 Among one of the original locations, The Broken Yolk Café in Pacific Beach is a local favorite for San Diegans. Open since 1979, The Broken Yolk's brand of home-cooked comfort food is famous for their generous portions. With over 20 omelets available and a casual atmosphere to boot, make sure you come around for lunch as well. Fans of the Broken Yolk rave about their burgers and sandwiches. It's a great place to people watch, and the scenic view from their outdoor rooftop patio isn't so bad either. The Broken Yolk Café is located along the coastal line, so if you want to brush up on your brunch etiquette before hitting the beach, make sure you visit The Broken Yolk Café.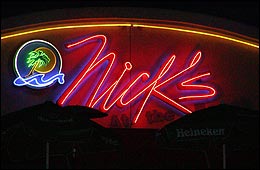 Nick's at the Beach has won awards for Best Neighborhood Restaurant multiple times from San Diego Magazine. This two-story restaurant offers the best of both worlds with casual dining and an energetic bar. Downstairs you'll find a light and airy, laid back restaurant serving twenty great tasting entrées including Savory Apple Brandy Pork Chops and crowd-pleasing sandwiches and salads. Upstairs you will enjoy the great ocean view from the outdoor deck where you can grab one of their sixteen beers on tap, catch the game on one of their many big screens, or take in a game of pool.
Address: 860 Garnet Avenue, San Diego, CA 92109 (
Map
)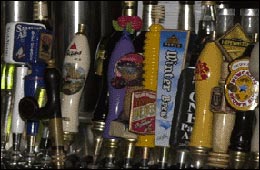 If you're looking for a great night in San Diego, look no further than PB Bar & Grill. This venue reflects Pacific Beach's laid back attitude and hosts a happy hour nightly. It is known as a favorite hangout among San Diego locals and mainly plays host to the college age crowd. PB Bar & Grill has a great selection of beer and cocktails to choose from in addition to their full bar. Their menu consists of typical bar fare and quick bites. It is part indoor restaurant, outdoor patio, and dance floor all of which combined with music results in the creation of a fun and memorable night out.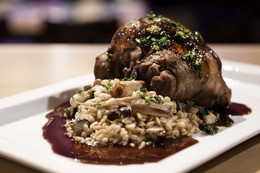 A melding of Latin and Mediterranean flavors along with the use of local ingredients inspires San Diego native Chef Matt Richman within the walls of Table 926. The place setting puts you in north Pacific Beach while walking inside the clean, soft neon-lit dining room. Some of the unique dishes that quickly go from table to tongue are the Oxtail Ragu with a Bucatini sauce with a lemon-mint ricotta or the Glazed Pork Cheeks with a guajillo-tamarind glaze, braised greens and polenta, while the Bistro Burger and the 14 oz. Grilled Ribeye might be more familiar flavors to a less adventurous foodie. The eye-catching wine wall reminds you of a fancy floor-to-ceiling shoe display with a wide assortment of whites and reds by the glass and bottle. Table 926 has a solid craft beer list, on draft and in the bottle, which helps round out the adult beverages. Chef Richman's fresh ingredients change with the season and his passion for the palate always brings you back to the table for more.
Address: 1730 Garnet Avenue, San Diego, CA 92109 (
Map
)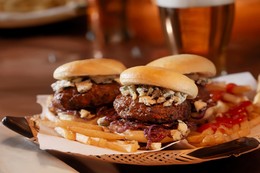 For an authentic taste of New Jersey style cheese steaks without having to travel outside of San Diego, Pop's Jersey Style Cheesesteaks offers traditional east coast steak sandwiches for those hungry west coasters. The menu offers simple selections of their house specialties, but their main attraction is the cheese steak, topped with lots of melted cheese as well as diced peppers and onions. This local attraction in the heart of Pacific Beach keeps locals and tourists alike coming back for some New Jersey flavor.
Narrow Results: By Popularity | By Name | By Price | By Star Rating
1 2