Coronado: 10 Restaurants Found
Peohe's captures the essence of Southern California dining with its stunning bay front views, Pacific Rim cuisine menu, and chic tropical vibe. This Coronado Island destination is ideally situated just steps from the Ferry Landing and offers picture-perfect views of the Downtown San Diego skyline, as well as an endless parade of passing boats. Peohe's menu celebrates the sea by showcasing the flavors of the Pacific; island cooking techniques are married with tropical accents for dishes that are bold in flavor and freshness. Sushi enthusiasts appreciate Peohe's selection of fresh nigiri, sashimi, specialty rolls, and platters. Likewise, meat lovers rejoice over cuts like the 16oz Callahan Cut Prime Rib and the Summer Truffle Filet Mignon. Whether you drive across the iconic Coronado Bay Bridge or catch a ride on a water taxi, visit Peohe's for a taste of San Diego.
Mistral, located in the luxurious Loews Resort on Coronado Bay, features award-winning dining attracting locals and resort guests alike. Accomplished Chef de Cuisine Patrick Ponsaty offers fine French cuisine infused with Mediterranean flavors set to serene ocean views. Take in the ocean breeze on the patio or dine indoors next to one of the many large windows and bask in the sophisticated and elegant décor. Mistral allows guests to indulge in a variety of ways: choose the more casual bar bites offered in the lounge, the classic but seasonal-inspired dinner menu or the seasonal tasting menu— no matter what you choose, all of your senses will be enlightened at Mistral.
Address: 1107 Orange Avenue, San Diego, CA 92118 (
Map
)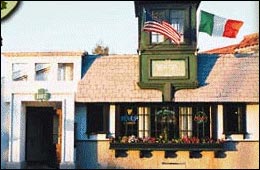 Established by a former navy seal in 1982, McP's Irish Pub & Grill remains one of San Diego's most authentic Irish Pubs. Located on Coronado's Orange Avenue, McP's hosts live music nightly and makes guests feel as if they are sitting in an old pub on the Irish countryside. The ambiance is laid back and invites patrons to raise a glass or two to those who have served our country. Their menu features a wide variety of selections including a kids menu. Mc P's now also serves breakfast on Sunday mornings and hosts sporting events as well.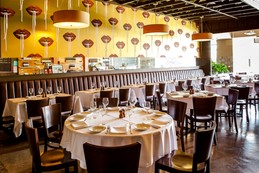 Sapori, located on the beautiful Coronado Island, offers traditional Italian fare using fresh, seasonal ingredients to create the food connoisseur's dream. Since 2010, owners Raffaele and Laura Petrazzuolo have worked together to provide the ultimate dining experience for locals and visitors alike, with Laura overseeing the kitchen and her husband Raffaele providing exceptional service. Enjoy the outdoor patio, where you can take in views of Downtown San Diego from across the bay or take advantage of the perfect location for people-watching. Sapori offers an extensive variety of Italian wines to pair with mouthwatering entrees, such as the Steamed Black Mussels with Garlic Bread or the Risotto with Butternut Squash. Chef Laura personally prepares delectable desserts, including her famous Chocolate Meringue with Ganache. Dining on a budget? Sapori offers daily lunch, dinner, and happy hour specials as well as a military discount. Bring the tastes of Italy to your own home with their cooking classes, including demonstration, recipes, lunch, and a glass of house wine. Times and dates for the classes are available online.
Address: 520 Orange Avenue, San Diego, CA 92118 (
Map
)
The Crown Bistro is an intimate local restaurant known for excellent cuisine created by Chef/Owner Jerry Tovar. His unique menu features a preparation of local and seasonal ingredients resulting in a distinctive gourmet French, Italian, and American blend. The Crab Gnocchi au Bistro, with blue crab meat and a brandy cream sauce, is an excellent example of how he incorporates the best of all cuisines into one dish. The Bistro is open for breakfast, lunch, and dinner and offers patio seating. A fine selection of California and imported wines are served. The Crown Bistro is centrally located within the beach resort community of Coronado Island and is just a short walk from all the island's main attractions.
Address: 1333 Orange Avenue, Coronado, CA 92118
Address: 932 Orange Avenue, Coronado, CA 92118
Address: 1701 Strand Way, Coronado, CA 92118
Address: 1201 1st Street, #115, Coronado, CA 92118
Address: 1351 Orange Avenue, San Diego, CA 92118