East County: 16 Restaurants Found
Sort Results: By Popularity | By Name | By Price | By Star Rating
1 2
Address: 7091 El Cajon Blvd., San Diego, CA 92115 (
Map
)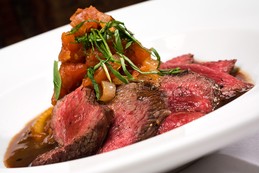 Terra calls the East College District of La Mesa home. Chef and Owner Jeff Rossman brings quality to the table (literally) by stocking the Terra kitchen, bar, and menu with locally sourced and sustainable produce and ingredients. Brunch, lunch, dinner, and drinks reflect the best the seasons have to offer, and often highlight the rich bounty of San Diego and Riverside County agriculture. From the fresh fruit-infused libations to the "New American Cuisine" menu featuring preparation styles unique to the Americas, Terra serves up a thoughtful dining experience that celebrates the joy of community and communal eating.
Address: 8555 Fletcher Parkway, San Diego, CA 91942 (
Map
)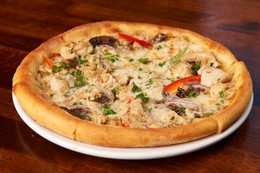 Looking for the perfect restaurant for a casual night out? Sammy's Woodfired Pizza & Grill in La Mesa is the place to be, offering a comfortable dining experience and quality cuisine that everyone can delight in. This family-friendly restaurant is located a block away from Grossmont Center's shops and movie theater, so feel free to unwind after a day of shopping, enjoy a relaxing dinner and a movie with someone special, or bring the family by for a wholesome get together. Peruse the selections of wine and craft beers and order half-priced tapas during Happy Hour, every day from 3:00 p.m. until 7:00 p.m. with options that are sure to please your taste buds such as Japanese Chicken Meatballs, Oak Roasted Salmon, or one of the many finely crafted woodfired pizzas. Choose from a variety of gourmet toppings, such as goat cheese, prosciutto, or garlic chicken. The restaurant can accommodate a variety of dietary restrictions, including vegan and gluten-free, as well as low fat and whole wheat, and for those who don't wish to leave the comfort of home, enjoy the delicious tastes of Sammy's with online catering and delivery services. Conveniently located within walking distance of the Grossmont Center trolley stop, Sammy's Woodfired Pizza & Grill is easily accessible from almost anywhere in San Diego, so be sure to pencil in a visit at the top of your to-do list.
Address: 5500 Grossmont Center Drive, La Mesa, CA 91942 (
Map
)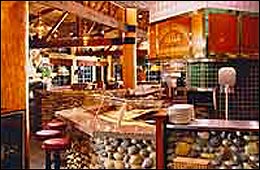 Menu features over 150 items including Choice steaks, prime rib, fresh fish, appetizers, wood-fired pizzas, pasta, dinner-size sandwiches, rotisserie barbecue chicken, baby back pork ribs and a variety of baked goods and desserts. The saloon menu is equally impressive with over 400 selections including; Premium and ultra premium spirits.
Address: 5654 Lake Murray Blvd., La Mesa, CA 91942 (
Map
)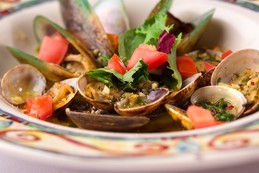 Delinquent account! This restaurant has an unpaid balance for our services. Unfortunately, it has been our experience that account delinquency is the result of an establishment's financial difficulties, which also commonly translate into a deterioration in service and food quality. As we have not been given the opportunity to assess the status of this restaurant, we cannot in good faith recommend it to our customers. While we can't currently endorse this venue, we are happy to suggest a number of other high quality restaurants to meet all your dining needs.
Address: 7918 El Cajon Blvd. #P La Mesa, CA, San Diego, 5 91941 (
Map
)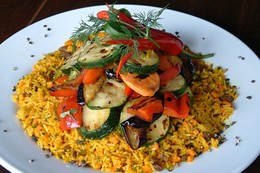 Himalayan Cuisine, nestled in the east county city of La Mesa, offers authentic Indian, Nepalese, and Himalayan cuisine. The warm earth colored walls and traditional Hindu and Buddhist decorations accentuate the overall exotic mood. Specialties include various momos (stuffed dumplings) and vegetarian tarkaris (spicy vegetable curries) prepared in an array of distinct options. Carnivores and seafood lovers alike are sure to delight in the abundance of chicken, lamb, and seafood selections that are available for both lunch and dinner. The atmosphere is both casual and inviting: Guests feel as though they are delighting in the traditional homemade meals found in another part of the world. Journey to Himalayan Cuisine to experience one of San Diego's few destinations offering Himalayan and Nepalese dishes in addition to Indian cuisine.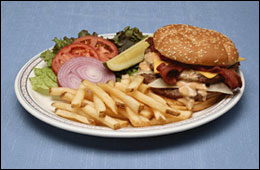 JP's is a classic American pub equipped with pool tables, a jukebox, and karaoke every night of the week. Locals know JP's as an easy-going, casual place to enjoy a drink and have a good time. Each weekend they offer live music and valet parking. With a vast selection of draft beers and cocktails, a full menu of simple bar food, plus weekday happy hours, JP's Pub is a laid-back neighborhood bar with something for everyone.
Address: 5950 Santo Road, San Diego, CA 92124 (
Map
)
Feel right at home at Tierrasanta Mexican Food, a local hot-spot for Mexican comfort food. This casual eatery transports you in to a world of comfort and color. With two dining large dining areas that can accommodate both small and larger parties, their interior is rich with bold colors, wood accents, and Mexican décor. Serving up fresh options for lunch and dinner, Tierrasanta Mexican Food features generous portions of traditional and hearty Mexican favorites, such as Chile Relleno, Enchiladas, Sopas, Burritos, Pollo Asado, and many more. They also offer weekday specials, combination plates, house margaritas, beer, wine, and a children's menu. They even serve a champagne brunch on Sundays from 9:00am-2:00pm! Come and experience the comfort and warmth that is Tierrasanta Mexican Food.
Address: 5987 El Cajon Blvd, San Diego, CA 92115 (
Map
)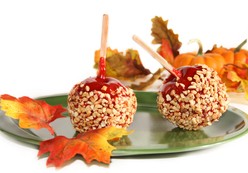 San Diego Desserts offers a large variety to fulfill anyone's sweet tooth. With a menu hosting a range of indulgences such as tarts, cookies, cupcakes, and cakes, one could spend hours looking at all the different options and in the end want to try them all. Every item is made from scratch with no re-using of ingredients so everything is fresh and sweet as can be. This dessert and bakery hybrid also caters so it is a great place to order food for parties or weddings. The extra options add up to create a unique experience for any who dare to give them a chance.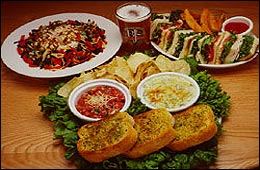 BJ's Restaurant & Brew House serves a menu of American Classics alongside fresh, handcrafted beers in a casual, lively atmosphere. One of many BJ's locations nation-wide, the restaurant follows in the traditions of the first BJ's, which opened in 1978 as a Chicago Pizzaria in Santa Ana California. Their menu features options for pasta dishes, pizza, burgers, salads, soup, sandwiches, not to mention beer, wine, and cocktails. They even feature a gluten-free menu, curbside takeout, and online ordering options. As for their hand crafted beers, BJ's is known for their unique brews they serve in house, such as BJ's Brewhouse Blonde, Piranha Pale Ale, BJ's Jeremiah Red, P.M. Porter, and many more. Reliable food, craft beers, and warm, family-friendly service makes BJ's a great casual dining experience.
Address: 10615 Tierrasanta Blvd., San Diego, CA 92124
Narrow Results: By Popularity | By Name | By Price | By Star Rating
1 2