All You Can Eat: 12 Restaurants Found
Narrow Results: By Popularity | By Name | By Price | By Location
1 2
Address: 329 Market Street, San Diego, CA 92101 (
Map
)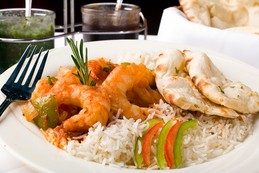 Royal India is where to go when you want to dine like kings and queens. The Gaslamp area restaurant serves authentic Northern Indian cuisine in a refreshing, elegant setting. An outdoor patio offers prime views of downtown foot traffic, while inside, the tall ceilings and open space give the feel of a modern palace, complete with regal décor imported from India. Ornate chandeliers cast an elegant glow, while a cascading waterfall offers a backdrop of serenity. The menu is as rich as its surroundings, with flavorful curries, tandoori kababs, and a tempting array of fresh tandoor-baked breads. If you're unable to make your mind up about the menu, visit during lunch or on Monday evenings, when over 20 dishes are offered buffet-style.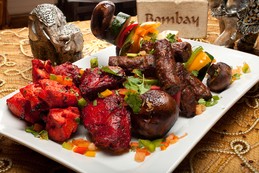 A fanciful curtain of monsoon rain, visible through floor-to-ceiling glass doors, is a friendly greeting as guests enter the spacious and elegant dining room at Bombay restaurant. Aromas of exotic spices promise a feast of flavors. Having won awards for the "Best Vegetarian Restaurant" and "Best Indian Restaurant in San Diego", from AOL City Guide and San Diego Magazine respectively, one can remain assured they will enjoy an authentic culinary adventure. The kitchen serves to satisfy expectations and the attentive wait staff ensures a delectable dining experience that you'll want to repeat over and over again. Flavorful, mysterious fruit drinks and cocktails along with a variety of wines complement the spices of magical India.
Address: 4647 Convoy Street Suite #105, San Diego, CA 92111 (
Map
)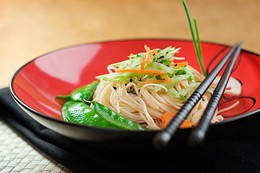 Kearny Mesa is keeping a big secret. In the corner of a tiny strip mall, slightly off the beaten track, hides a venue serving some of the most delicious Korean barbeque in the neighborhood. Although the outside façade is quite unassuming, Mapo greets guests with warm familiarity and the mouthwatering aromas of roasted meat. With an extensive menu featuring everything from seafood dishes to spicy noodle bowls, guests are even offered the unique option of grilling their entrees tableside. Showcasing a generous All-You-Can-Eat-Special, they are perfect for larger family gatherings or the solo diner seeking a quick lunch. Ordering a la carte, diners may taste the savory flavors of spicy pork bulgogi, kimchi tofu soup or boiled dumplings. Specializing in Asian cuisine, with an emphasis on exotic flavors of the sea, Mapo offers guests a little taste of Korea close to home.
Address: 4637 Convoy Street #104, San Diego, CA 92111 (
Map
)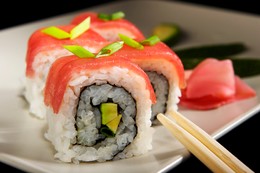 Tucked away in the back corner of one of Convoy's many Korean restaurant filled plazas, is Nozomi, a quaint Japanese sushi, noodles, and teriyaki eatery. Nozomi's menu showcases an almost overwhelming variety of fresh sushi, specialty rolls, bento boxes, combo plates, and hot pots. Their specials change daily and they even offer an "all you can eat" deal. Nozomi rolls arrive in style on huge plates in a flower like or animal shaped presentations that come decorated with various sauces and an orchid. Dishes are colorful and fresh and portion sizes are generous and can easily be shared. The décor is simplistic and natural and consists mostly of wood and bamboo. Nozomi also has a sister restaurant in La Jolla so you can get your sushi fix on that side of town too!
Address: 939 4th Avenue, San Diego, CA 92101 (
Map
)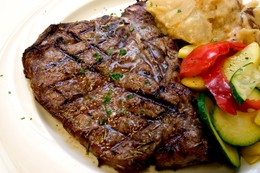 Rei Do Gado isn't your typical buffet—it's an experience. This traditional Brazilian steakhouse and restaurant boasts 40 different menu options, including slow roasted cooked meats, salads, and side additions. Rei Do Gado is more specifically known for their meats, and each table is assigned a passador, or "meat waiter," who slices the meat directly off of the skewer and on to your plate. Located in San Diego's Gaslamp Quarter, this unconventional buffet is an upscale eatery with traditional options that are equally as savory.
Address: 1640 Camino Del Rio North, Suite 206, San Diego, CA 92108
Address: 5911 Balboa Avenue, San Diego, 5 92111
Address: 87 Encinitas Blvd., Encinitas, CA 92024
Address: 694 University Avenue, San Diego, CA 92103
Narrow Results: By Popularity | By Name | By Price | By Location
1 2