New Restaurants: 33 Restaurants Found
Mistral, located in the luxurious Loews Resort on Coronado Bay, features award-winning dining attracting locals and resort guests alike. Accomplished Chef de Cuisine Patrick Ponsaty offers fine French cuisine infused with Mediterranean flavors set to serene ocean views. Take in the ocean breeze on the patio or dine indoors next to one of the many large windows and bask in the sophisticated and elegant décor. Mistral allows guests to indulge in a variety of ways: choose the more casual bar bites offered in the lounge, the classic but seasonal-inspired dinner menu or the seasonal tasting menu— no matter what you choose, all of your senses will be enlightened at Mistral.
Address: 835 4th Avenue, San Diego, CA 92101 (
Map
)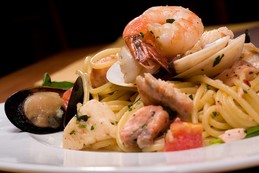 It is the very presence of charismatic Master Chef Roberto Bernardoni and his lovely wife, Chef Patrizia Branchi that sets Operacaffe apart from the countless "authentic" Italian eateries downtown. The first ingredient in all of Chef Bernadoni's dishes is his "cuore", his heart and passion for his trade. This is splendidly reflected in the careful presentations, wistful aromas, and creative tastes of their traditional dishes. Allow your taste buds to be transported to Italy by thin crust pizzas, salads, featuring fresh Italian cheeses like Parmigiano Reggiano, and herby and flavorful pasta and second course dishes. Chef Bernardoni will be delighted if you select any one of his handsome desserts.
Address: 1205 Auto Park Way, San Diego, CA 92029 (
Map
)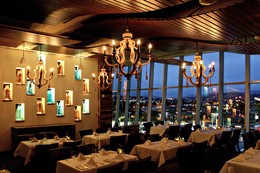 Settled on the penthouse level of the luxurious shopping district, The Centre at Lexus Escondido, is Cohn Restaurant Group's newest venture, Vintana Wine + Dine. The restaurant showcases a modern rendition of California cuisine melded with a breathtaking panoramic view of local mountains and the city of Escondido in a semi-casual setting. Executive Chef Deborah Scott has conceived a sensational menu that offers a wide variety of notable dishes that guests can relish. Overwhelm your senses with Vintana's fresh sustainable seafood options including Clear Spring Rainbow Trout and Mano De Leon Sea Scallops. Or satisfy your palate with one of the Signature Steaks like a 14 oz. Natural Eye of Ribeye or a 16 oz. Bone in Certified Angus New York Strip, prepared one of three ways: charbroiled, seared, or blackened. With 20,000 square feet of space, Vintana can seat an astounding 280 diners, and with 2,500 square feet of outside space, guests can enjoy Vintana's galas or rent it out for a night for a private event. Vintana's establishment also offers a Vodka Lounge where guests can indulge on rare vodka spirits from the vast mountainous regions of Sweden to local domains of California. Visit Vintana Wine + Dine within Escondido region for a true experience of Southern California cuisine.
Address: 1710 W. Mission Bay Drive, San Diego, CA 92109 (
Map
)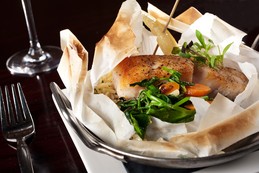 If you're in the Mission Bay area, be sure you visit The Firefly Restaurant and Bar located inside The Dana Hotel. Facing the bay, Firefly has fantastic views, creating a dining experience that will impact your senses in a major way. As one of San Diego's premier dining spots, Firefly offers a contemporary atmosphere imbued with the kind of ambiance that is just right for a romantic dinner for two. If you're looking for a quick meal, the happy hour menu offers great specials. Chef Eric Manuel is a native to San Diego, and his dishes are created with fresh, seasonal ingredients and prepared with great attention to detail, making the end result a meal to truly relish in.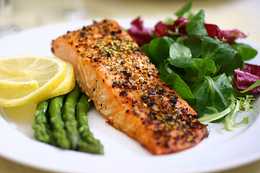 Named after the six-sided shape of France, Hexagone offers one of the largest French menus in San Diego with twenty appetizers and twenty entrees. Soft jazz croons its way lazily across a dimly lit L-shaped dining room adorned with crisp white linens, floor-to-ceiling windows, and rambunctious Art Nouveau prints. The Beef Bourguignon alone is reason enough to visit, as the rich wine-infused dish braises for a total of three days. This new addition to Banker's Hill has been competing—and holding its own— against the likes of neighboring Laurel and Bertrand at Mister A's, a sure indication of the quality of their California-inspired traditional French fare.
Address: 12642 Poway Road, San Diego, CA 92064 (
Map
)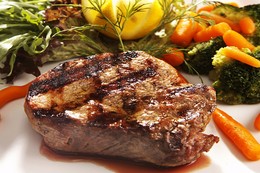 Luc's Bistro offers guests an authentic taste of down-home Southern cuisine. Try dishes like Crispy Crab Cakes with Avocado Cilantro, which take Southern flare and meld it with a California twist. Ongoing specials pop up daily to switch the mood for returning visitors while allowing newcomers to sample unique creations from Luc's talented chefs. Cozy and casual, the "bistro-esque" dining room invites guests to dine with friends, family, or their significant other. Who says that a bistro has to serve only French cuisine? Luc's Bistro shows patrons that a restaurant can create its own flare by taking different styles and consummating a brand new approach on food.
Address: 3739 6th Avenue Suite B, San Diego, CA 92109 (
Map
)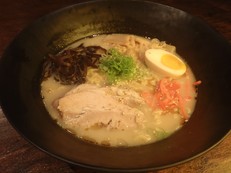 Yakitori Izakaya Tec Chan is the place to go in Hillcrest for an authentic Japanese meal. The menu spans a wide range of cuisine. Classic Yakitori such as Beef Tongue, Quail Egg, and Asparagus Bacon offer diners a tasty snack, while an array of salads, sautéed dishes, ramen, udon, and soba will satiate any appetite. Expertly prepared sushi is also available to round out any meal. Beverages include Sapporo on draft as well as bottled Asahi, Sapporo Premium, Koshihikari – Echigo -, and Orion on the beer side. Soju is available in both barley and sweet potato variety, as are a half-dozen sake choices and Chu-Hi. The Japanese soft drink Calpico is also available for those looking for something free of alcohol. For a taste of the land of the rising sun in uptown San Diego, stop in at Yakitori Izakaya Tec Chan.
Address: 4996 West Point Loma Blvd., San Diego, CA 92107 (
Map
)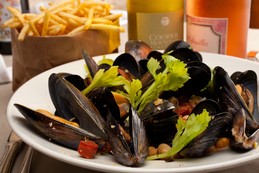 As the latest incarnation of the Cohn Restaurant Group's business prowess and eye for culinary excellence, Bo-Beau Kitchen is a French retreat ready to be discovered by all. This strikingly elegant yet refreshingly casual Ocean Beach neighborhood bistro serves up a lavish array of classic French dishes, all artfully crafted by Executive Chef Katherine Humphus. Chef Humphus masterfully strikes that oh-so tasty balance between sophisticated and approachable cuisine by marrying decadent ingredients with rustic familiarity; specialties like the Moules au Roquefort (mussels in cream and bleu cheese crumbles) and the Chicken Fricasse take guests on a French holiday for the palate. This is a definite must try when in the Ocean Beach area.
Address: 4282 Esplanade Court, San Diego, CA 92122 (
Map
)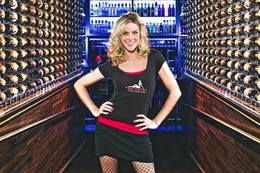 Note: Restaurant is currently closed for remodeling and will be reopening under a new restaurant concept! One of Downtown San Diego's most popular restaurants has come to La Jolla: The La Jolla Strip Club joins the superior quality of prime-cut steaks with the casual appeal of a grill-it-yourself lounge for the ultimate carnivorous experience. The Strip Club's extensive lunch menu offers a mouth-watering array of salads, sandwiches, and pastas, while the dinner menu presents a tantalizing selection of 21-day-aged, Midwestern, corn-fed Angus beef cuts that range in size from 10-20 oz. The impressive dessert list is also worth checking out – with Naughty Treats like the Rated "R" Root Beer Float with root beer flavored vodka, amaretto, and vanilla ice cream, who can resist? Please note that all patrons must be 21 or older to dine.