Dining Alone: 258 Restaurants Found
Narrow Results: By Popularity | By Name | By Price | By Location
1 2 3 4 5 6 7 8 9 10 11 12 13 14 15 16 17 18 19 20 21 22 23 24 25 26
Address: 1250 Prospect St., La Jolla, CA 92037 (
Map
)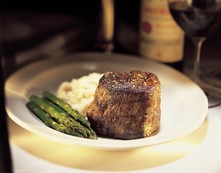 Donovan's Steak and Chop house offers a refined setting filled with upscale class and elegance. The menu showcases a variety of cuts of succulent USDA Prime steak, while offering a variety of other options from Australian rack of lamb to North Atlantic Salmon. Appetizers and salads tantalize the palate before the main course, while potatoes and vegetables—always complimentary—accompany each entrée. An award-winning wine list offers an astounding selection of both well-known and boutique wines across an equally varied price range, and gracious service, complimentary valet parking, and VIP treatment are the icing on the cake.
Address: 565 5th Avenue, San Diego, CA 92101 (
Map
)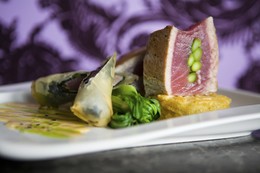 Blue Point was the first seafood and oyster bar to open in the Gaslamp over a decade ago, and it remains one of the very best. The restaurant pays special attention to interpreting seafood classics in fresh ways that delight all the senses. Specialties extend to a selection of steak and chops, so that both the menu and interior call to mind an old fashioned supper club with nautical flair. A striking and impressively well-stocked antique bar completes the relaxed elegance that keeps Blue Point on the Gaslamp's favored list.