Catering Services: 119 Restaurants Found
Address: 675 L Street, San Diego, CA 92101 (
Map
)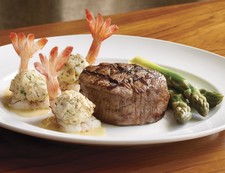 Each one of McCormick & Schmick's restaurants throughout the United States is designed to create an environment that is unique and welcoming; the one in Downtown San Diego is no different. Located in the Omni Hotel on the corner of L and 7th Street the restaurant is connected via skybridge to Petco Park. The ever-changing menu features the highest quality of steak, like the tender aged Filet Mignon as well as seafood choices from the Pacific Rim, Atlantic Ocean and Gulf of Mexico. Also, the award winning bar food is just as satisfying as the main entrees. Indulge in classic favorites like the McCormick & Schmick's Cheeseburger or the Black Mussels with roasted tomatoes and basil. Visit during Happy Hour to enjoy the bar's specialty cocktails and food options for a great price.
Address: 2051 Shelter Island Drive, San Diego, CA 92106 (
Map
)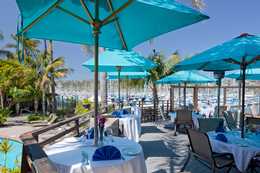 Blue Wave Bar and Grill, tucked inside the Best Western Island Palms Hotel, boasts of all the delights coastal San Diego has to offer. Providing waterfront dining on picturesque Shelter Island, it serves as a tropically inspired destination with all the fitting accommodations. While selecting from any of the restaurant's stunning breakfast, lunch, and dinner menus, or visiting for its popular happy hour, diners can take in the pleasures of the restaurant's lovely outdoor patio and views of the hotel's private marina. Executive Chef Marc Brislin crafts a menu ranging from macadamia-crusted halibut to oven roasted Filet Mignon with shitake mushroom demi-glace and everything in between. Whether it be a sampling of one of the many appetizing small plates, an elongated happy hour in the lounge, or a sumptuous evening meal, Blue Wave Bar and Grill invites you to come and stay awhile.
Address: 322 5th Avenue, San Diego, CA 92101 (
Map
)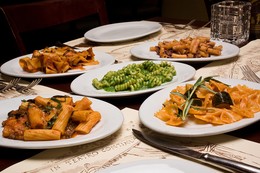 While it may be physically impossible to bring a Florentine trattoria to San Diego, Chef and Owner Martin Gonzalez has come remarkably close. Acqua Al 2 is the sister restaurant of the original Acqua Al 2, located on the Via della Vigna Vecchia in Florence. Using the same menu, recipes, and cooking techniques, Acqua Al 2 offers authentic Tuscan-style dining right in the heart of San Diego's Gaslamp district. The charming ambiance hints of old world Italy, while the aromatic and flavorful dishes exude authenticity. Anyone considering an escape to Italy should first pay a visit to this local favorite.
Address: 425 Island Avenue, San Diego, CA 92101 (
Map
)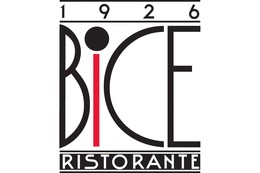 BiCE Ristorante skillfully fuses the elegance and trend-setting gusto of modern Europe in the historic San Diego Gaslamp Quarter, while introducing patrons to contemporary Italian cuisine melded with California ingredients. Executive Chef Mario Cassineri has created a menu that entices palates with amazing flavor combinations as his attention to detail and presentation mesmerize guests. Start off the night with the Prosciutto con Burrata, 24-month aged prosciutto paired with creamy burrata cheese that will surely tantalize taste buds with its perfected meat-and-cheese combination. Indulge in the Orzotto all'Aragosta e Burratina: "risotto style" barley with Maine Lobster, fresh tomato and burrata cheese, which cleverly mixes sustainable ingredients with Italian fare. Not only does BiCE have a fully equipped bar that serves specialty cocktails and a list of impressive wines, they also offer a Cheese Bar staffed with a knowledgeable Cheese Sommelier that will open up the taste buds of even the most discerning fromage connoisseur. BiCE Ristorante in the Gaslamp Quarter insures guests will experience an unparalleled union of traditional and modern Italian technique set in a chic and classy environment.
Address: 12457 Rancho Bernardo Road, San Diego, CA 92128 (
Map
)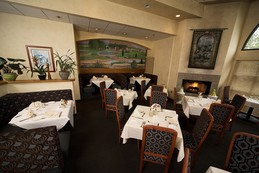 Unassuming elegance is paired with striking attention to detail at Bernard'O Restaurant, in Rancho Bernardo. The main dining room provides a cosmopolitan space lit with the glow of an Italian-tile fireplace. The patio that affords views of glistening stars most nights also has a fireplace to keep diners comfortable. The menu is a toast to fine French fare, and Chef Vincent Viale plates dishes that are both complex in flavor and refreshingly direct in vision. The Californian Bouillabaisse is an ode to the ocean with seabass, scallops, shrimp, mussels, clams, and potatoes, in a Rouille lobster sauce. Stop by for lunch Tuesday through Friday or enjoy an elegant night out for dinner Monday through Saturday. Bernard'O Restaurant is sure to leave you satisfied.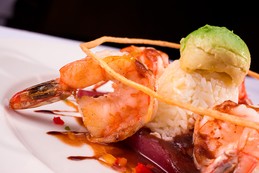 La Fiesta is a Mexican restaurant located in the heart of the Gaslamp. Just a few blocks away from the MTS trolley station it is an easy commute, and well worth the trip. Patrons can find themselves in a relaxed setting that is acceptable for all ages. The decoration involves both an elegant dining setting and a more casual area that includes a full bar. The margaritas are big hits so it is a great place to come for a drink after work with. All the food is served fresh and original as Chef Raul Degadillo puts a San Diego spin on traditional dishes. Enter hungry and leave full. They even have DJs spinning a mix of Salsa, Reggaeton, and Top 40 from Thursday to Saturday.
Peohe's captures the essence of Southern California dining with its stunning bay front views, Pacific Rim cuisine menu, and chic tropical vibe. This Coronado Island destination is ideally situated just steps from the Ferry Landing and offers picture-perfect views of the Downtown San Diego skyline, as well as an endless parade of passing boats. Peohe's menu celebrates the sea by showcasing the flavors of the Pacific; island cooking techniques are married with tropical accents for dishes that are bold in flavor and freshness. Sushi enthusiasts appreciate Peohe's selection of fresh nigiri, sashimi, specialty rolls, and platters. Likewise, meat lovers rejoice over cuts like the 16oz Callahan Cut Prime Rib and the Summer Truffle Filet Mignon. Whether you drive across the iconic Coronado Bay Bridge or catch a ride on a water taxi, visit Peohe's for a taste of San Diego.