Famous Chef: 20 Restaurants Found
Narrow Results: By Popularity | By Name | By Price | By Location
1 2
Address: 1955 Morena Blvd., San Diego, CA 92110 (
Map
)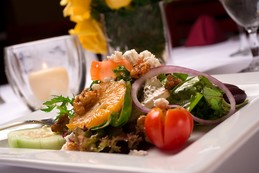 Italian rusticity meets modern sophistication at Baci Ristorante, where an Old World appreciation for quality and service marries seamlessly with contemporary style and warmth. The rich, mahogany bar sets an elegant yet unassuming tone, while the classic Italian cuisine menu showcases the brilliance of fresh seafood, succulent meat, and rich accompaniments. Dine in the subtly modern dining room surrounded by art deco accents and crisp white linens, or dine al fresco on the romantic patio. No matter where you sit, a decadent and satisfying meal is sure to be had.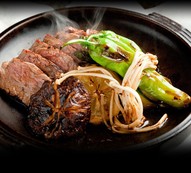 Over the years, it has become quite common knowledge that Nobu is simply one of the top destinations for truly fine sushi and Japanese-Fusion cuisine in San Diego. Located within the Hard Rock Hotel on Fifth Avenue, this is a hot spot for tourists, and the Gaslamp Quarter is always bustling with locals in search of a good meal. With more than forty sushi and sashimi options, in addition to a broad selection of specialty tempura, salads, special cold dishes, brick oven entrees, and many different hot dishes, including tobanyaki-style beef, vegetables, mixed seafood or tofu, the possibilities are seemingly endless. Tobanyaki, one of the more unique aspects of Nobu, is a cooking style which involves roasting the ingredients, usually premium beef, on a hot ceramic plate, radiating heat long after being removed from the ovens. Overall, the presentation is entertaining and produces quite tender morsels, full of flavor and piping hot. Once the main courses are gone, be sure to peruse the dessert menu for new, innovative creations that are sure to delight the taste buds and intrigue the mind. For those in search of a few pieces of sushi and a cocktail or two before committing to a large meal, Nobu also offers a superb Happy Hour menu featuring special prices on select sake, wine, beer and specialty drinks, the perfect precursors to a delicious dinner. To all who appreciate the authentic experience of fine Japanese dining and hospitality, add Nobu to your list of things to do in Downtown San Diego.
Mistral, located in the luxurious Loews Resort on Coronado Bay, features award-winning dining attracting locals and resort guests alike. Accomplished Chef de Cuisine Patrick Ponsaty offers fine French cuisine infused with Mediterranean flavors set to serene ocean views. Take in the ocean breeze on the patio or dine indoors next to one of the many large windows and bask in the sophisticated and elegant décor. Mistral allows guests to indulge in a variety of ways: choose the more casual bar bites offered in the lounge, the classic but seasonal-inspired dinner menu or the seasonal tasting menu— no matter what you choose, all of your senses will be enlightened at Mistral.
Address: 835 4th Avenue, San Diego, CA 92101 (
Map
)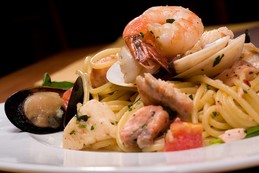 It is the very presence of charismatic Master Chef Roberto Bernardoni and his lovely wife, Chef Patrizia Branchi that sets Operacaffe apart from the countless "authentic" Italian eateries downtown. The first ingredient in all of Chef Bernadoni's dishes is his "cuore", his heart and passion for his trade. This is splendidly reflected in the careful presentations, wistful aromas, and creative tastes of their traditional dishes. Allow your taste buds to be transported to Italy by thin crust pizzas, salads, featuring fresh Italian cheeses like Parmigiano Reggiano, and herby and flavorful pasta and second course dishes. Chef Bernardoni will be delighted if you select any one of his handsome desserts.
Address: 6009 Paseo Delicias, Rancho Santa Fe, CA 92091 (
Map
)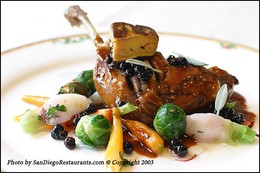 Picture a romantic retreat in the French countryside where days conclude with glowing fireplaces and elegant meals, and you will have the essence of Mille Fleurs. The restaurant, which is located on a small estate off a windy road in Rancho Santa Fe, offers a warm and charming atmosphere that plays host to stunning haute cuisine. Chef Martin Wosele's menu, which changes daily, delicately melds European culinary traditions with local California ingredients. The result is sensational and exquisite fine dining which, as evidenced by numerous awards and national recognition, makes Mille Fleurs one of the most significant dining establishments in San Diego.
Address: 1536 India Street, San Diego, CA 92101 (
Map
)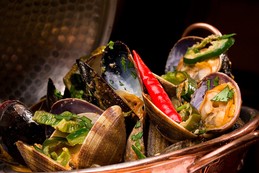 Rather than imparting a sense of place, as many restaurants aim to do, the Indigo Grill takes diners on a journey. Starting in Alaska and ending in Oaxaca, Mexico, Indigo Grill follows the West coast of North America. The route is interpreted through Chef Deborah Scott's fittingly adventurous menu, which intertwines Mexican and Native American flavors, matches Northern comfort food with Southern heat, and presents ingredients from both land and sea. Daring combinations of indigenous ingredients, culinary techniques, and traditions result in a truly special, somewhat mythical culinary experience that delights the senses and satisfies the adventurous spirit.
Step into the main dining room of Humphreys Restaurant and understand how opulence is mastered. The large multileveled room is bathed in soft light and flowing panels of pale gray and ice blue upholstery. Juxtaposed against the whimsical softness of the colors are massive exposed beams that lend an anchor to a bay-side view that threatens to draw you in completely. The menu is thoughtful and inventive in the way it continues this balance between the ethereal and masculine – the Mirin Sesame Shrimp appetizer positions two large shrimp atop a bed of mango-mint relish that is refreshingly cool against a wasabi dressing. The menu and decor offer a cohesive gesture of sophistication that may just leave you swooning.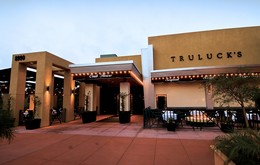 Truluck's, nestled in University City, is always fresh on the dining scene with an edge not many can counter. Renowned for their seafood, they operate a crabbing fleet of no less than sixteen boats off the coast of Naples, Florida. Armed with this advantage, the crab is delivered fresh to your table within twenty-four hours of being caught. Those searching for an alternative to seafood can choose from a selection of seven steaks and chops roasted or grilled to a level of precision unmatched by most steakhouses. For recreational wine drinkers or connoisseurs alike, Truluck's offers a hundred wines by the sampling, the glass, and the bottle.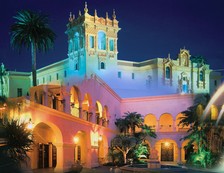 The minute you step into The Prado you know you've entered into a world like no other. Located in the historic House of Hospitality in Balboa Park, the restaurant offers four main dining areas. Each has its own distinctive décor and ambiance: the Terrace features outdoor seating, the Courtyard room overlooks the courtyard and fountain, the Solarium overlooks the Terrace and features skylights, and the Lounge serves up two happy hours with several signature drinks. The California cuisine is expertly prepared, and includes Pan Roasted Sea Bass with cauliflower and truffle puree and Braised Beef Boneless Shortrib with Point Reyes blue cheese foam.
Address: 2550 5th Avenue, San Diego, CA 92103 (
Map
)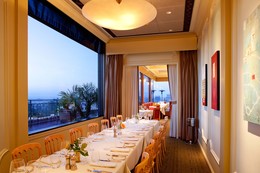 Impeccable service, excellent cuisine, and an extensive wine list are to be expected at any Bertrand Hug establishment, and Bertrand at Mr. A's lives up to the highest of expectations. Perched atop a skyscraper on the brink of downtown, the restaurant offers one of the most outstanding dining experiences in San Diego. Modern American cuisine elegantly complements the cosmopolitan backdrop, with a menu that offers awe-inspiring "glimpses" of both land and sea. The seasonal menu incorporates the utmost quality meats, fish, and accompaniments, resulting in a fresh and tantalizing selection of dishes. The main dining room offers a premier dining experience, while a more casual, although no less sumptuous, selection of dishes is available in the patio and bar.
Narrow Results: By Popularity | By Name | By Price | By Location
1 2