Live Entertainment: 43 Restaurants Found
Address: 565 5th Avenue, San Diego, CA 92101 (
Map
)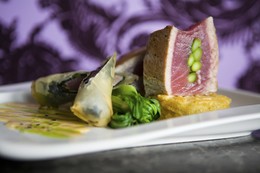 Blue Point was the first seafood and oyster bar to open in the Gaslamp over a decade ago, and it remains one of the very best. The restaurant pays special attention to interpreting seafood classics in fresh ways that delight all the senses. Specialties extend to a selection of steak and chops, so that both the menu and interior call to mind an old fashioned supper club with nautical flair. A striking and impressively well-stocked antique bar completes the relaxed elegance that keeps Blue Point on the Gaslamp's favored list.
Address: 6009 Paseo Delicias, Rancho Santa Fe, CA 92091 (
Map
)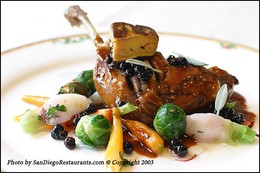 Picture a romantic retreat in the French countryside where days conclude with glowing fireplaces and elegant meals, and you will have the essence of Mille Fleurs. The restaurant, which is located on a small estate off a windy road in Rancho Santa Fe, offers a warm and charming atmosphere that plays host to stunning haute cuisine. Chef Martin Wosele's menu, which changes daily, delicately melds European culinary traditions with local California ingredients. The result is sensational and exquisite fine dining which, as evidenced by numerous awards and national recognition, makes Mille Fleurs one of the most significant dining establishments in San Diego.
Address: 1298 Prospect Street, La Jolla, CA 92037 (
Map
)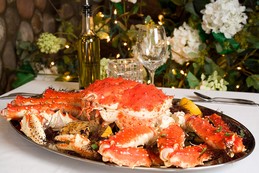 Perched atop an ocean bluff, Crab Catcher in La Jolla overlooks Seals Beach, a little sublet that thousands of tourists come by to visit annually. With a spectacular view and sensational food that is procured straight from the sea, Crab Catcher serves only the best fresh dishes. Keeping to the 100-mile radius philosophy, Chef Jon Burwell hires local commercial fishermen and harvests only the freshest ingredients from local farms and farmers markets to create the kind of dishes that will project surprise and wonder onto diner's faces. With that in mind, the relaxed and quiet ambiance of Crab Catcher creates the kind of vibe that will have first time visitors coming back again and again.
Step into the main dining room of Humphreys Restaurant and understand how opulence is mastered. The large multileveled room is bathed in soft light and flowing panels of pale gray and ice blue upholstery. Juxtaposed against the whimsical softness of the colors are massive exposed beams that lend an anchor to a bay-side view that threatens to draw you in completely. The menu is thoughtful and inventive in the way it continues this balance between the ethereal and masculine – the Mirin Sesame Shrimp appetizer positions two large shrimp atop a bed of mango-mint relish that is refreshingly cool against a wasabi dressing. The menu and decor offer a cohesive gesture of sophistication that may just leave you swooning.
Address: 827 5th Avenue, San Diego, CA 92101 (
Map
)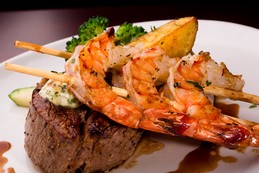 There is a surplus when it comes to the average run of the mill "Bar and Grill" in San Diego. Fortunately, if you're looking for one that will satiate your craving for some good ol' American comfort food while still receiving fine dining service, then Urban Bar and Grill is right up your alley. Outside, the patio seating area is filled with content Happy Hour goers imbibing as they dive into their starters. This seating is ideal for out-of-towners and locals alike who wish to be at the center of the stimulating streets of the Gaslamp Quarter. Inside, flat screens are mindfully positioned throughout to ensure restaurant goers can watch sports as they dine, because frankly, what would a bar and grill be without this focal detail? Take a glance at the menu, and you can let out a sigh of relief because there is literally something for everyone. The menu is diverse, and you can choose from some characteristic bar food such as Onion Rings or the innovative Truffled Macaroni and Cheese with bacon. No matter what you decide to munch on at this stellar spot, you will leave more than satisfied and ready to hit the downtown streets.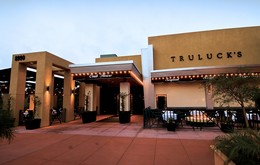 Truluck's, nestled in University City, is always fresh on the dining scene with an edge not many can counter. Renowned for their seafood, they operate a crabbing fleet of no less than sixteen boats off the coast of Naples, Florida. Armed with this advantage, the crab is delivered fresh to your table within twenty-four hours of being caught. Those searching for an alternative to seafood can choose from a selection of seven steaks and chops roasted or grilled to a level of precision unmatched by most steakhouses. For recreational wine drinkers or connoisseurs alike, Truluck's offers a hundred wines by the sampling, the glass, and the bottle.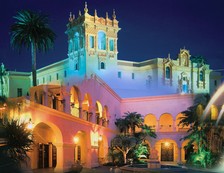 The minute you step into The Prado you know you've entered into a world like no other. Located in the historic House of Hospitality in Balboa Park, the restaurant offers four main dining areas. Each has its own distinctive décor and ambiance: the Terrace features outdoor seating, the Courtyard room overlooks the courtyard and fountain, the Solarium overlooks the Terrace and features skylights, and the Lounge serves up two happy hours with several signature drinks. The California cuisine is expertly prepared, and includes Pan Roasted Sea Bass with cauliflower and truffle puree and Braised Beef Boneless Shortrib with Point Reyes blue cheese foam.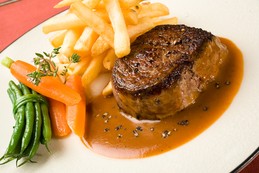 Since opening in 1998, Tapenade has established itself as a La Jolla institution. Diners frequent the sophisticated establishment for acclaimed chef Jean-Michel Diot's Provençal-style French cooking. Diot, who comes to San Diego after a successful career in Paris and New York, offers a consistently award-winning menu, while Tapenade's welcoming atmosphere and excellent service complement the cuisine. For an exceptional experience, Diot offers a five-course tasting menu with wine pairings, offered daily.
Address: 550 Via De La Valle, Solana Beach, CA 92075 (
Map
)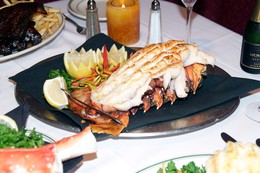 Red Tracton's is a delightful return to the vintage class and swanky sophistication of an iconic American steakhouse. The restaurant draws on the romance and nostalgia of the neighboring Del Mar Racetrack, with maroon walls, horse prints, and dark, moody lighting recalling Gatsby-era frivolity and luxury. Portions are similarly hedonistic, with thick cut steaks, such as the Del Mar Cut— a 25 oz. Prime Rib that is sure to be tomorrow's lunch. Offering colossal baked potatoes dripping with sour cream and butter, giant lobster tails, and jumbo shrimp on ice, diners should be prepared to bring their appetite! An evening at Red Tracton's is an invitation for indulgence, with all of the exhilarating satisfaction of a big win at the races.