Organic Ingredients: 47 Restaurants Found
Address: 565 5th Avenue, San Diego, CA 92101 (
Map
)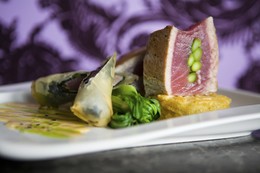 Blue Point was the first seafood and oyster bar to open in the Gaslamp over a decade ago, and it remains one of the very best. The restaurant pays special attention to interpreting seafood classics in fresh ways that delight all the senses. Specialties extend to a selection of steak and chops, so that both the menu and interior call to mind an old fashioned supper club with nautical flair. A striking and impressively well-stocked antique bar completes the relaxed elegance that keeps Blue Point on the Gaslamp's favored list.
Address: 2051 Shelter Island Drive, San Diego, CA 92106 (
Map
)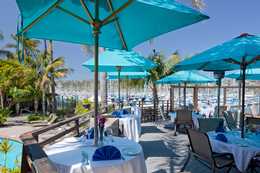 Blue Wave Bar and Grill, tucked inside the Best Western Island Palms Hotel, boasts of all the delights coastal San Diego has to offer. Providing waterfront dining on picturesque Shelter Island, it serves as a tropically inspired destination with all the fitting accommodations. While selecting from any of the restaurant's stunning breakfast, lunch, and dinner menus, or visiting for its popular happy hour, diners can take in the pleasures of the restaurant's lovely outdoor patio and views of the hotel's private marina. Executive Chef Marc Brislin crafts a menu ranging from macadamia-crusted halibut to oven roasted Filet Mignon with shitake mushroom demi-glace and everything in between. Whether it be a sampling of one of the many appetizing small plates, an elongated happy hour in the lounge, or a sumptuous evening meal, Blue Wave Bar and Grill invites you to come and stay awhile.
Address: 1555 Camino Del Mar, Del Mar, CA 92014 (
Map
)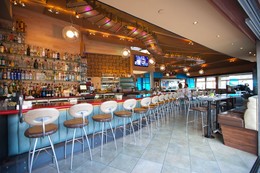 Pacifica Del Mar reflects the soothing calm of its ocean location. Perched high atop the Del Mar Plaza, the sophisticated restaurant offers a stunning visual Pacific feast to accompany Chef Christopher Idso's delightful gastronomic feats. The menu features elegant California-inspired creations that manage to be both light and clean, while still imparting a deep satisfaction. Mouthwatering options like the Barbecued Sugar-Spiced Salmon with Chinese beans and mustard sauce, Moroccan Spiced Prawns, and Filet Mignon with potato-white cheddar gratin, make for delightful dining dilemmas. Sample from Pacifica Del Mar's Wine Spectator-distinguished wine list to help make the decision-making process that much more enjoyable.
Mistral, located in the luxurious Loews Resort on Coronado Bay, features award-winning dining attracting locals and resort guests alike. Accomplished Chef de Cuisine Patrick Ponsaty offers fine French cuisine infused with Mediterranean flavors set to serene ocean views. Take in the ocean breeze on the patio or dine indoors next to one of the many large windows and bask in the sophisticated and elegant décor. Mistral allows guests to indulge in a variety of ways: choose the more casual bar bites offered in the lounge, the classic but seasonal-inspired dinner menu or the seasonal tasting menu— no matter what you choose, all of your senses will be enlightened at Mistral.
Address: 835 4th Avenue, San Diego, CA 92101 (
Map
)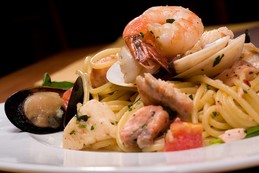 It is the very presence of charismatic Master Chef Roberto Bernardoni and his lovely wife, Chef Patrizia Branchi that sets Operacaffe apart from the countless "authentic" Italian eateries downtown. The first ingredient in all of Chef Bernadoni's dishes is his "cuore", his heart and passion for his trade. This is splendidly reflected in the careful presentations, wistful aromas, and creative tastes of their traditional dishes. Allow your taste buds to be transported to Italy by thin crust pizzas, salads, featuring fresh Italian cheeses like Parmigiano Reggiano, and herby and flavorful pasta and second course dishes. Chef Bernardoni will be delighted if you select any one of his handsome desserts.
Address: 6009 Paseo Delicias, Rancho Santa Fe, CA 92091 (
Map
)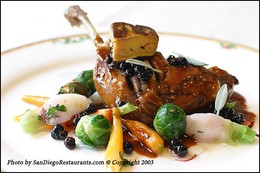 Picture a romantic retreat in the French countryside where days conclude with glowing fireplaces and elegant meals, and you will have the essence of Mille Fleurs. The restaurant, which is located on a small estate off a windy road in Rancho Santa Fe, offers a warm and charming atmosphere that plays host to stunning haute cuisine. Chef Martin Wosele's menu, which changes daily, delicately melds European culinary traditions with local California ingredients. The result is sensational and exquisite fine dining which, as evidenced by numerous awards and national recognition, makes Mille Fleurs one of the most significant dining establishments in San Diego.
Address: 827 5th Avenue, San Diego, CA 92101 (
Map
)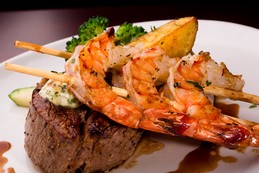 There is a surplus when it comes to the average run of the mill "Bar and Grill" in San Diego. Fortunately, if you're looking for one that will satiate your craving for some good ol' American comfort food while still receiving fine dining service, then Urban Bar and Grill is right up your alley. Outside, the patio seating area is filled with content Happy Hour goers imbibing as they dive into their starters. This seating is ideal for out-of-towners and locals alike who wish to be at the center of the stimulating streets of the Gaslamp Quarter. Inside, flat screens are mindfully positioned throughout to ensure restaurant goers can watch sports as they dine, because frankly, what would a bar and grill be without this focal detail? Take a glance at the menu, and you can let out a sigh of relief because there is literally something for everyone. The menu is diverse, and you can choose from some characteristic bar food such as Onion Rings or the innovative Truffled Macaroni and Cheese with bacon. No matter what you decide to munch on at this stellar spot, you will leave more than satisfied and ready to hit the downtown streets.
Address: 1205 Auto Park Way, San Diego, CA 92029 (
Map
)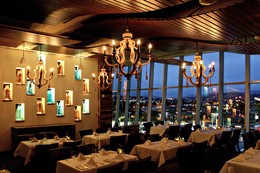 Settled on the penthouse level of the luxurious shopping district, The Centre at Lexus Escondido, is Cohn Restaurant Group's newest venture, Vintana Wine + Dine. The restaurant showcases a modern rendition of California cuisine melded with a breathtaking panoramic view of local mountains and the city of Escondido in a semi-casual setting. Executive Chef Deborah Scott has conceived a sensational menu that offers a wide variety of notable dishes that guests can relish. Overwhelm your senses with Vintana's fresh sustainable seafood options including Clear Spring Rainbow Trout and Mano De Leon Sea Scallops. Or satisfy your palate with one of the Signature Steaks like a 14 oz. Natural Eye of Ribeye or a 16 oz. Bone in Certified Angus New York Strip, prepared one of three ways: charbroiled, seared, or blackened. With 20,000 square feet of space, Vintana can seat an astounding 280 diners, and with 2,500 square feet of outside space, guests can enjoy Vintana's galas or rent it out for a night for a private event. Vintana's establishment also offers a Vodka Lounge where guests can indulge on rare vodka spirits from the vast mountainous regions of Sweden to local domains of California. Visit Vintana Wine + Dine within Escondido region for a true experience of Southern California cuisine.
Address: 333 North Pacific Street, Oceanside, CA 92054 (
Map
)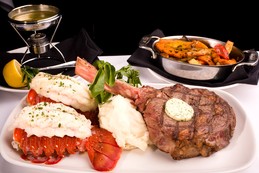 Cohn Restaurant fans take note: the San Diego restaurateur powerhouse has brought their fine dining expertise to Oceanside with their restaurant, 333 Pacific. It is an ode to Southern California, with breath-taking views of its seaside setting, innovative California cuisine, and a faultlessly stylish design aesthetic. Located on the first floor of the Wyndham Oceanfront Pier Resort, diners can feast on clever creations like Bleu Cheese Crusted Kobe Beef Meatloaf and Maine Diver Scallops seared in apple cider, while enjoying a stunning, panoramic view of the Oceanside Pier and beach. 333 Pacific promises a welcome invigoration of the North County dining scene.