Local Favorite: 149 Restaurants Found
Address: 675 L Street, San Diego, CA 92101 (
Map
)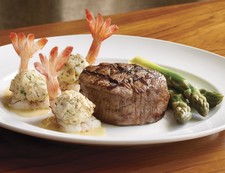 Each one of McCormick & Schmick's restaurants throughout the United States is designed to create an environment that is unique and welcoming; the one in Downtown San Diego is no different. Located in the Omni Hotel on the corner of L and 7th Street the restaurant is connected via skybridge to Petco Park. The ever-changing menu features the highest quality of steak, like the tender aged Filet Mignon as well as seafood choices from the Pacific Rim, Atlantic Ocean and Gulf of Mexico. Also, the award winning bar food is just as satisfying as the main entrees. Indulge in classic favorites like the McCormick & Schmick's Cheeseburger or the Black Mussels with roasted tomatoes and basil. Visit during Happy Hour to enjoy the bar's specialty cocktails and food options for a great price.
Address: 1536 India Street, San Diego, CA 92101 (
Map
)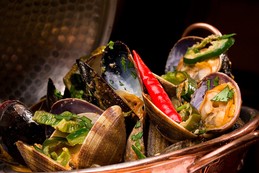 Rather than imparting a sense of place, as many restaurants aim to do, the Indigo Grill takes diners on a journey. Starting in Alaska and ending in Oaxaca, Mexico, Indigo Grill follows the West coast of North America. The route is interpreted through Chef Deborah Scott's fittingly adventurous menu, which intertwines Mexican and Native American flavors, matches Northern comfort food with Southern heat, and presents ingredients from both land and sea. Daring combinations of indigenous ingredients, culinary techniques, and traditions result in a truly special, somewhat mythical culinary experience that delights the senses and satisfies the adventurous spirit.
Address: 322 5th Avenue, San Diego, CA 92101 (
Map
)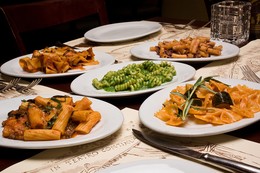 While it may be physically impossible to bring a Florentine trattoria to San Diego, Chef and Owner Martin Gonzalez has come remarkably close. Acqua Al 2 is the sister restaurant of the original Acqua Al 2, located on the Via della Vigna Vecchia in Florence. Using the same menu, recipes, and cooking techniques, Acqua Al 2 offers authentic Tuscan-style dining right in the heart of San Diego's Gaslamp district. The charming ambiance hints of old world Italy, while the aromatic and flavorful dishes exude authenticity. Anyone considering an escape to Italy should first pay a visit to this local favorite.