People Watching: 150 Restaurants Found
Address: 333 North Pacific Street, Oceanside, CA 92054 (
Map
)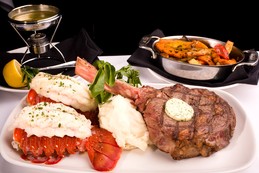 Cohn Restaurant fans take note: the San Diego restaurateur powerhouse has brought their fine dining expertise to Oceanside with their restaurant, 333 Pacific. It is an ode to Southern California, with breath-taking views of its seaside setting, innovative California cuisine, and a faultlessly stylish design aesthetic. Located on the first floor of the Wyndham Oceanfront Pier Resort, diners can feast on clever creations like Bleu Cheese Crusted Kobe Beef Meatloaf and Maine Diver Scallops seared in apple cider, while enjoying a stunning, panoramic view of the Oceanside Pier and beach. 333 Pacific promises a welcome invigoration of the North County dining scene.
Address: 8970 University Center Lane, La Jolla, CA 92122 (
Map
)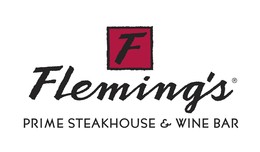 Fleming's Prime Steakhouse & Wine Bar La Jolla is a continuing gala of extraordinary food and wine. Patrons can pamper their appetites with the highest quality aged prime beef and discern new flavors with its award-winning wine list, comprised of 100 wines by the glass and a first-rate Reserve List. Famous for its, warm alluring atmosphere and the highest consideration to detail, Fleming's Prime Steakhouse & Wine Bar La Jolla features a luxurious dining area constructed around an exhibition kitchen and extensive bar. Adjoining the central dining area are private dining rooms that can comfortably accommodate small or large parties. Fleming's Prime Steakhouse & Wine Bar La Jolla's dynamic environment, exceptional service, and devotion to distinction turn an evening out into unforgettable memories.
Address: 927 J Street, San Diego, CA 92101 (
Map
)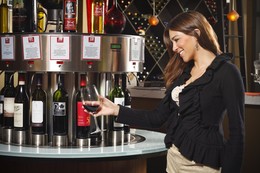 In need of a relaxing moment and a glass of wine or want to sample varietals in a chic, intimate, and sophisticated environment? Come relax and unwind at Toast Enoteca & Cucina in San Diego's East Village. This combination restaurant and wine bar features around 400 different bottles of wine to sample and purchase. By the glass sales are available as well. Toast offers an extensive and authentic Italian menu complete with antipasti, insalante, primi, pizze, secondi, and Panini courses. This downtown landmark is yet another culinary creation by Martin Gonzalez, the owner and executive chef of Acqua Al 2, a Gaslamp district restaurant known for its hearty, rustic, and authentic Italian cuisine. Come in, raise your glasses, and say cheers to Toast Enoteca & Cucina as they take the concept of a wine bar to new heights.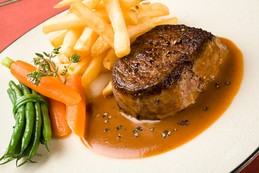 Since opening in 1998, Tapenade has established itself as a La Jolla institution. Diners frequent the sophisticated establishment for acclaimed chef Jean-Michel Diot's Provençal-style French cooking. Diot, who comes to San Diego after a successful career in Paris and New York, offers a consistently award-winning menu, while Tapenade's welcoming atmosphere and excellent service complement the cuisine. For an exceptional experience, Diot offers a five-course tasting menu with wine pairings, offered daily.
Address: 6009 Paseo Delicias, Rancho Santa Fe, CA 92091 (
Map
)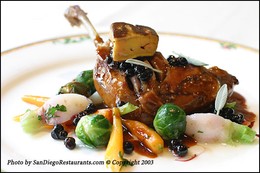 Picture a romantic retreat in the French countryside where days conclude with glowing fireplaces and elegant meals, and you will have the essence of Mille Fleurs. The restaurant, which is located on a small estate off a windy road in Rancho Santa Fe, offers a warm and charming atmosphere that plays host to stunning haute cuisine. Chef Martin Wosele's menu, which changes daily, delicately melds European culinary traditions with local California ingredients. The result is sensational and exquisite fine dining which, as evidenced by numerous awards and national recognition, makes Mille Fleurs one of the most significant dining establishments in San Diego.
Address: 2051 Shelter Island Drive, San Diego, CA 92106 (
Map
)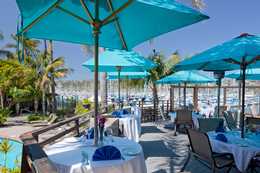 Blue Wave Bar and Grill, tucked inside the Best Western Island Palms Hotel, boasts of all the delights coastal San Diego has to offer. Providing waterfront dining on picturesque Shelter Island, it serves as a tropically inspired destination with all the fitting accommodations. While selecting from any of the restaurant's stunning breakfast, lunch, and dinner menus, or visiting for its popular happy hour, diners can take in the pleasures of the restaurant's lovely outdoor patio and views of the hotel's private marina. Executive Chef Marc Brislin crafts a menu ranging from macadamia-crusted halibut to oven roasted Filet Mignon with shitake mushroom demi-glace and everything in between. Whether it be a sampling of one of the many appetizing small plates, an elongated happy hour in the lounge, or a sumptuous evening meal, Blue Wave Bar and Grill invites you to come and stay awhile.