Private Room: 91 Restaurants Found
Address: 8970 University Center Lane, La Jolla, CA 92122 (
Map
)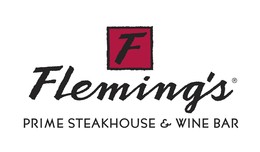 Fleming's Prime Steakhouse & Wine Bar La Jolla is a continuing gala of extraordinary food and wine. Patrons can pamper their appetites with the highest quality aged prime beef and discern new flavors with its award-winning wine list, comprised of 100 wines by the glass and a first-rate Reserve List. Famous for its, warm alluring atmosphere and the highest consideration to detail, Fleming's Prime Steakhouse & Wine Bar La Jolla features a luxurious dining area constructed around an exhibition kitchen and extensive bar. Adjoining the central dining area are private dining rooms that can comfortably accommodate small or large parties. Fleming's Prime Steakhouse & Wine Bar La Jolla's dynamic environment, exceptional service, and devotion to distinction turn an evening out into unforgettable memories.
Address: 12457 Rancho Bernardo Road, San Diego, CA 92128 (
Map
)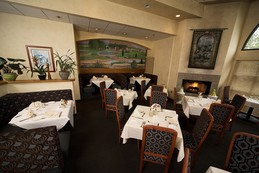 Unassuming elegance is paired with striking attention to detail at Bernard'O Restaurant, in Rancho Bernardo. The main dining room provides a cosmopolitan space lit with the glow of an Italian-tile fireplace. The patio that affords views of glistening stars most nights also has a fireplace to keep diners comfortable. The menu is a toast to fine French fare, and Chef Vincent Viale plates dishes that are both complex in flavor and refreshingly direct in vision. The Californian Bouillabaisse is an ode to the ocean with seabass, scallops, shrimp, mussels, clams, and potatoes, in a Rouille lobster sauce. Stop by for lunch Tuesday through Friday or enjoy an elegant night out for dinner Monday through Saturday. Bernard'O Restaurant is sure to leave you satisfied.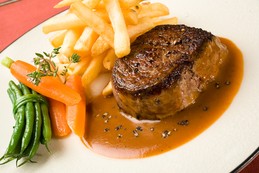 Since opening in 1998, Tapenade has established itself as a La Jolla institution. Diners frequent the sophisticated establishment for acclaimed chef Jean-Michel Diot's Provençal-style French cooking. Diot, who comes to San Diego after a successful career in Paris and New York, offers a consistently award-winning menu, while Tapenade's welcoming atmosphere and excellent service complement the cuisine. For an exceptional experience, Diot offers a five-course tasting menu with wine pairings, offered daily.
Address: 6009 Paseo Delicias, Rancho Santa Fe, CA 92091 (
Map
)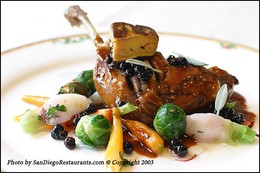 Picture a romantic retreat in the French countryside where days conclude with glowing fireplaces and elegant meals, and you will have the essence of Mille Fleurs. The restaurant, which is located on a small estate off a windy road in Rancho Santa Fe, offers a warm and charming atmosphere that plays host to stunning haute cuisine. Chef Martin Wosele's menu, which changes daily, delicately melds European culinary traditions with local California ingredients. The result is sensational and exquisite fine dining which, as evidenced by numerous awards and national recognition, makes Mille Fleurs one of the most significant dining establishments in San Diego.
Address: 322 5th Avenue, San Diego, CA 92101 (
Map
)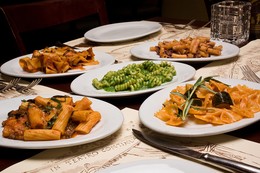 While it may be physically impossible to bring a Florentine trattoria to San Diego, Chef and Owner Martin Gonzalez has come remarkably close. Acqua Al 2 is the sister restaurant of the original Acqua Al 2, located on the Via della Vigna Vecchia in Florence. Using the same menu, recipes, and cooking techniques, Acqua Al 2 offers authentic Tuscan-style dining right in the heart of San Diego's Gaslamp district. The charming ambiance hints of old world Italy, while the aromatic and flavorful dishes exude authenticity. Anyone considering an escape to Italy should first pay a visit to this local favorite.
Address: 1298 Prospect Street, La Jolla, CA 92037 (
Map
)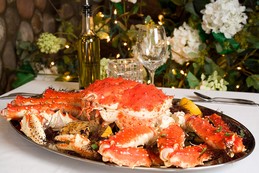 Perched atop an ocean bluff, Crab Catcher in La Jolla overlooks Seals Beach, a little sublet that thousands of tourists come by to visit annually. With a spectacular view and sensational food that is procured straight from the sea, Crab Catcher serves only the best fresh dishes. Keeping to the 100-mile radius philosophy, Chef Jon Burwell hires local commercial fishermen and harvests only the freshest ingredients from local farms and farmers markets to create the kind of dishes that will project surprise and wonder onto diner's faces. With that in mind, the relaxed and quiet ambiance of Crab Catcher creates the kind of vibe that will have first time visitors coming back again and again.
Step into the main dining room of Humphreys Restaurant and understand how opulence is mastered. The large multileveled room is bathed in soft light and flowing panels of pale gray and ice blue upholstery. Juxtaposed against the whimsical softness of the colors are massive exposed beams that lend an anchor to a bay-side view that threatens to draw you in completely. The menu is thoughtful and inventive in the way it continues this balance between the ethereal and masculine – the Mirin Sesame Shrimp appetizer positions two large shrimp atop a bed of mango-mint relish that is refreshingly cool against a wasabi dressing. The menu and decor offer a cohesive gesture of sophistication that may just leave you swooning.
Address: 333 5th Avenue, San Diego, CA 92101 (
Map
)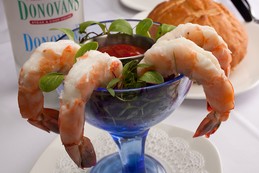 Donovan's Prime Seafood upholds the same high standards of service and cuisine as its Steak and Chophouse counterpoints. As the latest addition to the Donovan's family of restaurants, Donovan's Prime Seafood specializes in serving the freshest sustainable seafood and shellfish on the market. The restaurant couples its commitment to sustainably sourced seafood with its promise to use local produce and ingredients. What results from such thoughtful practices is a distinguished and flavorful menu served up in an equally sophisticated and charming dining space. Classic in design, the Donovan's Prime Seafood dining room suites its downtown location and urban vibe brilliantly. Whether diving into a serving of Alaskan King Crab Legs in the dining room or sipping from a Georgia Peach at the bar, Donovan's Prime Seafood is the place to sample quality.
Address: 901 5th Avenue, San Diego, CA 92101 (
Map
)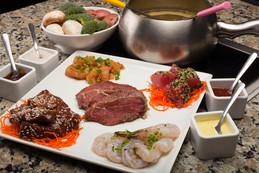 The Melting Pot is a one-of-a-kind restaurant giving guests the opportunity to dip to their hearts' content – in fondue, that is. Boasting an unbelievably decadent menu of cheese, broth, and chocolate-based fondue options, diners are armed with everything they need to satisfy that certain craving for something sweet or savory. Home in the Gaslamp Quarter's very first skyscraper, The Melting Pot's chic décor hearkens back to a golden era of opulence, while maintaining a contemporary air of casual elegance. Join family and friends around the Melting Pot table and partake in the joyous style of dining that is fondue.
Address: 1555 Camino Del Mar, Del Mar, CA 92014 (
Map
)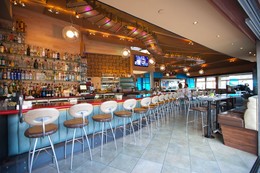 Pacifica Del Mar reflects the soothing calm of its ocean location. Perched high atop the Del Mar Plaza, the sophisticated restaurant offers a stunning visual Pacific feast to accompany Chef Christopher Idso's delightful gastronomic feats. The menu features elegant California-inspired creations that manage to be both light and clean, while still imparting a deep satisfaction. Mouthwatering options like the Barbecued Sugar-Spiced Salmon with Chinese beans and mustard sauce, Moroccan Spiced Prawns, and Filet Mignon with potato-white cheddar gratin, make for delightful dining dilemmas. Sample from Pacifica Del Mar's Wine Spectator-distinguished wine list to help make the decision-making process that much more enjoyable.