Working Fireplace: 25 Restaurants Found
Address: 1555 Camino Del Mar, Del Mar, CA 92014 (
Map
)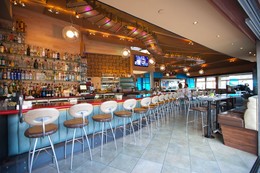 Pacifica Del Mar reflects the soothing calm of its ocean location. Perched high atop the Del Mar Plaza, the sophisticated restaurant offers a stunning visual Pacific feast to accompany Chef Christopher Idso's delightful gastronomic feats. The menu features elegant California-inspired creations that manage to be both light and clean, while still imparting a deep satisfaction. Mouthwatering options like the Barbecued Sugar-Spiced Salmon with Chinese beans and mustard sauce, Moroccan Spiced Prawns, and Filet Mignon with potato-white cheddar gratin, make for delightful dining dilemmas. Sample from Pacifica Del Mar's Wine Spectator-distinguished wine list to help make the decision-making process that much more enjoyable.
Address: 6009 Paseo Delicias, Rancho Santa Fe, CA 92091 (
Map
)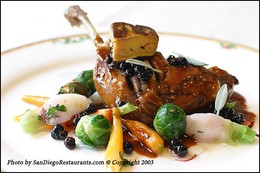 Picture a romantic retreat in the French countryside where days conclude with glowing fireplaces and elegant meals, and you will have the essence of Mille Fleurs. The restaurant, which is located on a small estate off a windy road in Rancho Santa Fe, offers a warm and charming atmosphere that plays host to stunning haute cuisine. Chef Martin Wosele's menu, which changes daily, delicately melds European culinary traditions with local California ingredients. The result is sensational and exquisite fine dining which, as evidenced by numerous awards and national recognition, makes Mille Fleurs one of the most significant dining establishments in San Diego.
Address: 1298 Prospect Street, La Jolla, CA 92037 (
Map
)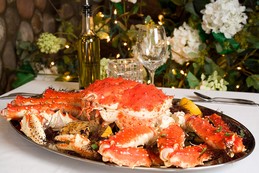 Perched atop an ocean bluff, Crab Catcher in La Jolla overlooks Seals Beach, a little sublet that thousands of tourists come by to visit annually. With a spectacular view and sensational food that is procured straight from the sea, Crab Catcher serves only the best fresh dishes. Keeping to the 100-mile radius philosophy, Chef Jon Burwell hires local commercial fishermen and harvests only the freshest ingredients from local farms and farmers markets to create the kind of dishes that will project surprise and wonder onto diner's faces. With that in mind, the relaxed and quiet ambiance of Crab Catcher creates the kind of vibe that will have first time visitors coming back again and again.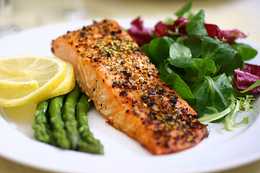 Named after the six-sided shape of France, Hexagone offers one of the largest French menus in San Diego with twenty appetizers and twenty entrees. Soft jazz croons its way lazily across a dimly lit L-shaped dining room adorned with crisp white linens, floor-to-ceiling windows, and rambunctious Art Nouveau prints. The Beef Bourguignon alone is reason enough to visit, as the rich wine-infused dish braises for a total of three days. This new addition to Banker's Hill has been competing—and holding its own— against the likes of neighboring Laurel and Bertrand at Mister A's, a sure indication of the quality of their California-inspired traditional French fare.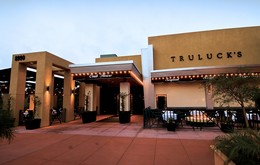 Truluck's, nestled in University City, is always fresh on the dining scene with an edge not many can counter. Renowned for their seafood, they operate a crabbing fleet of no less than sixteen boats off the coast of Naples, Florida. Armed with this advantage, the crab is delivered fresh to your table within twenty-four hours of being caught. Those searching for an alternative to seafood can choose from a selection of seven steaks and chops roasted or grilled to a level of precision unmatched by most steakhouses. For recreational wine drinkers or connoisseurs alike, Truluck's offers a hundred wines by the sampling, the glass, and the bottle.
Address: 12457 Rancho Bernardo Road, San Diego, CA 92128 (
Map
)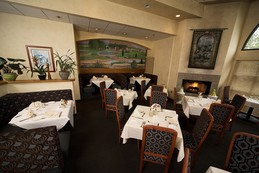 Unassuming elegance is paired with striking attention to detail at Bernard'O Restaurant, in Rancho Bernardo. The main dining room provides a cosmopolitan space lit with the glow of an Italian-tile fireplace. The patio that affords views of glistening stars most nights also has a fireplace to keep diners comfortable. The menu is a toast to fine French fare, and Chef Vincent Viale plates dishes that are both complex in flavor and refreshingly direct in vision. The Californian Bouillabaisse is an ode to the ocean with seabass, scallops, shrimp, mussels, clams, and potatoes, in a Rouille lobster sauce. Stop by for lunch Tuesday through Friday or enjoy an elegant night out for dinner Monday through Saturday. Bernard'O Restaurant is sure to leave you satisfied.
Address: 11480 North Torrey Pines Road, San Diego, CA 92037 (
Map
)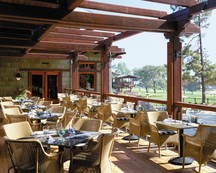 Nestled just above the scenic ocean bluffs of La Jolla, A.R. Valentien inside The Lodge at Torrey Pines features innovative California cuisine in a truly spectacular setting. Executive Chef Jeff Jackson conveys his market driven approach with seasonal ingredients from organic farms, orchards, and local fisherman. Wine lovers will rejoice in the extensive wine list boasting a vast collection of regional varietals from a string of California wineries. Just beyond the entrance, with its charming overhanging foliage, the interior of the restaurant showcases American Craftsman design with features like beautiful exposed beams and stained-glass lanterns, as well as selected artwork from famed Botanical Artist, Albert R.Valentien. The Lodge at Torrey Pines has held the esteemed AAA Five Diamond award for 10 consecutive years, and this highly acclaimed restaurant follows suit with timeless elegance and impeccable service. With picturesque views of the lush golf course, towering forest trees, and the stunning Pacific horizon, A.R. Valentien is the perfect backdrop for your next special occasion.
Address: 1540 Camino Del Mar, Del Mar, CA 92014 (
Map
)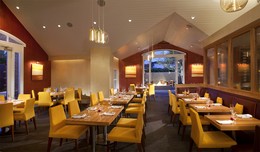 Overlooking the Pacific Ocean sits the Historic L'Auberge Hotel, the casual yet luxurious coastal hideaway in the heart of The Village of Del Mar. L'Auberge's signature restaurant, KITCHEN 1540, is a chic extension of this casual luxury, as it transforms modern American dishes into sophisticated works of art, with a farm-to-table concept using fresh, local ingredients. Behind these innovative concepts is Executive Chef Scott Thomas Dolbee, an award-winning chef who has headed KITCHEN 1540 since early 2012. KITCHEN 1540 also offers an extensive wine list and in-house cured meats accompanied by an array of cheeses, seasonal marmalades, and house-made pickles.
Address: 880 Harbor Island Drive, San Diego, CA 92101 (
Map
)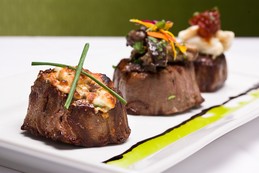 Located on the edge of Harbor Island, just out of earshot of the airport, Island Prime's stilt-supported structure extends out over the bay, giving diners the sense that they are floating along on a dinner cruise. Chef Deborah Scott's retro, yet sophisticated menu features metro steaks, seafood, and other diversely decadent dishes that will make your jaw drop. Between the nostalgic cuisine and the breath-taking view, Island Prime will keep you coming back for more.
Address: 4996 West Point Loma Blvd., San Diego, CA 92107 (
Map
)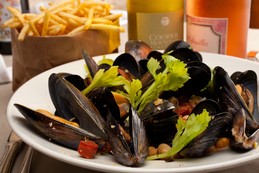 As the latest incarnation of the Cohn Restaurant Group's business prowess and eye for culinary excellence, Bo-Beau Kitchen is a French retreat ready to be discovered by all. This strikingly elegant yet refreshingly casual Ocean Beach neighborhood bistro serves up a lavish array of classic French dishes, all artfully crafted by Executive Chef Katherine Humphus. Chef Humphus masterfully strikes that oh-so tasty balance between sophisticated and approachable cuisine by marrying decadent ingredients with rustic familiarity; specialties like the Moules au Roquefort (mussels in cream and bleu cheese crumbles) and the Chicken Fricasse take guests on a French holiday for the palate. This is a definite must try when in the Ocean Beach area.