Ocean View: 43 Restaurants Found
Address: 2051 Shelter Island Drive, San Diego, CA 92106 (
Map
)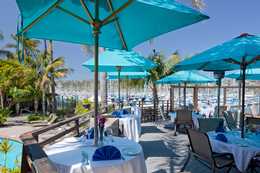 Blue Wave Bar and Grill, tucked inside the Best Western Island Palms Hotel, boasts of all the delights coastal San Diego has to offer. Providing waterfront dining on picturesque Shelter Island, it serves as a tropically inspired destination with all the fitting accommodations. While selecting from any of the restaurant's stunning breakfast, lunch, and dinner menus, or visiting for its popular happy hour, diners can take in the pleasures of the restaurant's lovely outdoor patio and views of the hotel's private marina. Executive Chef Marc Brislin crafts a menu ranging from macadamia-crusted halibut to oven roasted Filet Mignon with shitake mushroom demi-glace and everything in between. Whether it be a sampling of one of the many appetizing small plates, an elongated happy hour in the lounge, or a sumptuous evening meal, Blue Wave Bar and Grill invites you to come and stay awhile.
Address: 1555 Camino Del Mar, Del Mar, CA 92014 (
Map
)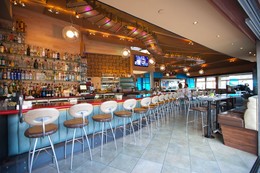 Pacifica Del Mar reflects the soothing calm of its ocean location. Perched high atop the Del Mar Plaza, the sophisticated restaurant offers a stunning visual Pacific feast to accompany Chef Christopher Idso's delightful gastronomic feats. The menu features elegant California-inspired creations that manage to be both light and clean, while still imparting a deep satisfaction. Mouthwatering options like the Barbecued Sugar-Spiced Salmon with Chinese beans and mustard sauce, Moroccan Spiced Prawns, and Filet Mignon with potato-white cheddar gratin, make for delightful dining dilemmas. Sample from Pacifica Del Mar's Wine Spectator-distinguished wine list to help make the decision-making process that much more enjoyable.
Address: 2588 South Coast Highway 101, Cardiff, CA 92007 (
Map
)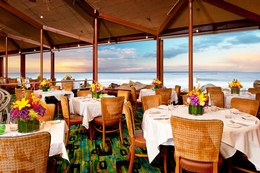 It's not hard to find eateries boasting "ocean views" in San Diego, but it is rare to find a noteworthy restaurant that happens to claim such prime oceanfront real-estate as Chart House. Picturesquely positioned along the South Coast Highway 101 (with the San Elijo Lagoon to the east), Chart House's expansive dining room faces the Pacific Ocean and plates up some of the finest sunsets around. As the waves lap upon the rocky shore before you, settle in and savor Chart House's array of hot and cold appetizers, signature seafood entrees, prime steaks, and luscious desserts. Pair the evening with any of their happy hour libations or fine wine and whiskey offerings for a well-rounded and stimulating experience.
Peohe's captures the essence of Southern California dining with its stunning bay front views, Pacific Rim cuisine menu, and chic tropical vibe. This Coronado Island destination is ideally situated just steps from the Ferry Landing and offers picture-perfect views of the Downtown San Diego skyline, as well as an endless parade of passing boats. Peohe's menu celebrates the sea by showcasing the flavors of the Pacific; island cooking techniques are married with tropical accents for dishes that are bold in flavor and freshness. Sushi enthusiasts appreciate Peohe's selection of fresh nigiri, sashimi, specialty rolls, and platters. Likewise, meat lovers rejoice over cuts like the 16oz Callahan Cut Prime Rib and the Summer Truffle Filet Mignon. Whether you drive across the iconic Coronado Bay Bridge or catch a ride on a water taxi, visit Peohe's for a taste of San Diego.
Mistral, located in the luxurious Loews Resort on Coronado Bay, features award-winning dining attracting locals and resort guests alike. Accomplished Chef de Cuisine Patrick Ponsaty offers fine French cuisine infused with Mediterranean flavors set to serene ocean views. Take in the ocean breeze on the patio or dine indoors next to one of the many large windows and bask in the sophisticated and elegant décor. Mistral allows guests to indulge in a variety of ways: choose the more casual bar bites offered in the lounge, the classic but seasonal-inspired dinner menu or the seasonal tasting menu— no matter what you choose, all of your senses will be enlightened at Mistral.
Address: 1298 Prospect Street, La Jolla, CA 92037 (
Map
)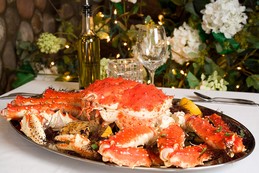 Perched atop an ocean bluff, Crab Catcher in La Jolla overlooks Seals Beach, a little sublet that thousands of tourists come by to visit annually. With a spectacular view and sensational food that is procured straight from the sea, Crab Catcher serves only the best fresh dishes. Keeping to the 100-mile radius philosophy, Chef Jon Burwell hires local commercial fishermen and harvests only the freshest ingredients from local farms and farmers markets to create the kind of dishes that will project surprise and wonder onto diner's faces. With that in mind, the relaxed and quiet ambiance of Crab Catcher creates the kind of vibe that will have first time visitors coming back again and again.
Step into the main dining room of Humphreys Restaurant and understand how opulence is mastered. The large multileveled room is bathed in soft light and flowing panels of pale gray and ice blue upholstery. Juxtaposed against the whimsical softness of the colors are massive exposed beams that lend an anchor to a bay-side view that threatens to draw you in completely. The menu is thoughtful and inventive in the way it continues this balance between the ethereal and masculine – the Mirin Sesame Shrimp appetizer positions two large shrimp atop a bed of mango-mint relish that is refreshingly cool against a wasabi dressing. The menu and decor offer a cohesive gesture of sophistication that may just leave you swooning.
Address: 910 Prospect Street, La Jolla, CA 92037 (
Map
)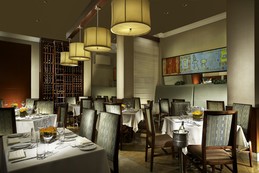 An evening at Nine-Ten is not just a meal but a culinary adventure. Tucked into the ground floor of the historic Grande Colonial Hotel in downtown La Jolla, the contemporary restaurant takes fine dining to new heights. Chef Jason Knibb's innovative menu finds inspiration in fresh ingredients from local farms, transforming the essence of seasonal offerings into creative concoctions such as white truffle emulsion and potato foam. Each dish is a meditation on flavor, expertly and creatively intertwining pure, fresh ingredients into elegant and delightfully surprising combinations. With an equally talented pastry chef and sommelier (not to mention a most impressive wine list), Nine-Ten promises an unrivaled and extraordinary dining experience.
Address: 333 North Pacific Street, Oceanside, CA 92054 (
Map
)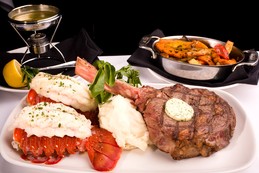 Cohn Restaurant fans take note: the San Diego restaurateur powerhouse has brought their fine dining expertise to Oceanside with their restaurant, 333 Pacific. It is an ode to Southern California, with breath-taking views of its seaside setting, innovative California cuisine, and a faultlessly stylish design aesthetic. Located on the first floor of the Wyndham Oceanfront Pier Resort, diners can feast on clever creations like Bleu Cheese Crusted Kobe Beef Meatloaf and Maine Diver Scallops seared in apple cider, while enjoying a stunning, panoramic view of the Oceanside Pier and beach. 333 Pacific promises a welcome invigoration of the North County dining scene.
Address: 1710 W. Mission Bay Drive, San Diego, CA 92109 (
Map
)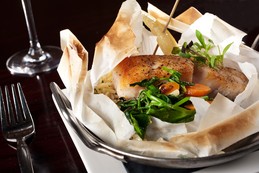 If you're in the Mission Bay area, be sure you visit The Firefly Restaurant and Bar located inside The Dana Hotel. Facing the bay, Firefly has fantastic views, creating a dining experience that will impact your senses in a major way. As one of San Diego's premier dining spots, Firefly offers a contemporary atmosphere imbued with the kind of ambiance that is just right for a romantic dinner for two. If you're looking for a quick meal, the happy hour menu offers great specials. Chef Eric Manuel is a native to San Diego, and his dishes are created with fresh, seasonal ingredients and prepared with great attention to detail, making the end result a meal to truly relish in.