Hotel Dining: 21 Restaurants Found
Mistral, located in the luxurious Loews Resort on Coronado Bay, features award-winning dining attracting locals and resort guests alike. Accomplished Chef de Cuisine Patrick Ponsaty offers fine French cuisine infused with Mediterranean flavors set to serene ocean views. Take in the ocean breeze on the patio or dine indoors next to one of the many large windows and bask in the sophisticated and elegant décor. Mistral allows guests to indulge in a variety of ways: choose the more casual bar bites offered in the lounge, the classic but seasonal-inspired dinner menu or the seasonal tasting menu— no matter what you choose, all of your senses will be enlightened at Mistral.
Address: 2051 Shelter Island Drive, San Diego, CA 92106 (
Map
)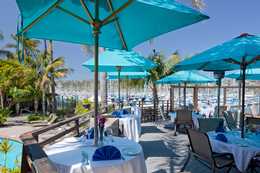 Blue Wave Bar and Grill, tucked inside the Best Western Island Palms Hotel, boasts of all the delights coastal San Diego has to offer. Providing waterfront dining on picturesque Shelter Island, it serves as a tropically inspired destination with all the fitting accommodations. While selecting from any of the restaurant's stunning breakfast, lunch, and dinner menus, or visiting for its popular happy hour, diners can take in the pleasures of the restaurant's lovely outdoor patio and views of the hotel's private marina. Executive Chef Marc Brislin crafts a menu ranging from macadamia-crusted halibut to oven roasted Filet Mignon with shitake mushroom demi-glace and everything in between. Whether it be a sampling of one of the many appetizing small plates, an elongated happy hour in the lounge, or a sumptuous evening meal, Blue Wave Bar and Grill invites you to come and stay awhile.
Address: 1540 Camino Del Mar, Del Mar, CA 92014 (
Map
)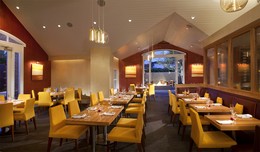 Overlooking the Pacific Ocean sits the Historic L'Auberge Hotel, the casual yet luxurious coastal hideaway in the heart of The Village of Del Mar. L'Auberge's signature restaurant, KITCHEN 1540, is a chic extension of this casual luxury, as it transforms modern American dishes into sophisticated works of art, with a farm-to-table concept using fresh, local ingredients. Behind these innovative concepts is Executive Chef Scott Thomas Dolbee, an award-winning chef who has headed KITCHEN 1540 since early 2012. KITCHEN 1540 also offers an extensive wine list and in-house cured meats accompanied by an array of cheeses, seasonal marmalades, and house-made pickles.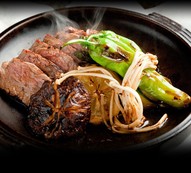 Over the years, it has become quite common knowledge that Nobu is simply one of the top destinations for truly fine sushi and Japanese-Fusion cuisine in San Diego. Located within the Hard Rock Hotel on Fifth Avenue, this is a hot spot for tourists, and the Gaslamp Quarter is always bustling with locals in search of a good meal. With more than forty sushi and sashimi options, in addition to a broad selection of specialty tempura, salads, special cold dishes, brick oven entrees, and many different hot dishes, including tobanyaki-style beef, vegetables, mixed seafood or tofu, the possibilities are seemingly endless. Tobanyaki, one of the more unique aspects of Nobu, is a cooking style which involves roasting the ingredients, usually premium beef, on a hot ceramic plate, radiating heat long after being removed from the ovens. Overall, the presentation is entertaining and produces quite tender morsels, full of flavor and piping hot. Once the main courses are gone, be sure to peruse the dessert menu for new, innovative creations that are sure to delight the taste buds and intrigue the mind. For those in search of a few pieces of sushi and a cocktail or two before committing to a large meal, Nobu also offers a superb Happy Hour menu featuring special prices on select sake, wine, beer and specialty drinks, the perfect precursors to a delicious dinner. To all who appreciate the authentic experience of fine Japanese dining and hospitality, add Nobu to your list of things to do in Downtown San Diego.
Address: 675 L Street, San Diego, CA 92101 (
Map
)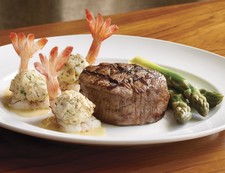 Each one of McCormick & Schmick's restaurants throughout the United States is designed to create an environment that is unique and welcoming; the one in Downtown San Diego is no different. Located in the Omni Hotel on the corner of L and 7th Street the restaurant is connected via skybridge to Petco Park. The ever-changing menu features the highest quality of steak, like the tender aged Filet Mignon as well as seafood choices from the Pacific Rim, Atlantic Ocean and Gulf of Mexico. Also, the award winning bar food is just as satisfying as the main entrees. Indulge in classic favorites like the McCormick & Schmick's Cheeseburger or the Black Mussels with roasted tomatoes and basil. Visit during Happy Hour to enjoy the bar's specialty cocktails and food options for a great price.
Address: 11480 North Torrey Pines Road, San Diego, CA 92037 (
Map
)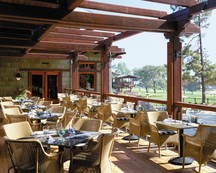 Nestled just above the scenic ocean bluffs of La Jolla, A.R. Valentien inside The Lodge at Torrey Pines features innovative California cuisine in a truly spectacular setting. Executive Chef Jeff Jackson conveys his market driven approach with seasonal ingredients from organic farms, orchards, and local fisherman. Wine lovers will rejoice in the extensive wine list boasting a vast collection of regional varietals from a string of California wineries. Just beyond the entrance, with its charming overhanging foliage, the interior of the restaurant showcases American Craftsman design with features like beautiful exposed beams and stained-glass lanterns, as well as selected artwork from famed Botanical Artist, Albert R.Valentien. The Lodge at Torrey Pines has held the esteemed AAA Five Diamond award for 10 consecutive years, and this highly acclaimed restaurant follows suit with timeless elegance and impeccable service. With picturesque views of the lush golf course, towering forest trees, and the stunning Pacific horizon, A.R. Valentien is the perfect backdrop for your next special occasion.
Address: 1710 W. Mission Bay Drive, San Diego, CA 92109 (
Map
)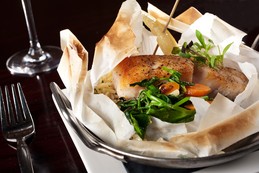 If you're in the Mission Bay area, be sure you visit The Firefly Restaurant and Bar located inside The Dana Hotel. Facing the bay, Firefly has fantastic views, creating a dining experience that will impact your senses in a major way. As one of San Diego's premier dining spots, Firefly offers a contemporary atmosphere imbued with the kind of ambiance that is just right for a romantic dinner for two. If you're looking for a quick meal, the happy hour menu offers great specials. Chef Eric Manuel is a native to San Diego, and his dishes are created with fresh, seasonal ingredients and prepared with great attention to detail, making the end result a meal to truly relish in.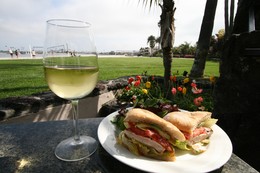 With tropical décor and stunning views of Mission Bay, The Atoll at the Catamaran Resort Hotel is a vacation for the senses. This esteemed restaurant is open for breakfast, lunch, dinner and Sunday brunch with California coastal cuisine from renowned Executive Chef Steven Riemer. Entrees feature an array of vegetarian entrees, poultry, steaks, and chops, like the Herb Crusted Baja Halibut, Roast Duck Breast, Filet Mignon with Red Wine and Gorgonzola Butter, and much more. Take a seat on the enchanting outdoor patio with uninterrupted views of the passing boats. For prime cuisine with first-rate service in the Mission Bay area, journey towards the beautiful Koi pond and colorful parrots at the entrance of The Atoll.
Address: 4858 Mercury Street, San Diego, CA 92111 (
Map
)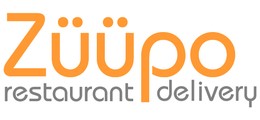 Zuupo offers an innovative take on the traditional delivery service, allowing you to order from any restaurant that offers take out. Whether you are in the mood for your favorite sushi roll but don't feel like taking the kids out or you need to host an office party but can't find time to get away, Zuupo makes it easy to enjoy your favorite meal any time. Centrally located in Kearny Mesa, Zuupo is able to deliver anywhere in San Diego County, and the friendly staff are well qualified to assist those who are unfamiliar with the many different local restaurants. So the next time you find yourself stuck at the office in need of a bite to eat, don't settle for leftovers in the microwave. Instead, call Zuupo Restaurant Delivery, and you can be enjoying a hot meal from your favorite restaurant in no time.
Address: 326 Broadway, San Diego, CA 92101 (
Map
)
A contemporary, glamorous place to dine, the Grant Grill presents an extraordinary display of modern cuisine, handcrafted cocktails, and an elegance that permeates the restaurant's décor and atmosphere. Originally opened in 1951, the Grant Grill's historic significance as a "Power Lunch" spot is well-known throughout San Diego. A must-have at this legendary establishment is the Mock Turtle Soup, a staple since the doors opened. The creative California cuisine created by Chef de Cuisine, Chris Kurth, features innovative and seasonal selections. A 3, 4 or 5 Course Tasting Menu with an optional wine pairing is available for those looking to sample the best the Grant Grill has to offer. Boasting an award winning wine list as well as private dining facilities, there is a dining option for anyone. Open seven days a week serving breakfast, lunch, and dinner, with brunch on the weekends, the Grant Grill provides the location for a memorable dining experience. The adjacent Grant Grill Lounge is another trendy hotspot with its weekday happy hour and weekend entertainment. This see-and-be seen cocktail lounge offers a unique alternative to the flourishing nightlife of the Gaslamp Quarter.