Sunday Brunch: 66 Restaurants Found
Address: 2588 South Coast Highway 101, Cardiff, CA 92007 (
Map
)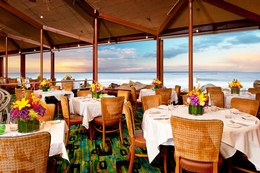 It's not hard to find eateries boasting "ocean views" in San Diego, but it is rare to find a noteworthy restaurant that happens to claim such prime oceanfront real-estate as Chart House. Picturesquely positioned along the South Coast Highway 101 (with the San Elijo Lagoon to the east), Chart House's expansive dining room faces the Pacific Ocean and plates up some of the finest sunsets around. As the waves lap upon the rocky shore before you, settle in and savor Chart House's array of hot and cold appetizers, signature seafood entrees, prime steaks, and luscious desserts. Pair the evening with any of their happy hour libations or fine wine and whiskey offerings for a well-rounded and stimulating experience.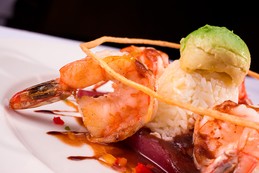 La Fiesta is a Mexican restaurant located in the heart of the Gaslamp. Just a few blocks away from the MTS trolley station it is an easy commute, and well worth the trip. Patrons can find themselves in a relaxed setting that is acceptable for all ages. The decoration involves both an elegant dining setting and a more casual area that includes a full bar. The margaritas are big hits so it is a great place to come for a drink after work with. All the food is served fresh and original as Chef Raul Degadillo puts a San Diego spin on traditional dishes. Enter hungry and leave full. They even have DJs spinning a mix of Salsa, Reggaeton, and Top 40 from Thursday to Saturday.
Address: 329 Market Street, San Diego, CA 92101 (
Map
)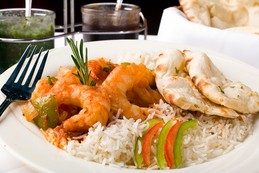 Royal India is where to go when you want to dine like kings and queens. The Gaslamp area restaurant serves authentic Northern Indian cuisine in a refreshing, elegant setting. An outdoor patio offers prime views of downtown foot traffic, while inside, the tall ceilings and open space give the feel of a modern palace, complete with regal décor imported from India. Ornate chandeliers cast an elegant glow, while a cascading waterfall offers a backdrop of serenity. The menu is as rich as its surroundings, with flavorful curries, tandoori kababs, and a tempting array of fresh tandoor-baked breads. If you're unable to make your mind up about the menu, visit during lunch or on Monday evenings, when over 20 dishes are offered buffet-style.
Peohe's captures the essence of Southern California dining with its stunning bay front views, Pacific Rim cuisine menu, and chic tropical vibe. This Coronado Island destination is ideally situated just steps from the Ferry Landing and offers picture-perfect views of the Downtown San Diego skyline, as well as an endless parade of passing boats. Peohe's menu celebrates the sea by showcasing the flavors of the Pacific; island cooking techniques are married with tropical accents for dishes that are bold in flavor and freshness. Sushi enthusiasts appreciate Peohe's selection of fresh nigiri, sashimi, specialty rolls, and platters. Likewise, meat lovers rejoice over cuts like the 16oz Callahan Cut Prime Rib and the Summer Truffle Filet Mignon. Whether you drive across the iconic Coronado Bay Bridge or catch a ride on a water taxi, visit Peohe's for a taste of San Diego.
Address: 1298 Prospect Street, La Jolla, CA 92037 (
Map
)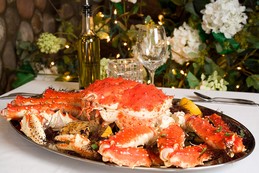 Perched atop an ocean bluff, Crab Catcher in La Jolla overlooks Seals Beach, a little sublet that thousands of tourists come by to visit annually. With a spectacular view and sensational food that is procured straight from the sea, Crab Catcher serves only the best fresh dishes. Keeping to the 100-mile radius philosophy, Chef Jon Burwell hires local commercial fishermen and harvests only the freshest ingredients from local farms and farmers markets to create the kind of dishes that will project surprise and wonder onto diner's faces. With that in mind, the relaxed and quiet ambiance of Crab Catcher creates the kind of vibe that will have first time visitors coming back again and again.
Step into the main dining room of Humphreys Restaurant and understand how opulence is mastered. The large multileveled room is bathed in soft light and flowing panels of pale gray and ice blue upholstery. Juxtaposed against the whimsical softness of the colors are massive exposed beams that lend an anchor to a bay-side view that threatens to draw you in completely. The menu is thoughtful and inventive in the way it continues this balance between the ethereal and masculine – the Mirin Sesame Shrimp appetizer positions two large shrimp atop a bed of mango-mint relish that is refreshingly cool against a wasabi dressing. The menu and decor offer a cohesive gesture of sophistication that may just leave you swooning.
Address: 7091 El Cajon Blvd., San Diego, CA 92115 (
Map
)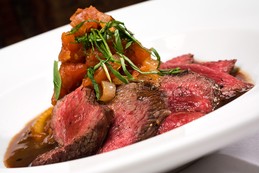 Terra calls the East College District of La Mesa home. Chef and Owner Jeff Rossman brings quality to the table (literally) by stocking the Terra kitchen, bar, and menu with locally sourced and sustainable produce and ingredients. Brunch, lunch, dinner, and drinks reflect the best the seasons have to offer, and often highlight the rich bounty of San Diego and Riverside County agriculture. From the fresh fruit-infused libations to the "New American Cuisine" menu featuring preparation styles unique to the Americas, Terra serves up a thoughtful dining experience that celebrates the joy of community and communal eating.