Child Friendly: 129 Restaurants Found
Address: 333 North Pacific Street, Oceanside, CA 92054 (
Map
)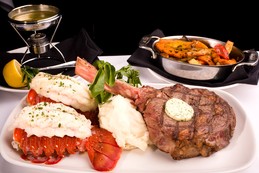 Cohn Restaurant fans take note: the San Diego restaurateur powerhouse has brought their fine dining expertise to Oceanside with their restaurant, 333 Pacific. It is an ode to Southern California, with breath-taking views of its seaside setting, innovative California cuisine, and a faultlessly stylish design aesthetic. Located on the first floor of the Wyndham Oceanfront Pier Resort, diners can feast on clever creations like Bleu Cheese Crusted Kobe Beef Meatloaf and Maine Diver Scallops seared in apple cider, while enjoying a stunning, panoramic view of the Oceanside Pier and beach. 333 Pacific promises a welcome invigoration of the North County dining scene.
Address: 927 J Street, San Diego, CA 92101 (
Map
)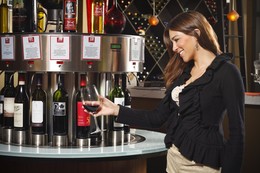 In need of a relaxing moment and a glass of wine or want to sample varietals in a chic, intimate, and sophisticated environment? Come relax and unwind at Toast Enoteca & Cucina in San Diego's East Village. This combination restaurant and wine bar features around 400 different bottles of wine to sample and purchase. By the glass sales are available as well. Toast offers an extensive and authentic Italian menu complete with antipasti, insalante, primi, pizze, secondi, and Panini courses. This downtown landmark is yet another culinary creation by Martin Gonzalez, the owner and executive chef of Acqua Al 2, a Gaslamp district restaurant known for its hearty, rustic, and authentic Italian cuisine. Come in, raise your glasses, and say cheers to Toast Enoteca & Cucina as they take the concept of a wine bar to new heights.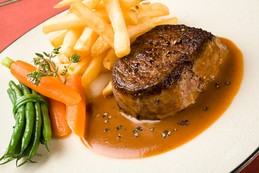 Since opening in 1998, Tapenade has established itself as a La Jolla institution. Diners frequent the sophisticated establishment for acclaimed chef Jean-Michel Diot's Provençal-style French cooking. Diot, who comes to San Diego after a successful career in Paris and New York, offers a consistently award-winning menu, while Tapenade's welcoming atmosphere and excellent service complement the cuisine. For an exceptional experience, Diot offers a five-course tasting menu with wine pairings, offered daily.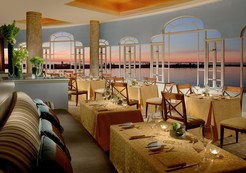 Mistral, located in the luxurious Loews Resort on Coronado Bay, features award-winning dining attracting locals and resort guests alike. Accomplished Chef de Cuisine Patrick Ponsaty offers fine French cuisine infused with Mediterranean flavors set to serene ocean views. Take in the ocean breeze on the patio or dine indoors next to one of the many large windows and bask in the sophisticated and elegant décor. Mistral allows guests to indulge in a variety of ways: choose the more casual bar bites offered in the lounge, the classic but seasonal-inspired dinner menu or the seasonal tasting menu— no matter what you choose, all of your senses will be enlightened at Mistral.
Address: 2051 Shelter Island Drive, San Diego, CA 92106 (
Map
)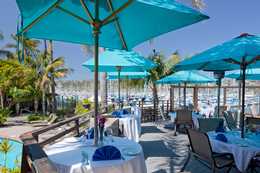 Blue Wave Bar and Grill, tucked inside the Best Western Island Palms Hotel, boasts of all the delights coastal San Diego has to offer. Providing waterfront dining on picturesque Shelter Island, it serves as a tropically inspired destination with all the fitting accommodations. While selecting from any of the restaurant's stunning breakfast, lunch, and dinner menus, or visiting for its popular happy hour, diners can take in the pleasures of the restaurant's lovely outdoor patio and views of the hotel's private marina. Executive Chef Marc Brislin crafts a menu ranging from macadamia-crusted halibut to oven roasted Filet Mignon with shitake mushroom demi-glace and everything in between. Whether it be a sampling of one of the many appetizing small plates, an elongated happy hour in the lounge, or a sumptuous evening meal, Blue Wave Bar and Grill invites you to come and stay awhile.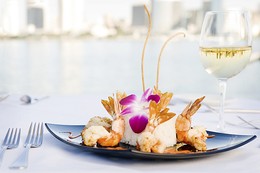 Peohe's captures the essence of Southern California dining with its stunning bay front views, Pacific Rim cuisine menu, and chic tropical vibe. This Coronado Island destination is ideally situated just steps from the Ferry Landing and offers picture-perfect views of the Downtown San Diego skyline, as well as an endless parade of passing boats. Peohe's menu celebrates the sea by showcasing the flavors of the Pacific; island cooking techniques are married with tropical accents for dishes that are bold in flavor and freshness. Sushi enthusiasts appreciate Peohe's selection of fresh nigiri, sashimi, specialty rolls, and platters. Likewise, meat lovers rejoice over cuts like the 16oz Callahan Cut Prime Rib and the Summer Truffle Filet Mignon. Whether you drive across the iconic Coronado Bay Bridge or catch a ride on a water taxi, visit Peohe's for a taste of San Diego.
Address: 728 5th Avenue, San Diego, CA 92101 (
Map
)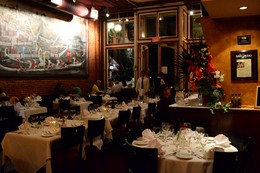 Amidst a sea of Italian restaurants, Asti Ristorante in San Diego's Gaslamp District is one that should not be overlooked. Specializing in Northern Italian cuisine, Asti does not disappoint. Whether you stop in for lunch or for dinner, Asti's extensive selection of hand-made pastas, fresh seafood or traditional chicken, beef or veal entrees are sure to please even the pickiest diners. The restaurant offers outdoor seating overlooking the Gaslamp's bustling 5th Avenue, as well as indoor dining in the restaurant's meticulously decorated dining room. Asti Ristorante is one of the few restaurants in downtown San Diego that can please both the fussy tourist and the persnickety local while making it all look so natural.