Nick Shinton
Executive Chef
---
---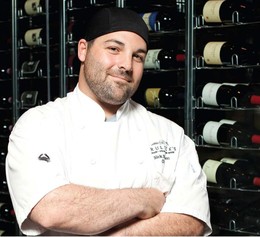 Truluck's in La Jolla is a prime destination for fresh seafood in San Diego, and Executive Chef Nick Shinton is proud to be the man responsible for preparing the delicious creations that this esteemed restaurant has to offer. With a simple, straight-forward style and a keen attention to detail, he boldly showcases his skill in the kitchen that has been honed over several years of meticulous practice.
Shinton showed an interest in cooking at a very young age. Born and raised in Washington, D.C. near the Chesapeake Bay area, he began making crab cakes when he was only four. Further down the road, he decided to make cooking his career, and he attended the College of Culinary Arts at Johnson & Wales University in Providence, Rhode Island. It was here that he developed his craft, creativity, discipline and leadership skills in a hands-on learning environment where he worked closely with expert chef-instructors.
After graduating in 1999, Shinton returned to Washington, D.C. where he cooked at several local hot spots such as Clyde's, Smith Point, The Felix and Jetties, all the while further extending his culinary knowledge. His cooking style, which he attributes to the time he spent at these Washingtonian favorites, focuses on sustainable organic ingredients and simple, yet elegant food presentation.
Much of the influence for Shinton's particular style and philosophy came from other chefs who have worked alongside him. They offered different insights to help him provide more variety in the kitchen. In fact, Shinton prides himself in utilizing influences from chefs and cultures all over the world to create new and different cuisines when he cooks. He puts great emphasis on sustainable organic ingredients such as 100% antibiotic and hormone free beef, pork and lamb, and he loves introducing a lot of people to organic food.
He also enjoys using traditional recipes from different cultures when he cooks. He once said, "People have been working on food for thousands and thousands of years…" and he likes to build upon the existing foundations of culinary art, while adding his own unique flare to every dish. Often times, he tries to make subtle changes in well known dishes to create healthier variations. It is this philosophy of fresh, new interpretations paired with wholesome ingredients that keeps people coming back for more.
Nick Shinton has now lived in San Diego for five years. During this time he has worked as Sous Chef at Delicia's in Rancho Santa Fe and currently holds the title of Executive Chef at Truluck's in La Jolla. Having a genuine love of the ocean, he is very passionate about the idea of sustainability, and Truluck's provides the perfect setting for him to exercise his ideals. Claiming to be "champions of the sustainable seafood movement", this establishment carefully avoids over-fished species and never serves seafood out of season. The company owns two private stone crab fisheries off the coast of Southern Florida which provide Shinton with fresh crab that is flown in daily throughout the season. Having grown up near Chesapeake Bay, he knows the ways of the crab so to speak and crab cake is considered to be his favorite food. He loves to surf and tries to hit the beach regularly outside of work, but his true passion resides in the kitchen.
As one of the premier seafood restaurants in San Diego, Truluck's requires a chef with a respect for and love of the ocean and the experience to match. Executive Chef Nick Shinton's skill fits the bill. Stop by and let this talented individual prepare a meal for you.
---
---