Eddie Zamarripa
Executive Chef
---
---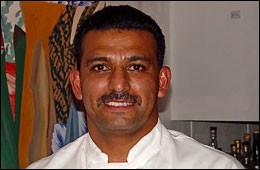 Born and raised in the city of Tijuana, only a few miles south of San Diego, young Eduardo Zamarripa was motivated toward becoming a culinary master from a very early age from assisting his mother in the preparation of meals in the family kitchen. By the time he was 13 years old he had an opportunity to take a summer job north of the border, washing dishes for his uncle who was a chef in Laguna Niguel.
To many, washing dishes in a restaurant is a task that quickly instigates a search for new employment. For Eddie, however, it was a window into a world that he truly loved and, after returning to Baja California to finish his schooling; he asked his uncle to allow him to learn the art of becoming a top chef by being his apprentice.
Although cautioned that he had selected a challenging pursuit requiring a great deal of hard work and talent, his ongoing determination and discipline soon proved that he was truly a natural at his chosen profession. Over the years, Chef Zamarripa continued to develop his own, distinctive techniques at several outstanding restaurants between San Juan Capistrano and San Diego. Capable of preparing a wide variety of cuisines, because of his geographical location he became particularly skilled with recipes that incorporated seafood as their primary theme.
Over a decade ago, Eddie was prompted by a few of his professional associates to enter a Chef's competition being held in Del Mar on an impromptu basis. Even though he had to borrow his utensils, apron and hat at the very last minute, he applied his focus and natural ability to go on and win the event despite the disbelief of onlookers. It was not long after that when he became the Executive Chef at Café Pacifica, and created a style of cuisine that has become so popular that he is still pleasing his guests over ten years later.
Some may aspire to become a chef because they perceive it to be a glamorous profession, but these individuals generally loose interest after they learn the truth. Some make a point of attending a distinguished academy of culinary arts to enhance their resume. Still, others possess such a talent, burning desire and passion for food that they are able to achieve greatness by rising up through the ranks of their peers. Of such a breed is Chef Eddie Zamarripa.
---