La Jolla & UTC: 29 Restaurants Found
Address: 4340 La Jolla Village Drive, San Diego, CA 92122 (
Map
)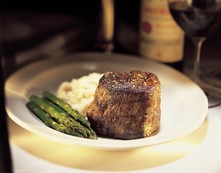 Donovan's Steak and Chop house offers a refined setting filled with upscale class and elegance. The menu showcases a variety of cuts of succulent USDA Prime steak, while offering a variety of other options from Australian rack of lamb to North Atlantic Salmon. Appetizers and salads tantalize the palate before the main course, while potatoes and vegetables—always complimentary—accompany each entrée. An award-winning wine list offers an astounding selection of both well-known and boutique wines across an equally varied price range, and gracious service, complimentary valet parking, and VIP treatment are the icing on the cake.
Address: 8970 University Center Lane, La Jolla, CA 92122 (
Map
)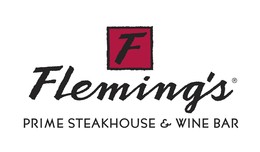 Fleming's Prime Steakhouse & Wine Bar La Jolla is a continuing gala of extraordinary food and wine. Patrons can pamper their appetites with the highest quality aged prime beef and discern new flavors with its award-winning wine list, comprised of 100 wines by the glass and a first-rate Reserve List. Famous for its, warm alluring atmosphere and the highest consideration to detail, Fleming's Prime Steakhouse & Wine Bar La Jolla features a luxurious dining area constructed around an exhibition kitchen and extensive bar. Adjoining the central dining area are private dining rooms that can comfortably accommodate small or large parties. Fleming's Prime Steakhouse & Wine Bar La Jolla's dynamic environment, exceptional service, and devotion to distinction turn an evening out into unforgettable memories.
Address: 1298 Prospect Street, La Jolla, CA 92037 (
Map
)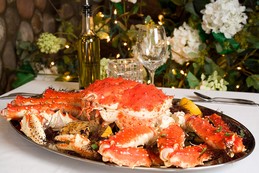 Perched atop an ocean bluff, Crab Catcher in La Jolla overlooks Seals Beach, a little sublet that thousands of tourists come by to visit annually. With a spectacular view and sensational food that is procured straight from the sea, Crab Catcher serves only the best fresh dishes. Keeping to the 100-mile radius philosophy, Chef Jon Burwell hires local commercial fishermen and harvests only the freshest ingredients from local farms and farmers markets to create the kind of dishes that will project surprise and wonder onto diner's faces. With that in mind, the relaxed and quiet ambiance of Crab Catcher creates the kind of vibe that will have first time visitors coming back again and again.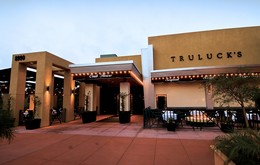 Truluck's, nestled in University City, is always fresh on the dining scene with an edge not many can counter. Renowned for their seafood, they operate a crabbing fleet of no less than sixteen boats off the coast of Naples, Florida. Armed with this advantage, the crab is delivered fresh to your table within twenty-four hours of being caught. Those searching for an alternative to seafood can choose from a selection of seven steaks and chops roasted or grilled to a level of precision unmatched by most steakhouses. For recreational wine drinkers or connoisseurs alike, Truluck's offers a hundred wines by the sampling, the glass, and the bottle.
Address: 7748 Regents Road, San Diego, CA 92122 (
Map
)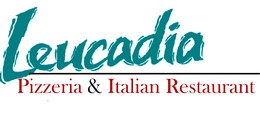 Having won the hearts of two other North County neighborhoods, Leucadia Pizzeria and Italian Restaurant is spreading its roots south to La Jolla. Conveniently located in the UTC district of La Jolla, Leucadia Pizzeria's expansive outdoor patio attracts those interested in pairing their pizza, pasta, and sub with a healthy sprinkling of parmesan and sunshine. The menu caters to parties of all sizes (feed up to seven with the 16" Sub Tray) and specializes in personalizing your meal to fit your taste. The Build Your Own Pizza combinations are seemingly limitless, and the entrée options satisfy that nostalgic Italian cuisine diner within. Not to be outdone by Chef A.J. Mortazavi's savory offerings, Pastry Chef Nikki Schaeffer's indulgent display of desserts has its own fan base.
Address: 11480 North Torrey Pines Road, San Diego, CA 92037 (
Map
)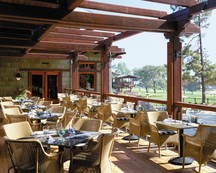 Nestled just above the scenic ocean bluffs of La Jolla, A.R. Valentien inside The Lodge at Torrey Pines features innovative California cuisine in a truly spectacular setting. Executive Chef Jeff Jackson conveys his market driven approach with seasonal ingredients from organic farms, orchards, and local fisherman. Wine lovers will rejoice in the extensive wine list boasting a vast collection of regional varietals from a string of California wineries. Just beyond the entrance, with its charming overhanging foliage, the interior of the restaurant showcases American Craftsman design with features like beautiful exposed beams and stained-glass lanterns, as well as selected artwork from famed Botanical Artist, Albert R.Valentien. The Lodge at Torrey Pines has held the esteemed AAA Five Diamond award for 10 consecutive years, and this highly acclaimed restaurant follows suit with timeless elegance and impeccable service. With picturesque views of the lush golf course, towering forest trees, and the stunning Pacific horizon, A.R. Valentien is the perfect backdrop for your next special occasion.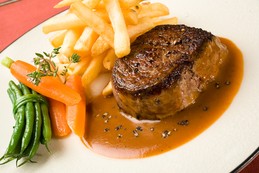 Since opening in 1998, Tapenade has established itself as a La Jolla institution. Diners frequent the sophisticated establishment for acclaimed chef Jean-Michel Diot's Provençal-style French cooking. Diot, who comes to San Diego after a successful career in Paris and New York, offers a consistently award-winning menu, while Tapenade's welcoming atmosphere and excellent service complement the cuisine. For an exceptional experience, Diot offers a five-course tasting menu with wine pairings, offered daily.
Address: 4282 Esplanade Court, San Diego, CA 92122 (
Map
)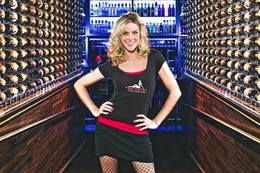 Note: Restaurant is currently closed for remodeling and will be reopening under a new restaurant concept! One of Downtown San Diego's most popular restaurants has come to La Jolla: The La Jolla Strip Club joins the superior quality of prime-cut steaks with the casual appeal of a grill-it-yourself lounge for the ultimate carnivorous experience. The Strip Club's extensive lunch menu offers a mouth-watering array of salads, sandwiches, and pastas, while the dinner menu presents a tantalizing selection of 21-day-aged, Midwestern, corn-fed Angus beef cuts that range in size from 10-20 oz. The impressive dessert list is also worth checking out – with Naughty Treats like the Rated "R" Root Beer Float with root beer flavored vodka, amaretto, and vanilla ice cream, who can resist? Please note that all patrons must be 21 or older to dine.
Address: 1250 Prospect Street, San Diego, CA 92037 (
Map
)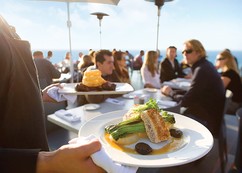 George's Ocean Terrace reminds us all that there's a big difference between eating outside and dining seaside. Occupying prime rooftop real estate upstairs from George's California Modern, Ocean Terrace invites guests to settle in for a casual yet inspired experience of breathtaking views, invigorating libations, off-the-docks fresh seafood, and from the farm tantalizing entrees. Executive Chef and partner Trey Foshee handles his menu with care and discretion, emphasizing fresh and locally sourced ingredients, ensuring that each ingredient complements the overall flavor profile of the dish. Given that La Jolla boasts practically picture-perfect weather all year long, it makes sense that George's Ocean Terrace consistently gets voted San Diego's "Most Popular Restaurant" by Zagat Survey. Pair your visit to George's Ocean Terrace with one of their house-infused cocktails and take a long sip of Southern California perfection.
Sushi Ki Ku Ya offers a complete sushi bar operated by Master Sushi Chef Yutaka Nakanote, formerly of Shogun in La Jolla. With his terrific talents, Chef "Naka" aims to create delightful traditional Japanese and Korean entrees that are equally appetizing and visually pleasing. His playful specialty rolls are the menu's highlight, but the restaurant serves everything from sashimi to tofu, and skewered yakitori to noodles. The restaurant offers casual dining and a friendly atmosphere. Chef "Naka" and the wait staff are very responsive to patrons' needs and will create a dish catering to your individual tastes.